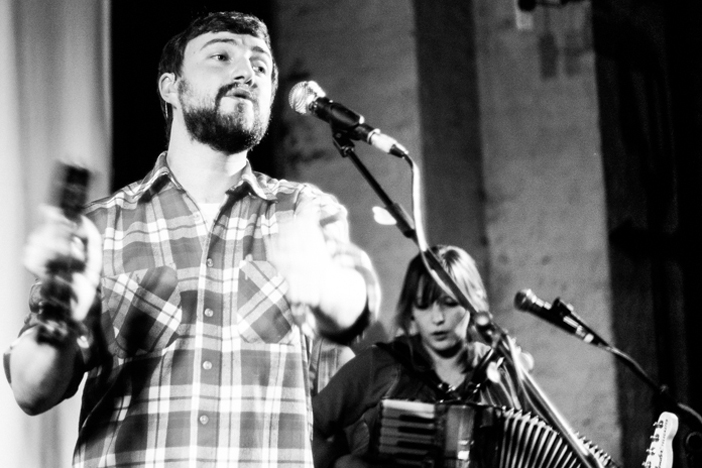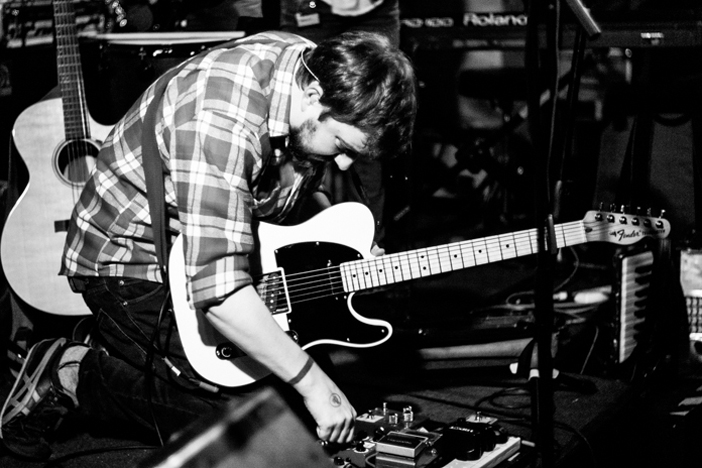 The first really bitter evening for a while didn't stop anyone coming out to Green Door Store for this one. Worth noting the venue has a new stage so if you're at the back you will actually get to see the band…
Fellow Glaswegians, Olympic Swimmers, provided a great precursor to Admiral Fallow. An atmospheric set with some nice use of loops and subtle backing. Singer Susie Smillie's voice echoed folk styles but with a nod to 80s influenced bands like Brighton's Esben And The Witch.
After saying he would keep chat to a minimum Admiral Fallow's frontman Louis Abbott kept the crowd amused between songs with the dry but friendly wit that Scots do so well.
You can't help but have respect for anyone who can play multiple instruments but Admiral Fallow have more ability than most. Accordion, clarinet, flute, keys and floor toms were swapped around and used throughout the set.
'Subbuteo' from their first album was well received with flute and clarinet playing tight counterpoint. The interplay of harmonies between Abbott and Sarah Hayes was a highlight – live it reminds us of Snow Patrol and Martha Wainwright's 'Set The Fire To The Third Bar' or Bright Eyes' duet with Emmylou Harris on 'Landlocked Blues'. In short – super tight.
Current single 'Isn't This World Enough?' had audience in good and full voice for the choruses with a bit of coaching from Abbott.
Many of the songs had 3 or 4 piece harmonies but it was a full band a cappella version of 'Four Bulbs' that really stood out. Abbott eased the audience into pin-drop quiet with all members stood in a line on stage. Each with a tight part you could hear clarinet player Kevin Brolly's super low voice propping up the harmonies. Without being dramatic, it was pretty hair-raising to watch.
Closer 'Old Balloons' gets a fairly frenetic performance and great response from the crowd. Whilst the band can venture into Doves and Elbow territory on some tracks it somehow feels genuine and heartening instead of contrived.
A special mention to the guy next to us. He couldn't stop saying things like "I'm SO happy" and "This is BRILLIANT". We pretty much agree with him – they did warm some cold Brighton hearts.
Green Door Store, Thursday 13th December 2012
Words and photos by Dan Griffiths