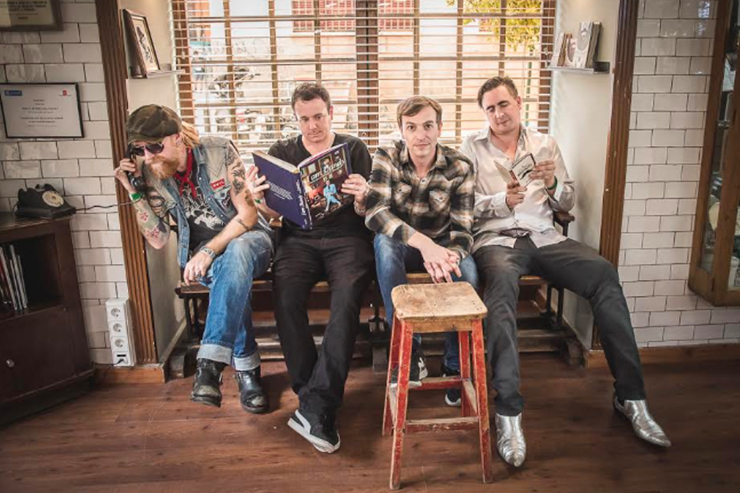 Pirate tales have been sung, bad photographs taken, and the talk has never left town about Eddie Argos' raucous adventures in all shady corners of Berlin for the last seven years after he left us with the memories of the dusty, sweet sounds of 'Brilliant! Tragic!' ringing in our ears. It has been seven years, and in those seven years we have got older and more cynical, and politics has got tragic, and rock'n'roll has limped a bit in places, and we have all been longing to shout "Tories Out!" at the indie gigs again.
One summer evening in February, Eddie Argos bounces on stage to the sounds of 'Formed A Band' like a racket ball, having the time of his life, and we all leap to the front with beer flying up in the air. Art Brut are back and the excitement is palpable. It is then straight to 'My Little Brother', and as we religiously worship every lyric of Eddie's little brother's rock'n'roll odyssey, time catches us up again with the retired concept of A sides and B sides and the little brother now being thirty seven.
Eddie chuckles to himself at the brutal hilarity of change captured in an indie song. He pauses the song, hushes the band and trails off through tales of indie successes, phone calls from his mum about indie successes, shouty indie bands being fashionable again, and we lose track of time and the song, mesmerised by the storytelling, Eddie's secret weapon.
Suddenly we are back out of control with the little brother in a full throttle of the chorus only to fall into the sweetest 'She Kissed Me (And It Felt Like A Hit)', reminiscent of the romantic escapades of 'Direct Hit' and 'Good Weekend'. 'Hospital' and 'Alcoholic Unanimous' take a darker turn in the set as Eddie confesses to being hospitalised whilst on the seven year hiatus, joking it away with the near death experience inspiring only one song, playfully scornful of any self-pity.
'Axl Rose' sounds as brilliant as ever with the stories of his favourite lead singer, followed by 'Kultfigur' with its spiky guitars and self-deprecating story of a lead singer of a 'kult band' selling his paintings in Berlin. Before we get to the final hits, Alexander Boag from the support band Scare Taxi (and once upon a time of These Animal Men) joins in with the brilliantly un-nostalgic 'These Animal Menswear', bringing generations and punters even closer together.
The anecdotes, tales and songs all intersect and intertwine with the punk magic of the show as we're thrusted into the energy of 'Emily Kane' and the latest hit 'Wham! Bang! Pow! Let's Rock Out!', the classic Art Brut styling of the party of your life, leaving us feeling we definitely don't want to go home yet, either. The band spring up full of bolting energy into 'Hooray' and the legendary fable of 'Lost Weekend', cloudy memories of which we collectively share and sing along to, Art Brut soothingly exiting on 'Post Soothing Out'.
The biggest WHAM! BANG! POW! of them all is served last in a true Art Brut bow as they slide back into hysterically welcomed 'Modern Art'. Those safely perched by The Haunt's walls now all come in to join in this final masterful affair of modern art that makes Eddie and us all rock out. Eddie, the grand showman, has the entire room sit down as he plunges in to lead us through art pieces of Amsterdam galleries, only to moments later have everyone bounce up in the air with him to the fuzzy riffs and blasts of the chorus on repeat. With our hearts pumped out high, lungs giving up life, ribs sore and lips quenching drink spilled all over the floor, Art Brut leave, but the party in our hearts stays forever.
The Haunt, Saturday 23rd February 2019
Words by Anna Siemiaczko