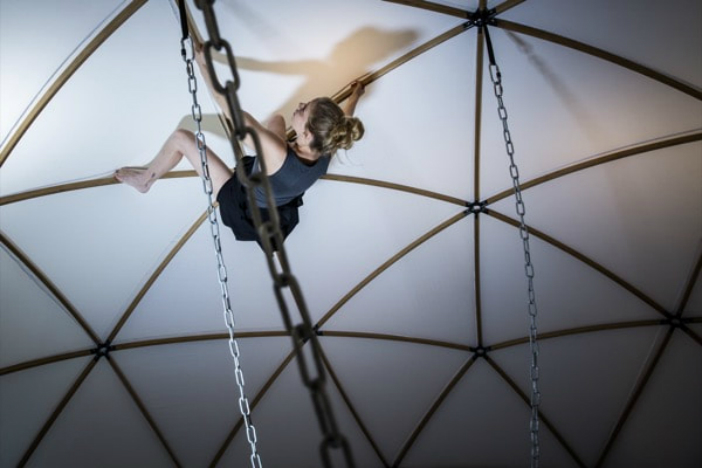 May's the month in which Brighton emerges from the winter gloom and blossoms into life. Once Brighton Festival and Brighton Fringe begin, every trip into the town centre comes complete with glamorous performers strutting the streets, a deep layer of posters plastered on every wall, and, shockingly, the even the sun's been out.
From The Warren's mad launch night with clowns, drag stars, fireworks and Julian Caddy's traditional / inexplicable live-stream to Belgium, the Fringe has started strong. Our first show was the "inspiring, stirring and brave physical theatre" Väkevä/Lyydia by Finnish circus arts group Agit-Cirk. Then we got stuck into the wide array of comedy Brighton Fringe offers, with stand-up from "vastly engaging" Rob Thomas, who's back at The Warren on the 14th and 15th May. We were also lucky to catch two of Brighton's finest and freshest comedians, the "waspish and stylishly bitter" Joe Foster, and the "cuttingly sharp" Brodi Snook. If you missed out, both Foster and Snook have shows later in May too.
Unfortunately, Louise Reay's hotly tipped billed show had to be "pulled for legal reasons," and though she presented some old material instead, it seems "that her case is in danger of setting a worrying precedent in allowing comedians to be silenced through litigation." Elsewhere, we spent a slightly confusing hour with the "whirlwind of enthusiasm" behind Brain Rinse, and enjoyed a "warm, heartfelt" masterclass in comedy from the "key figure in the London comedy world," Barry Ferns.
Things have been busy on the Brighton Festival front too, kicking off with a colourful Children's Parade last Saturday. We were blown away by the "simply stunning" new work by Hofesh Shechter, Grand Finale, but left cold by Business For Bohemians, a talk by Tom Hodgkinson that proved to be "a hard one to relate to." We headed to Phoenix Gallery to check out Brett Goodroad's exhibition, but found it to be "for the most part… A confusing mess." Controversial? The exhibition's running until the end of the month, so let us know what you think.
Last night, we went to the opening night of this year's Brighton Festival curator, David Shrigley's "indie-rock pantomime," Trouble In Brighton. We didn't expect much, but were impressed by the "short rollercoaster of bizarre ideas, played well." It's back tonight at The Old Market, if you fancy it.
As we head into the second week of the Brighton Festival and Brighton Fringe, we're not slowing down. Here are some of the shows we recommend seeing over the coming week:
We're spoilt for comedy this year, and we're looking forward to Fix My Brain, a comedy about friendship, depression and existential dread, on 12th & 13th, which returns later in the month too. We'll be front-centre for David Hoyle's Love In, a comedy billed as post-drag, post-gender, avante-garde and legendary, on 16th May.
As for theatre, we'll be heading back a hundred years and going to Russia for About A Revolution on 16th or 17th May, and Waiting For Gandalf, a play exploring Kevin Brook's lifelong devotion to Tolkein. We met the man behind Cry, Blueberry working the crowds at The Warren's opening night, so we're hoping to catch his well-researched magic realist theatre production one night over the weekend.
As for music, the iconic, polarising Amanda Palmer will be at The Dome on Sunday 13th May, and the legendary rap godfathers The Last Poets will be at The Theatre Royal on the 15th, and we're looking forward to both, very different, shows. We're spoilt for cabaret this week, and we're booked in to see the political, vibrant and award-winning A Berlin Kabaret!, on every night between 17th and 20th, as well as Cabaret Boheme: Cinematic Spectacular, every night between 17th and 19th, which will be two hours of visual splendour, burlesque, and aerial derring-do.
Anything we've missed? Email jess@brightonsource.co.uk with your recommendations and thoughts.
We're uploading our reviews as we write them, so keep checking the website. Here's to week two!