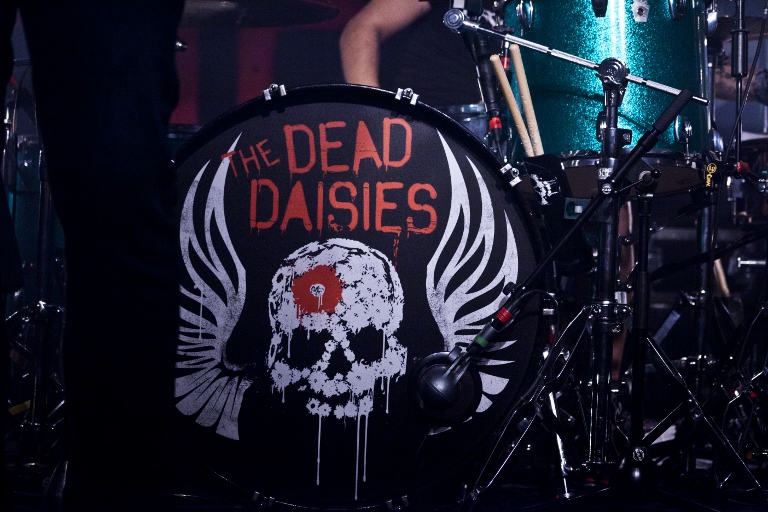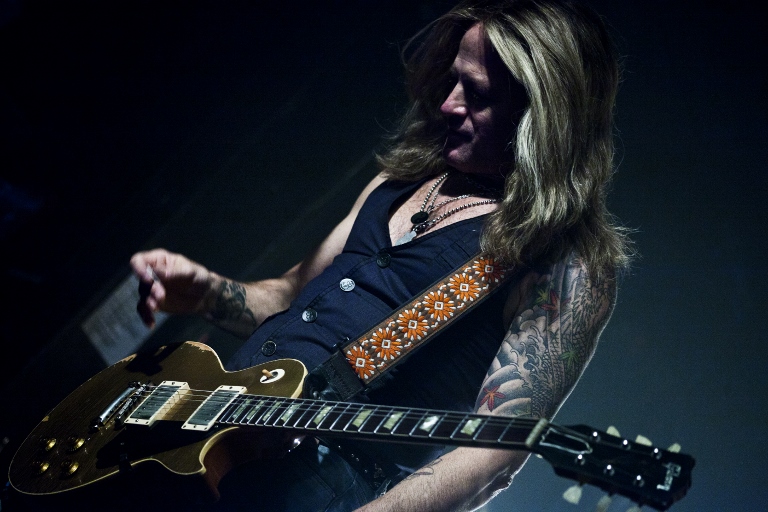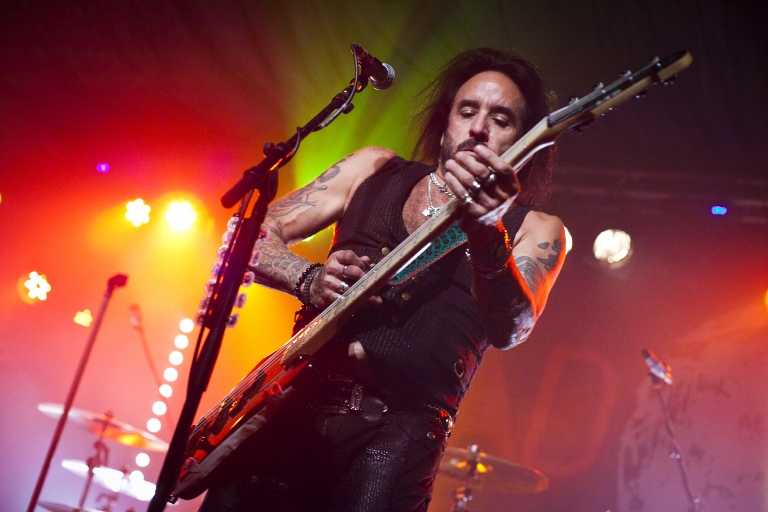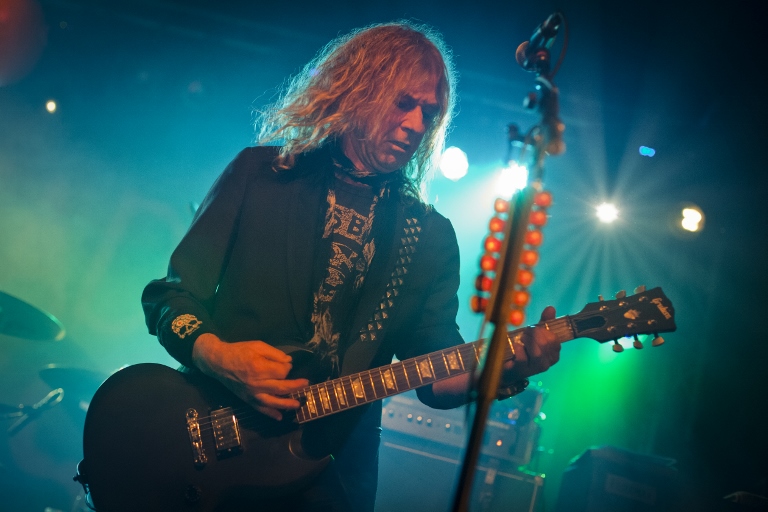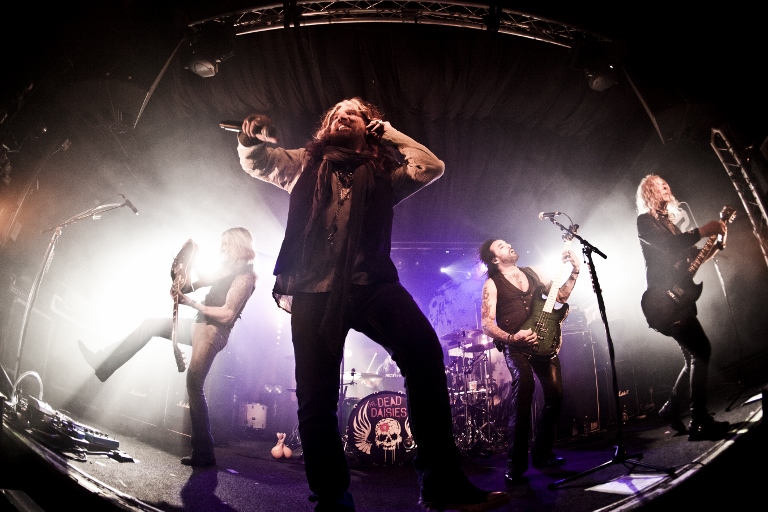 Brighton is notorious for its cold, rainy and windy autumn nights, especially near the seafront. This Sunday night was no exception – yet the Concorde 2 was fully packed. People of all ages gathered to watch The Dead Daisies on their co-headline tour with The Answer (and support from Jackaman), and there was real excitement in the air.
Zeppelin's 'Whole Lotta Love' was playing in the background as the Daisies stormed the stage, their fiery attitude and unmatched stage presence quickly captivating the crowd before even playing a single note. With group members coming from esteemed cornerstones of the genre (Whitesnake and Dio, to name a couple), it's not hard to understand the appeal for rock fans.
Everywhere you looked, there was something exciting happening on that stage – and it left us struggling with the dilemma of choosing what to focus on knowing that we were missing something elsewhere.
The lighting was spot on, adding even more pizzazz to every detail of the group's appearance. Lead singer John Corabi rocked the 'everlasting teenage poet of the occult' look (with subtle but intended reference to Aerosmith's Steven Tyler), while bassist Marco Mendoza went for an Aztec warrior/Latin lover style only to be outclassed by drummer Brian Tichy's classic late 80s shades and bandana combo.
We found their hard rock (possibly borderline metal, depending on your point of view) material to be mature and highly energetic, and very well (but not overly) produced, with a "no bullshit – just play awesome" attitude. It definitely stood high on the pillars of rock culture – big, dirty, heavy, groovy riffs and a massive rhythm section driving through the songs like a lorry. The vocals are rugged, unique and powerful, the drum fills are thunderous, and scorching hot guitar solos are weaved throughout, to finish it off with an extra spicy bite.
We also got to catch a live glimpse of the title track from The Dead Daisies' new album 'Make Some Noise', and it was delicious. Think 'We Will Rock You', but sturdier, heavier and more evolved. These guys are simply enjoying what they do, they have fun on stage. Yes, they work hard and play hard, but they project great vibes, the kind that make you want to move, scream, jump and headbang. The kind that make you want to get up on stage and join them.
The Dead Daisies are extremely communicative. They appreciate their crowd and keep conveying the sense that they don't take us for granted, not even for a second. One great example of this is when mythical guitar legend Sir Aldrich finished one of his signature solos, his guitar still smoking, and went down on his knee to personally grant a kid in the front row one of his plectrums. He humbly smiled and looked the kid straight in the eyes as if to say: "The sceptre is in your hands now kiddo; the throne awaits those who work hard and dare to dream…".
Surely you know at least one person who spilled out that gutting "Rock is dead" phrase. We recommend you to grab that person by the hand and take them to a Dead Daisies concert, just to prove them wrong.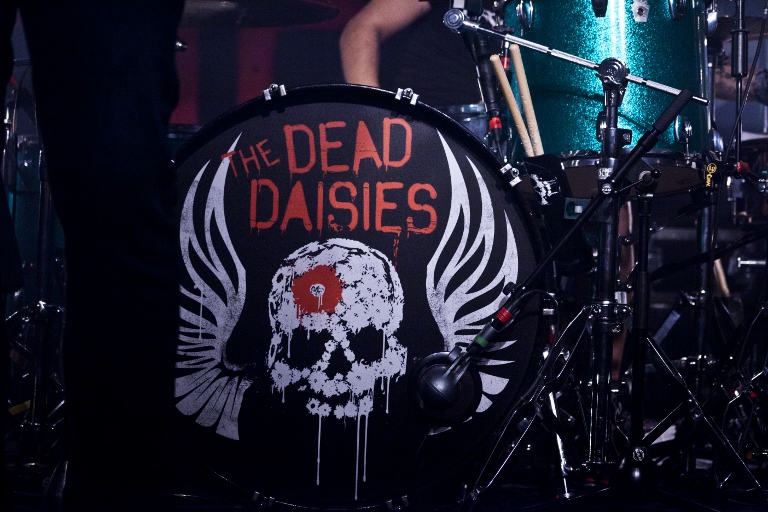 Concorde2, Sunday 20th November 2016
Words by Nanneq
Photos by Gili Dailes
See our photos of The Answer here