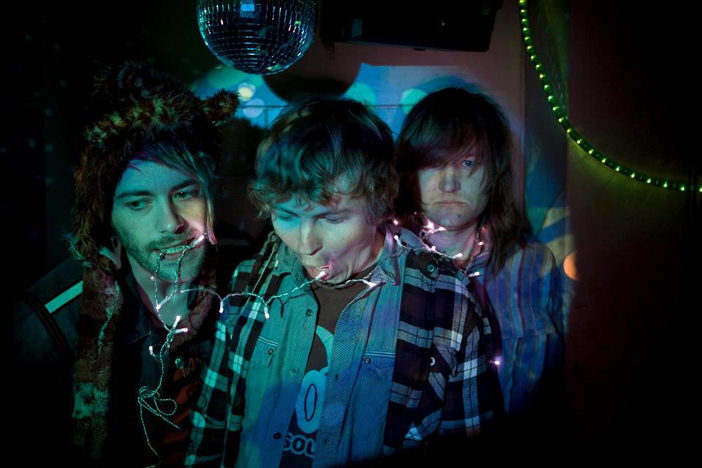 Taking advantage of a midweek lull in Euro 2012 fixtures, Put It On have dragged three Sussex bands off the sofa for a football-free showcase. We haven't seen headliners Flash Bang Band since catching the tail-end of their set at another PIO show last year, and tonight offers the bonus chance to find out what Fifi Dewey's been up to since leaving The Half Sisters.
First on are Bognor Regis trio Mohit, stepping onto the bill at very short notice after the original openers dropped out. Good on them for volunteering too as, despite their nervous, gabbling stage banter, they're a refreshingly tight blast of no-frills power-prog. Frontman James Redfern's bass and co-vocalist Toby Baxter's guitar get entangled in taught wiry lines, and Danny Brooks is a dynamo drummer. To Mohit's evident relief, the room fills.
Fifi Dewey's also needlessly nervy at first, struggling to hear her guitar, then breaking it. She's not alone up there though, with writing partner Ross McLean (aka former Tru Thoughts artist Mawglee) on drums and bassist Clare Caldwell filling out the sound. Technical hitches fixed, her confidence returns, revealing a songbook of succinct, distinctive pop tunes. McLean's laptop holds things together with pointillist programming and multi-layered harmonies from a chorus of pre-recorded Deweys. You can hear echoes of the (still extant) Half Sisters in her music, but stepping away from their drum kit has opened up her songwriting to a world of new sounds.
The scruffily endearing Flash Bang Band have snuck up to become quite the contenders, their bratty psych-pop touching base with the juvenile energy of early Supergrass and the addled intelligence of The Move. The whirlwind drumming causes Rodney Roodt's kit to collapse in the opening minutes, while guitarist Andy Halliday and bassist Rob Carmier yelp, scramble and leap like excited puppies. Flash Band Band are scrappy, but they're not dumb, their acidic garage nuggets seething around a solid pop core. A score draw all round.
Hope, Wednesday 20th June 2012
Words by Stuart Huggett