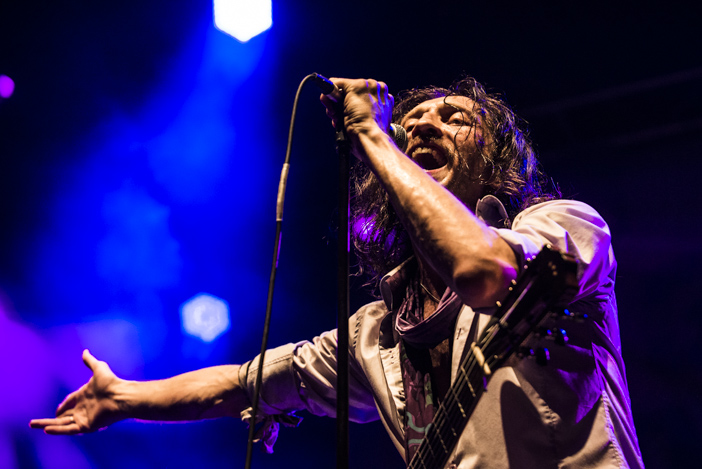 The stage hands at Brighton Dome are busy tonight. When Gogol Bordello launch into their opening song, firing on all cylinders except one, they soon realise the main microphone isn't working. Singer Eugene Hütz promptly commandeers his bandmate's mic and jumps back into the verse like a pro, while roadies run around him unfurling cables. When they fix the problem he discards his adopted mic halfway through the song, tossing it to the floor with a thud.
It's not the only piece of equipment knocked over tonight, and before long the tech guys are skidding through puddles of wine hurled from Hütz's open-topped bottle of red. And that's before he starts crowdsurfing on a bass drum. Like everything Gogol Bordello do, the disarray they cause on stage is good-natured, hectic and fun – less a destructive rock tantrum, more an anything-goes celebration.
The band's two backing singers come on after the first couple of tunes and by the time they've hit their stride there are nine musicians on stage, each giving it their all. The frantic energy of the group is infectious and immediate, despite a set frontloaded with unfamiliar songs from their forthcoming new album. At the edge of the stage, either side of the now-functioning lead mic, are two mini risers which see constant use as dancing podiums, footrests and springboards for every member of the band. They step up for solos, but mostly just for the hell of it, launching themselves off and coming back for another go with comic regularity. Watching musicians have fun is good fun too.
What's amazing is that despite all the running and jumping there's nary a duff note all night. The action on stage is matched by the band's musicianship, rather than making up for it, and some of the instrumental fills are glorious. The melodies that violinist Sergey Ryabtsev weaves around the vocals would probably be the focal point for lesser songwriters, but here they're just one part to pick out amongst many. However, while these guys certainly know how to hold it together, they also know how to mix it up. Just when it's in danger of all getting too much, the band bring it down for some slower numbers, allowing Hütz to slip in some crooner moments between belting out thumping choruses.
It's been twelve years since Gogol Bordello hit the crossover sweet spot with their 'Underdog World Strike' LP, but they've still not settled down in one place, musically or otherwise. Tonight's show is a reminder that the genre of gypsy punk is not as reductive as it sometimes seems, at least not when it's in the right hands. Though live favourites like 'Start Wearing Purple' certainly play up to the Eastern European oompah thing, there are plenty other influences poking through during the course of the evening. Some of it is basically heavy metal with violins (which is no bad thing), and the band also make space in the songs for Latin rhythms, dubby basslines and even a jazz breakdown.
That there's such a mix of sounds on show shouldn't come as a surprise given the group's roots prior to meeting up in New York City. We don't get much in the way of banter tonight until Hütz does his introductions and gives us a rundown of every band member's birthplace: Ukraine, Belarus, Ecuador, Scotland, Ethiopia, Puerto Rico. He gets a cheer for announcing that Sergey the violinist is from Brighton, but the joke is lost on us until we look it up and learn that he actually lived in a Russian enclave called Brighton Beach in Brooklyn. Educational too.
In any case, it's a nice moment and gives substance to the internationalist stance and styles of music. With tracks like 'Wonderlust King' and 'Trans-Continental Hustle' as well as the fantastically punky immigrant anthem 'Immigraniada', Gogol Bordello aren't just singing about a world on the move, they're very much part of it. And crucially, it's a whole different world to that of smug Western backpackers or xenophobic newspapers. The band have been on the road since March and are touring the US and Europe until the end of the year. Let's hope they manage to drop in again on our corner of the globe sometime soon.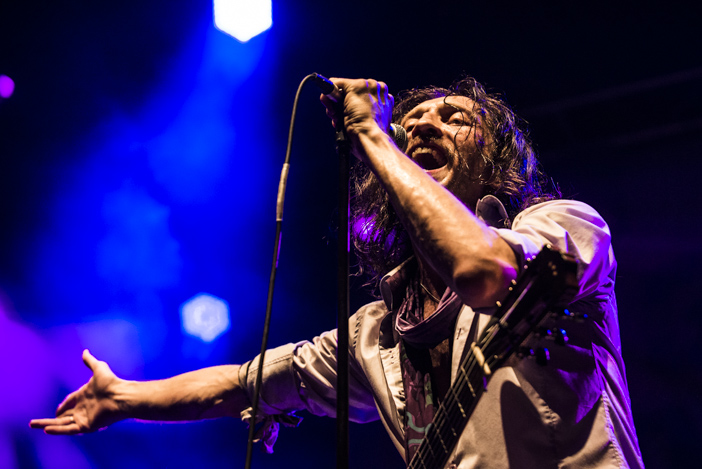 Gogol Bordello, Brighton Dome, Thursday 6th July 2017
Words by Ben Bailey
Photos by Fran Moore