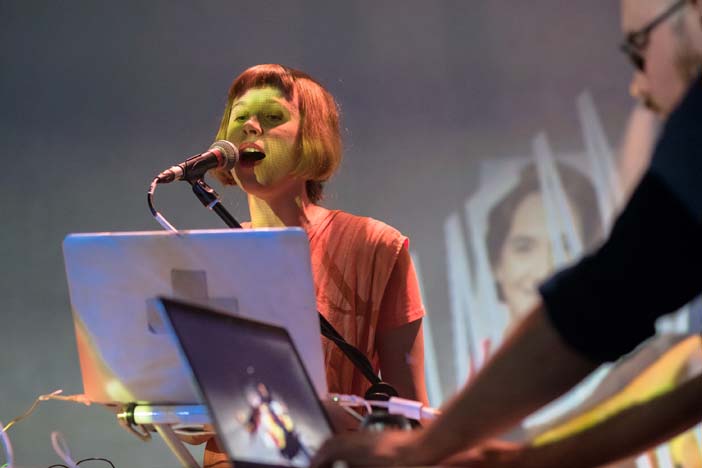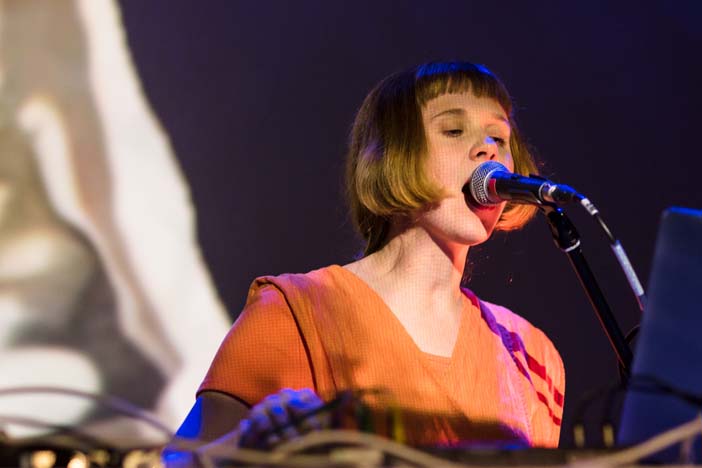 Holly Herndon wanders onstage at the Attenborough Centre for the Creative Arts, casually assuming her position behind a laptop. "Hello Brighton", she types, the words appearing above her on a huge screen. She smiles and waves. The crowd laughs, tickled by this sweet subversion of the classic rock show opening.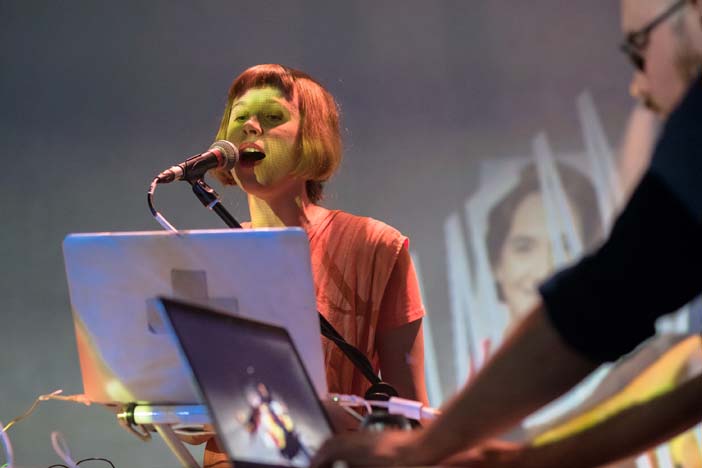 Tennessee born Herndon, currently a doctoral music student in San Francisco, creates sophisticated abstract digital soundscapes using programming language and voice manipulation software. Her most recent album, 2015's 'Platform' (4AD) garnered a wave of critical praise, as well as high profile support slots with Radiohead and St Vincent. While it's undeniably challenging stuff, firmly located at the arty end of the musical spectrum (as well as the not-so-danceable end of techno), Herndon's music feels very relatable in a live scenario, where it is performed tonight as part of Brighton Digital Festival.
Sidesman Mat Dryhurst is on hand to take charge of the visual elements, operating image generation software which runs in tandem with the music to create a continuous, surreal semi-abstract video. He leads us through CGI corridors in which random elements (padlocks and vegetables seem to be flavour of the night) multiply like bacteria. The chaotic imagery which swells around Herndon implies beauty but also a loss of control, a shuddering, glitchy surrender to the confusing random forces of technology – and this is amply echoed in the music.
The singer's voice is an abstract tone which cuts in and out, at times evoking a phone line breaking up or an internet connection stalling. Frustrated communication and melancholy run through the soundscapes, but it's often matched, too, by something approaching frenetic excitement, a fascination with technology and a pioneering sense of exploring endless uncharted forests of sound.
Between songs, Herndon and Dryhurst offer us deeper insight via unspoken, typed onscreen banter. It has, they conclude, been a confusing year politically, what with the victory of Trump (who they refer to only as 'that douche'). But it's not all bad, they add – Iraq whistleblower Chelsea Manning has been freed. These words of hope lead us directly into a heavily reworked version of 'Home', the centrepiece of 2015's 'Platform'. As the only song tonight in which Herndon's heavily processed vocalisations form easily audible lyrics, this offers the most specific portrait of her uneasy relationship with technology. "I know you know me better than I know me", she sings. This beautiful, strangely moving song is surely modern music's first bittersweet paean to the all-knowing all-seeing algorithms of the Web.
Yet there are further surprises in store. Just as 'Home' comes to its rolling, danceable, techno climax, the music cuts out. The audience claps and whoops, but Herndon emits a tiny scream of horror. The program has crashed. For a song about our relationship with technology, this is a strange yet fairly apt coincidence. Silence reigns a few moments before Dryhurst is forced at last to break the fourth wall and speak aloud to the audience. "This happens sometimes," he explains. "The last time was at Pitchfork festival, we were headlining one of the tents. Everything broke down and we couldn't get the programs back online. We ended up doing iTunes karaoke."
Herndon seems unfazed, and we can't deny it's nice to feel that this gig has offered up a more personal moment of off-map connection with musicians whose performance, though slick, has until now seemed of necessity rather veiled and austere. While the program starts up again, Herndon entertains us by playing with one of her voice changing gadgets, giving us an echoing, stuttering voice interlude before the beats come back in for one last song. As the show ends, Dryhurst types us a farewell, together with the promise of a new and very different album very soon. We hope they'll be back in Brighton soon to play it for us.
Holly Herndon, Attenborough Centre for the Creative Arts, 21st September 2017
Brighton Digital Festival 14th September – 13th October 2017
Photos by Attenborough Centre for the Creative Arts (Mike Massaro)