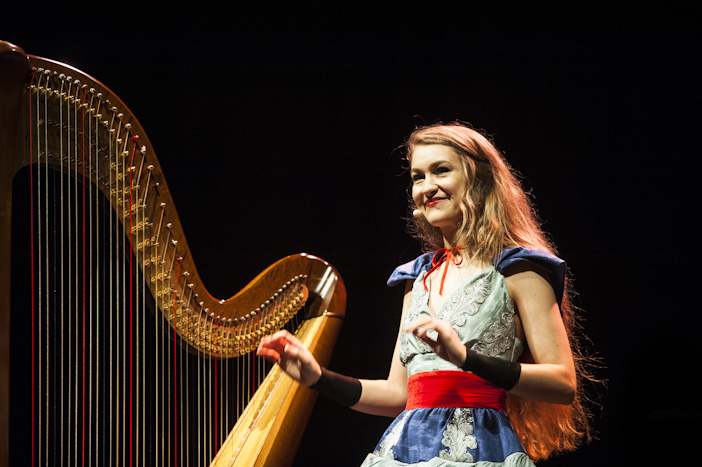 Joanna Newsom doesn't have fans, she has worshippers. Such was their reverential devotion that beside cheering her entrance and rapturously applauding each song there was such a respectful hush throughout the performance that the sound was crystal clear.
Joined by brother Peter (drums and keys), Mirabai Peart (strings) and Ryan Francesconi (guitar and everything else), Newsom began day two of her 'Divers' tour on harp with 'Bridges And Balloons' from her debut album, on which her voice seemed deeper and huskier than expected.
Switching between piano and harp, her childlike voice soon appeared and remained. The high pitched vocals often rendered the lyrics mere sounds and squeeks but with music this captivating I found myself lost in a trance, totally consumed by this strange, almost medieval sound.
Happily jumping from fragile beauty to challenging discord, it was clear that this most special of performers was giving us something special; amazing considering she hasn't played live for three years, and never before with her brother. What's more, the new songs have been exquisitely re-arranged for the tour by Francesconi.
With her long blonde hair and dressed in a designer blue and white frock, she resembled Alice in Wonderland which perfectly suited the magical mischief that ran through each song. The set saw all four albums represented, but her current (and best?) made up the bulk – including the title track which conjured up a seascape of longing with thumb piano adding to the ambience. Electric piano and mandolin combined to mimic a harpsichord in a funky baroque salute to "the naked hussies", followed by a switch to harp and banjo for a soft, lilting 'Go Long' that belied the anger of the lyrical content.
Obviously the harp was pivotal to the performance, but the piano was chosen for the closing number 'Time, As A Symptom'. Newsom's soloing was strong enough to make the band redundant until the strings and backing vocals added more texture and the drums came in to complete this mini-orchestral masterpiece that received a fully-deserved standing ovation.
Joanna Newsom, Brighton Dome Concert Hall, Sunday 1st November 2015
Words by Steve Clements
Photos by Francesca Moore