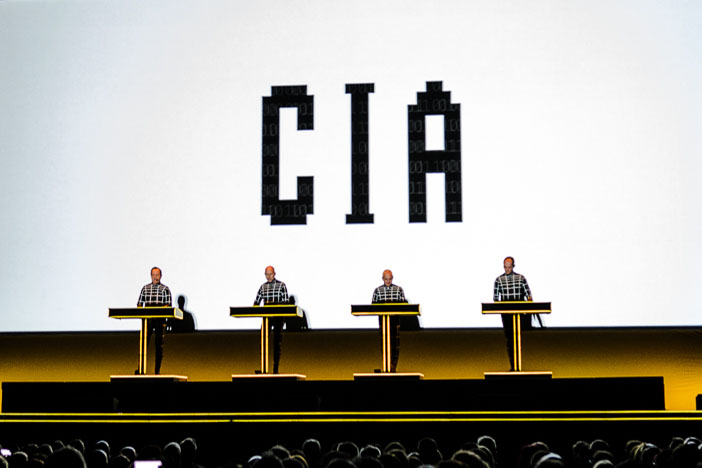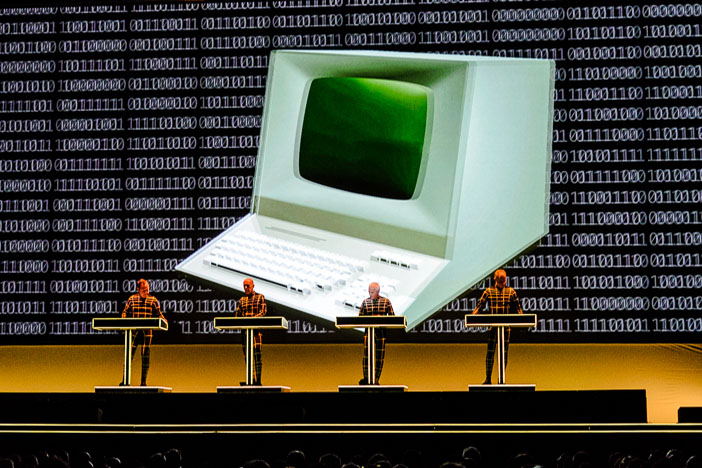 Since its announcement last year, the return of Kraftwerk to Brighton over thirty years since they were last here was set to be the highlight of many people's gig diaries. As the show approached, however, outside events conspired to present the Brighton Centre with some serious organisational problems. Armed police had been stationed in the area in the aftermath of the Manchester terror attack and, following last weekend's London Bridge outrage and the next day's looming General Election, it was no surprise to see them patrolling the streets around the venue and neighbouring Churchill Square again all week.
By the time the venue's doors opened, security was extremely tight, with the understandably necessary bag checks and scans slowing entry to a snail's pace. As Kraftwerk's 7.45pm stage time approached, thousands of ticket holders were still queuing along the seafront, up Queens Road and down along Russell Road, before doubling back on themselves into the busy evening traffic. A logistical and safety headache was unfolding but, to their full credit, the Brighton Centre staff managed to control it, with Kraftwerk delaying their appearance until everyone was safely inside the building.
Even from a distance in a venue as large as this, Kraftwerk's Catalogue show is an immersive experience. As we're plunged into darkness, complimentary 3D glasses are donned and the curtain falls. The illuminated count into 'Numbers' begins on a huge rear screen as the group line up in position behind four podiums, their pristine electronics ping-ponging into life. The whole front end of the show comes from 1981's 'Computer World' album, with Kraftwerk's remaining founder member Ralf Hütter initially in weak voice on the title track, but building in strength through 'Home Computer / It's More Fun To Compute' and 'Computer Love'. As a concept album, it remains Kraftwerk's most prescient and cohesive, the "Interpol and Deutsche Bank / FBI and Scotland Yard" lyric recognising the international web of economics and corruption that would thrive in the dawning digital age.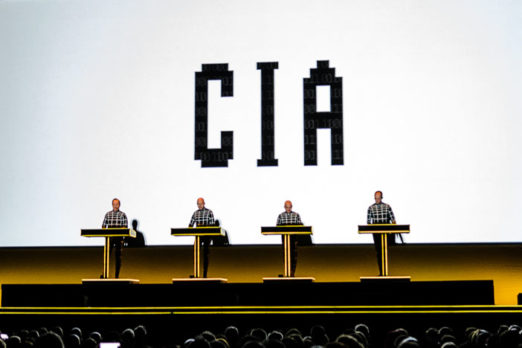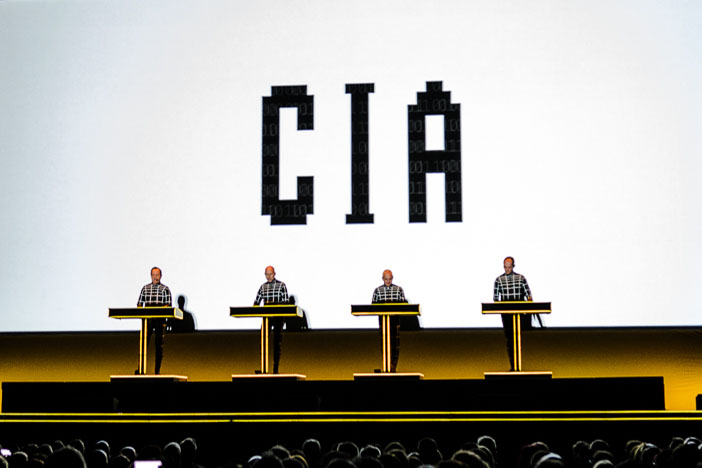 Falling back through time, the next suite of songs comes from 1978's celebrated but dated 'The Man-Machine', including the title track, 'Spacelab' and two of Kraftwerk's most emotionally warm tunes, 'The Model' and 'Neon Lights'. There's a leap in the quality of the previous Pages From Ceefax graphics as the Spacelab pivots in orbit over our heads, before a flying saucer swoops over the Royal Pavilion and lands on the promenade outside the Brighton Centre itself, its shape mimicked by the disc of the i360.
Following the long and winding road of founding electronic text 'Autobahn', Kraftwerk start throwing some surprises into the set. We wouldn't have bet on an appearance of 1975's 'Airwaves', leading into a handful of selections from the overlooked 'Radio-Activity' album, but its welcome appearance is marred by too-soft sound and for the first time tonight the stage feels very distant. We're not alone in this thought and it's followed by calls from around the hall to turn up the volume, which the sound-desk engineers duly do, by several notches.
We also get an unexpected airing of the title track from their 1986 album 'Electric Cafe', a lesser-known piece from this under-regarded record, more of which will follow. Firstly, though, there's another long suite, drawn from Kraftwerk's final studio album, 2003's 'Tour De France Soundtracks'. Hütter's continuing emphasis on the run from 1974's 'Autobahn' (actually Kraftwerk's fourth full-length) to 'Tour De France Soundtracks' as The Catalogue seems to preclude any subsequent inclusion of a ninth. We live in hope he'll prove us wrong one day.
After the insistent click-clack beat of 'Trans-Europe Express' Kraftwerk leave the stage but rapidly return for a loudly requested encore of 'The Robots'. Except it's not them but their mannequin doppelgängers, including a rather restrained, possibly malfunctioning, 'Ralf'. It's been suggested before that, when the human members of Kraftwerk are no longer able to do so, their robots could continue to tour without them. They may require some longer-lasting batteries first.
Even with tonight's delayed start, Kraftwerk's encore develops at the group's own unhurried pace, meandering through 'Aerodynamik' and 'Planet Of Visions' before a final, extended journey through the whole of Side One of 'Electric Cafe'. With thirty years distance, the album's focus on rhythmic complexity over melody makes the direction Kraftwerk were investigating back then appear more forward thinking than it did in the mid-80s, the relentless linked sequence of 'Boing Boom Tschak / Techno Pop / Musique Non Stop' attuned to the oncoming hypnosis of house music.
With a flourish and a bow, Falk Grieffenhagen, Fritz Hilpert and Henning Schmitz leave the stage in turn, allowing Hütter to finish the show alone. A decisive final stab at his podium, a momentary thank you and he's gone, back in the box with his robot friends. We may never see them again.
Brighton Centre, Wednesday 7th June 2017
Words by Stuart Huggett
Photos by Mike Tudor