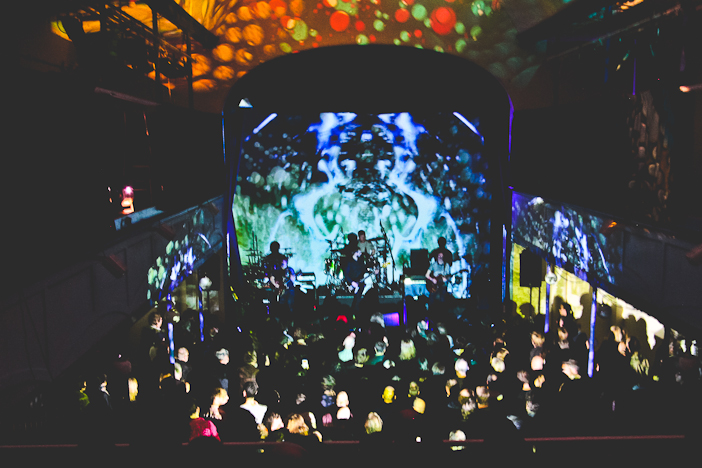 The Lewes Psychedelic Festival returned to the All Saints Centre last Saturday. With a hot line-up the event sold out early and plenty of people from the Brighton area and way beyond missed out on their chance of a ticket.
So it was disappointing at points that the venue seemed a little sparsely packed. No doubt the bitterly cold weather took its toll on attendance and a capacity cap meant it was unlikely that all the ticket holders would remain on site from beginning to end. Despite all that, the 'tiny cathedral' interior of the centre was well used and smothered in the dripping visual projections you would expect from an event with the word 'psych' in the title.
Some of the material seemed a little too extraterrestrial for those attending; Sculpture, for example, failing to engage but still executing a set of abstract electronic noise-craft that fans would expect.
Lucid Dream fared better in the main hall, which had warmed up nicely and begun bouncing about a bit. Their happy but not raucous style of psych-rock benefited from an easy to love bassline-filled repertoire of songs that worked in that groove of free-form and lolloping melodies.
In fact, the psych rock revival is a fitting complement to the sixties vibe of protest and intolerable politicians being felt across the globe. The crowd all seemed pretty positive and grateful to come together and release the pressure after what has been a melon-twisting week for most.
So it was that when Flamingods reached the stage everyone happily got involved and the crowd was a sea of smiley faces. The room could have benefited from a bit more on the drums but generally the sometimes delicate sounds of their subcontinent-infused blend of guitar and synth-based rock was gripping. The multi-instrumentalists all worked hard and sustained the energy throughout. This wasn't the sweat box hedonism of last year's Hope & Ruin gig but they definitely turned up and everyone was genuinely sad when the powers of curfew curtailed their final send-off song.
All in all, we were transported off to the banks of the Ganges while hoping all these worlds can come together more often in tenacious harmony. Peace out.
All Saints Centre, Saturday 21st January 2017
Words Louise Bloom
Pictures Ollie Thomas