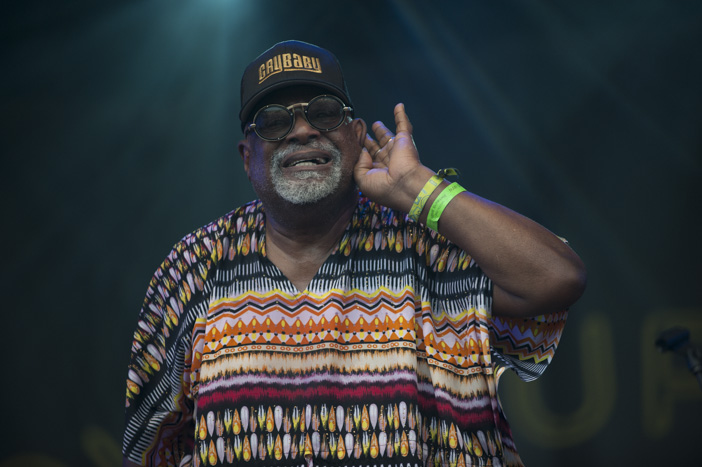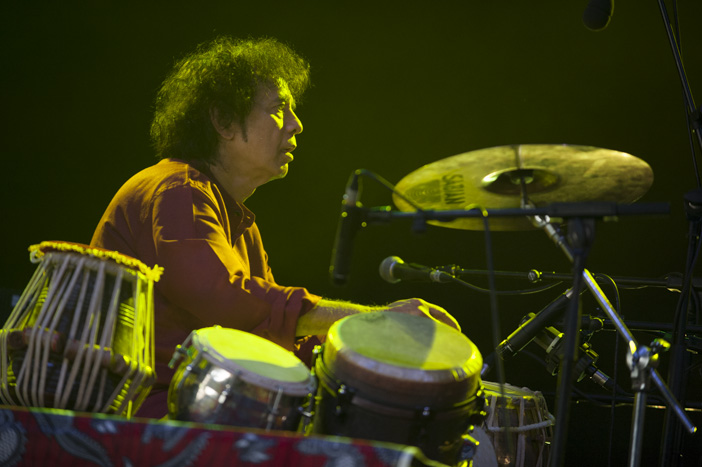 Both weather-wise and musically-speaking the forecast was excellent for another weekend at Love Supreme Festival which began at the new Bands & Voices stage with some fine calypso from Alexander D. Great and a compelling documentary on the exciting London jazz scene featuring many young performers appearing over the weekend. Opening the main stage were MF Robots, formed by ex-Brand New Heavy Jan Kincaid, whose British disco funk got the early arrivers dancing.
Again, local artists were well-represented on the bandstand to entertain the food court diners. In the Big Top tent, Orphy Robinson had assembled an all-star line-up of ex-Jazz Warriors with his dreamy vibes perfectly paired with Roland Sutherland's delicate flute. Soul legend PP Arnold, looking twenty years younger than her age, played a set of classic hits written for her by the cream of 1960s songwriters, peppered with mischievous anecdotes of her time in 'swinging London'; her powerful voice and famous vibrato as strong as ever.
Saxophonist Nubya Garcia is a key component of the new London scene and her band of fellow future stars, which included the stunning keyboard skills of Joe Armon-Jones and drumming dynamo Femi Koleoso from Ezra Collective, played a set of progressive originals with fire and fury.
Songhoy Blues and Mr Jukes' super-tight band (augmented by a punchy brass section and the ubiquitous Joe Armon-Jones on keys) both had a great time grooving on the main stage. One of the joys of this festival is discovering new groups and Norwegian quartet Rohey were a revelation with vocalist Rohey Taalah's Randy Crawford-like soulful voice shining alongside the spacey synths and funky fusion from her bandmates.
The only 'downside' to the weekend (apart from the selfish deck chair users) was being so spoiled for choice. There was no way we would choose Level 42 over Ezra Collective and this ridiculously talented group proved us right. They showed they were unafraid, unbound by rules and were a thrill to watch as they played with a speed and tenacity that made it seem more like a musical manifesto than a gig.
Spiritual jazz master Pharoah Sanders may be rather frail but his passion and skill remain strong as he worked magic on his tenor. He played standards, Coltrane's 'Olé', his own classic 'The Creator Has A Masterplan', whose opening lines caused gasps of excitement from some, and ended with a bouncy calypso.
The weekend's most contentious booking was headliner Elvis Costello, who said he was honoured to be on the same bill as Pharoah Sanders (in a strange mid-Atlantic accent). Despite the presence of original Attractions Steve Nieve and Pat Thomas and a string of hits, Costello gave a lacklustre performance with a shot voice and some really off-key vocals in places. * We have since found out that Elvis has cancelled the rest of his tour following a serious operation, so top marks for fulfilling his booking and we wish him a speedy recovery.
Sunday began with Natalie Williams's welcoming soul classics and a topless Oscar Jerome playing guitar and singing his original laid-back funk songs with a rich voice that came as a pleasant surprise. The ever-reliable James Taylor Quartet played a crowd-pleasing set of soul-jazz soundtracks and club anthems, bolstered by Yvonne Yanney's lead vocal.
With Zara MacFarlane's set absolutely rammed, many enjoyed Yazz Ahmed's Eastern-influenced trumpet well-matched with Ralph Wilde's vibes, and Curtis Harding's dazzling set of Northern Soul-flavoured stomping R'n'B was a weekend highlight. Dave Holland, Zakir Hussein and Chris Potter gave a performance of pure class, as you'd expect from these master musicians. Hussein's rapid-fire tabla demanding, and receiving, ever more from both bass and sax.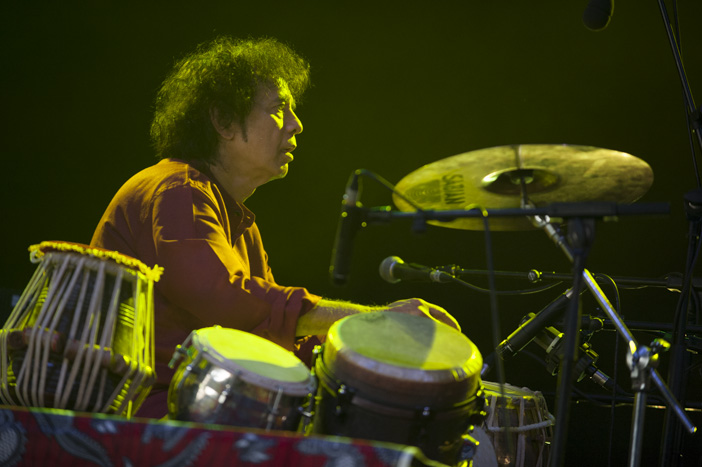 If Joe-Armon Jones was this year's crown prince then Mavis Staples was the undisputed queen of the festival, with an emotional yet playful career-spanning set that proved deeply moving. The stage was her pulpit and the gospel goddess truly churched us all with a funky 'Slippery People' to a spiritual 'Freedom Highway' with silky backing vocals from Skylark's Donny Gerrard.
Going from the sublime to the ridiculous, a cleaned-up George Clinton acted as ringmaster for his P-Funk circus of clowns and class performers – some old, some new. The mix of rap and funk was as enjoyable as the onstage mayhem with Sir Nose's appearance ramping up the chaos an extra notch.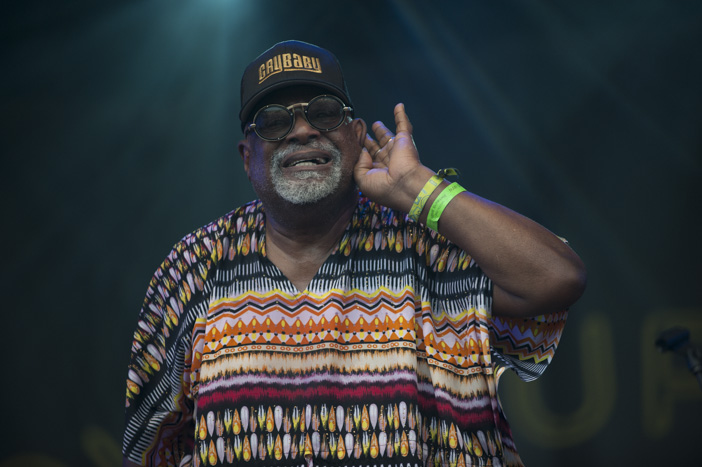 Steve Winwood sounded and looked pretty much as he did thirty years ago, when his closing 'Higher Love' was originally released, before Earth Wind & Fire did what a headline act should do. From beginning to end they blew the crowd away with hit after hit as Philip Bailey Sr and Jr's divine falsettos soared over the grounds. They looked and sounded amazing and finished on a high with three of their greatest songs before being called back for a final treat with 'In The Stone'. This was the crowning glory of a remarkable weekend of sunshine, good vibes and incredibly innovative music played by legends old and new.
Love Supreme Festival, Glynde Place, 29th June – 1st July 2018
Words by Steve Clements
Photos by Fran Moore