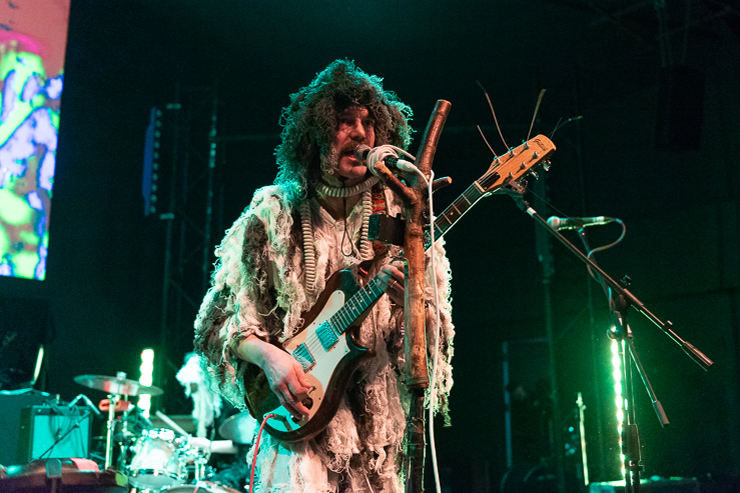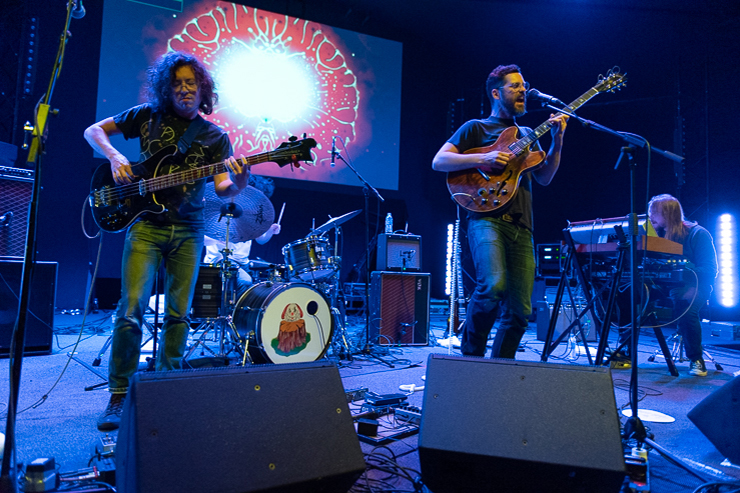 There are no doubt members of this audience who followed the stencilled helixes through Portslade and into Hansen Hall foyer and had the thought that it looks more like a conference centre than the site of a feeding frenzy of incredible genre-defying bands. Only to be stood moments later – a pint of Mutations Festival Lager in hand – watching Snapped Ankles and realising their idiocy.
First on the main stage are Saint Agnes, shocking the early afternoon crowd to attention with a blistering set of screeching psychedelic rock. Front woman Kitty strides across the stage, hair regularly splashed across her face, with a stage presence that shows just how much they've been gigging recently. It's a shame they're not on later, but we're making sure we see their next Brighton show.
The totem mics and costumes – which are… what? Cave/goat people? Ghillie suits with horns and lights glued on? – seem at odds with the squealing feedback. As do the driftwood-mounted homemade LOG synths. Not to worry, they have launched into a propulsive beat that won't let up. There are harsh clanging guitars and synths and distorted shout-sung vocals. We hear drumming close behind and turn. It's only two prehistoric hypemen, one oscillating wildly and one drumming. Snapped Ankles are fun and weird, music for 'when computers finally fail us'. If this is the soundtrack to the apocalypse then we don't mind that Trump has the codes.
We're downstairs at the smaller second stage and it might be a first for us seeing an old big TV and silver VHS player being set up during the soundcheck for TVAM. Placed on a TV stand reminiscent of lessons at school, it screens perfectly timed visuals which are tied in with their psychedelic sound. Everyone in the front row is swaying and hypnotised by their finely tuned, expansive soundscapes.
Next up, headlining The Theatre Stage and looking very civilised in comparison, it's Josefin Öhrn + The Liberation. The Liberation are already on stage when Josefin walks to the front to the sound of a choral drone. She is arresting in black. It's unclear, however, whether during the opener the audience are under her spell or bored. This is quickly resolved with the one-two punch of 'Sister Green Eyes' and 'State I'm In' from their Swedish Grammy winning 2017 album 'Mirage'. Their music is lush, deep and composed. Grown-up psych.
After a sushi burrito respite we head to watch London/Bahrain psych explorers Flamingods. They come on like a gang in matching cut-off denim jackets. Who we initially mistake as the bassist (Flamingods swap instruments many times throughout the set) is wearing a kilt and cowboy hat. They are heavier and harsher than their last record 'Majesty' would suggest. They play exotic scales on strange instruments. The last tune starts all tripped-out Gregorian and, after the-one-with-the-antlers from Snapped Ankles joins on percussion, it goes full frenetic krautrock chaos. For the uninitiated (or Western ear?) there's little to hang on to in terms of hooks, but it's an easy trade for music this original and diverse in its influences.
Clottie Cream, LED, and Naima Jelly stand together at the front of the stage. It's Goat Girl and they are as direct as you'd imagine a band named after Bill Hicks' lusty alter-ego to be. Be it lyrically – "Creep on the train I really want to smash your head in" – or sonically. The guitars are scratchy and there's sometimes a rough country edge to the rhythm section, like The Violent Femmes. It's bracing and exciting to hear music that's unafraid to be political or to tell it how it is. On 'Viper Fish' (Staves meets Cramps!) they sing "don't shed a tear we all feel shame, we all feel shame" and it's powerful: post #MeToo grunge with teeth.
P.S. we noticed a Brass Eye reference on their debut, which is the last reason to listen to it.
Headliners White Denim may be a force of nature but it's an inescapable fact that 75% of them wear glasses. It's also a fact that, when paired with common but totally unreasonable assumptions about eyewear, the previous can be used to support the following: despite their cock-rock posturing and gene-splicing chops (post-Dolly face melters!) White Denim are actually massive music nerds. Just ones with enough self awareness and charisma to headline festivals. See 'Shanalala'.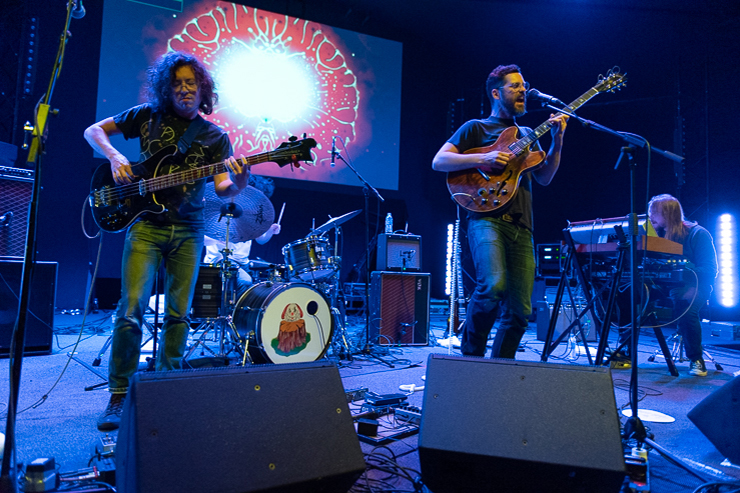 They have raided the annals of classic rock and come back and twisted their spoils into something that is both proggier and punkier… and proggier than it seems. Meaning us proles can flail about carelessly, safe in the knowledge that someone – presumably someone with the same Rick Wakeman bangs as the keyboard player – is getting off on the riffs and time signatures and abrupt but seamless changes. Of which there are many. Funk. Latin. Psych. Did we mention prog? You name it, it's in there somewhere. So next time uncle Jim complains there's no good music nowadays point him in the direction of White Denim. But warn him. Modern classic rock is sentient.
Mutations '19 was a triumph. We just hope we won't have to wait another four years for the next one.
Hansen Hall, Portslade, Saturday 23rd February 2019
Words by Rowan Reddington and Mike Tudor
Photos by Mike Tudor