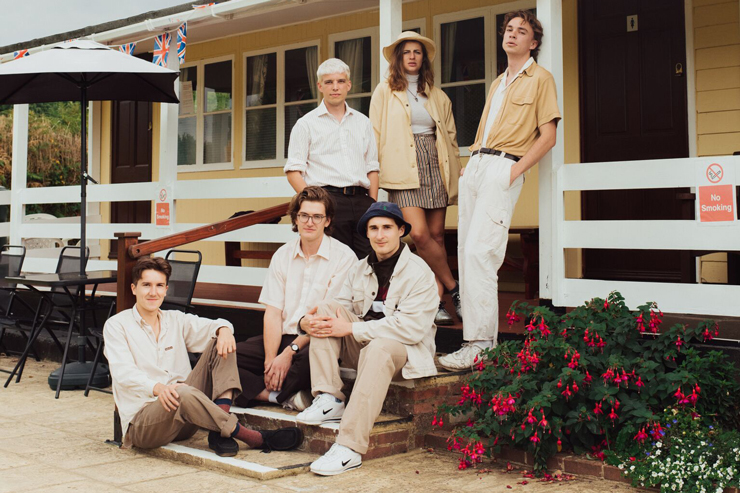 Sports Team. They're coming to Brighton. They have a song about Ashton Kutcher. And you should go and see them at Patterns on the 21st March.
Preview done.
We jest – hilariously, of course, and can also confirm that they are in fact a six-piece London band, not a conventional sporting team. Off the back of touring with The Magic Gang and Hinds, if you're keen on Shame, Fontaines D.C., Fat White Family and co. you'll love them.
This is Sports Team's first headline UK tour, and hype has been building since they headlined the BBC Introducing stage at Reading and Leeds this year. With SXSW already on the cards for 2019, their show at Patterns should bring unfettered, frenetic energy to an intimate venue. You'll want to catch them this time round​!
We recently found ourselves in need of some musical inspiration, having ridden the waves of a dreaded 'Spotify loop' for some time.
Then we heard 'Kutcher' and have been smashing every song Sports Team have non-stop.
'Kutcher' is a lyrically brilliant dissection of relationship pitfalls and petty revenge. All whilst being themed around a certain "mid-noughties MTV star". Give it a listen – if you've ever dreamt of surreptitiously washing a loved one's t-shirt to soften it unexpectedly – then sorry. You've been beaten to it. I guess you got Punk'd.
Lyrical dexterity and social commentary often go hand-in-hand – what we love about Sports Team is the humour that underlies it. We've heard only good things about them live – see you down the front!
Patterns, Thursday 21st March 2019
Tickets available here