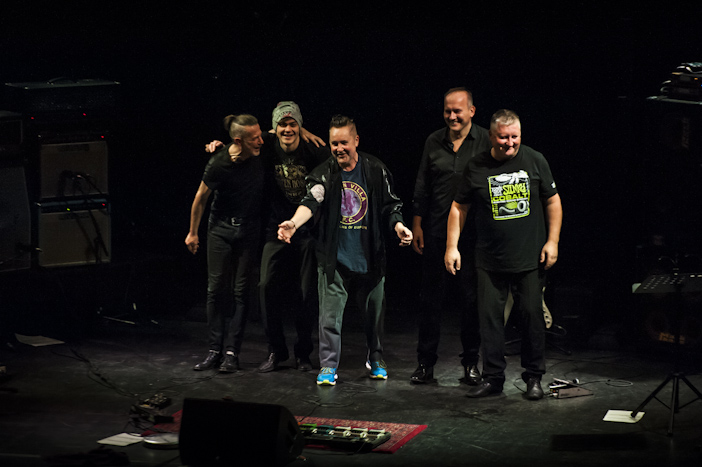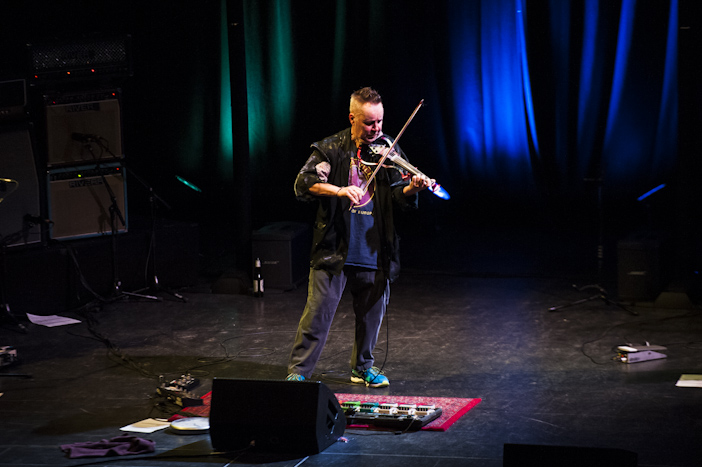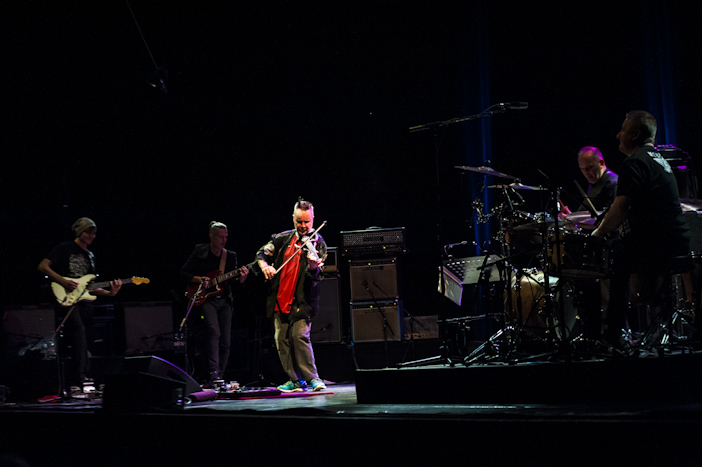 Nigel Kennedy returned to the city of his birth (although, back then it was merely a town) for a UK exclusive show as part of the Rye International Jazz & Blues Festival programme. A child prodigy, Kennedy shot to fame globally following his 1989 release of Vivaldi's 'Four Seasons', which was to become the biggest selling classical album of all time. However, when we were provided with a set of earplugs on the way into Brighton Dome's Concert Hall (accompanied by the warning: "LOUD MUSIC; TINNITUS MAY ENSUE"), it was clear that this wasn't going to be any ordinary classical performance.
The non-conformist classical violinist has long engaged with other musical genres, having collaborated with Kate Bush, Paul McCartney and Robert Plant, as well performing a number of rock, jazz and blues covers. But one of his favourite musicians is Jimi Hendrix, and it's his tribute to this legendary guitar maestro and songwriter that we've all come to witness.
The demographic of the audience is somewhat leaning towards the middle-aged-and-up category, not as diverse as you'd expect for a performer of this stature – perhaps because Brighton's twenty-somethings are unfamiliar with Kennedy, and maybe even Hendrix.
A lifelong fan of Aston Villa, Kennedy takes to the stage looking bohemian-punk, and sporting a Villa shirt under his baggy showpiece jacket, but he's quick to engage the audience with chat about the Seagulls. Backed by a four-piece band, Kennedy was straight into 'Third Stone From The Sun', originally a mostly instrumental piece that set the tone for an evening without vocals.
Without pause, they stormed on with the first half set before Kennedy took a break to introduce the band, most of whom had worked with him for many years. Doug Boyle on guitar, who's toured with Robert Plant; bassist Tomasz Kupiec and Adam Czerwinski who, like Mitch Mitchell, "makes the drums sing". And finally "Das Wonderkid, Julien Bieber" says Kennedy of the 18-year-old guitar prodigy Julien Buschberger, who can't have worked with him 20 years ago like the others because, as Kennedy quips, he wasn't even born then. "And my name is Nigel, and I'm doing very well".
It goes without saying that the band is excellent, and they're flanked on stage by a set of imitation Marshall stacks that Hendrix was famous for. But, seeing that it takes a five-piece to match the sound of The Jimi Hendrix Experience, and with all the advances in sound technology, it makes us wholly aware of Hendrix's genius all those years ago.
Kennedy and his band perform a good mix of acoustic pieces, as well as long, electric and very loud ones, and the earplugs are well received. He engages the front row in small bouts of banter, "What's your name?", "Ahh that's my favourite name!" he confesses to a few women before commiserating with a man named Nigel because "I know how you've felt all your life". A heckle of "Vivaldi!" as a suggestion for his favourite name sees Kennedy concede that it's definitely not his favourite, for he feels it's partially his fault that thousands of people have to listen to the 'Four Seasons' whilst on hold to call centres.
The first half closes with an enigmatic rendition of 'Voodoo Chile', and as Kennedy delivers a series of heavy riffs strummed on his electric violin with heavy distortion, you hardly notice the lead instrument here is not a guitar.
After giving us "a statutory break for your sake", they begin the second half with 'Foxy Lady' – Kennedy now sporting a different Villa shirt. Many of these songs are reaching into the ten-minute mark, and are celebrated by Kennedy and his band with a series of fist-pumps and applause for one another. Nicely countered by an acoustic version of 'Drifting' we see drum solos and Kupiec on the double bass, as he was for 'Little Wing' in the first set.
Kennedy manages to cram in all of Hendrix's first UK top ten hits, with 'Purple Haze', an orchestral sounding version of 'The Wind Cries Mary' and 'Hey Joe'. For the latter Kennedy refers to Hendrix's cover by saying "we're going to move away from Hendrix to do this". After a big solo from Buschberger Kennedy ended the piece with a rendition of 'Star Spangled Banner', the version Hendrix was famous for performing.
After an incredible violin performance Kennedy announces "they'll have trouble getting us to leave anyway", before an encore where we hear a cover of Scottish funksters Average White Band, before they come to the front of the stage to end with a sweet acoustic rendition of Django Reinhardt's 'Swing 39'. Thus demonstrating their musicality, unshrouded with amplification and distortion.
The whole show by was well thought out and rehearsed, showing a love for and dedication to Kennedy's musical idol. This line-up also allows Kennedy to perform with flair and freedom (not to mention volume) that is rarely encountered on the classical stage. Clearly in their element, and delivering exactly what the audience wanted – short of Hendrix miraculously returning from the dead – Kennedy's troupe were all smiles as they received three well-deserved standing ovations. Three cheers to Jimi Hendrix, too!
Brighton Dome, Friday 25th November 2016
Words and photos by Francesca Moore