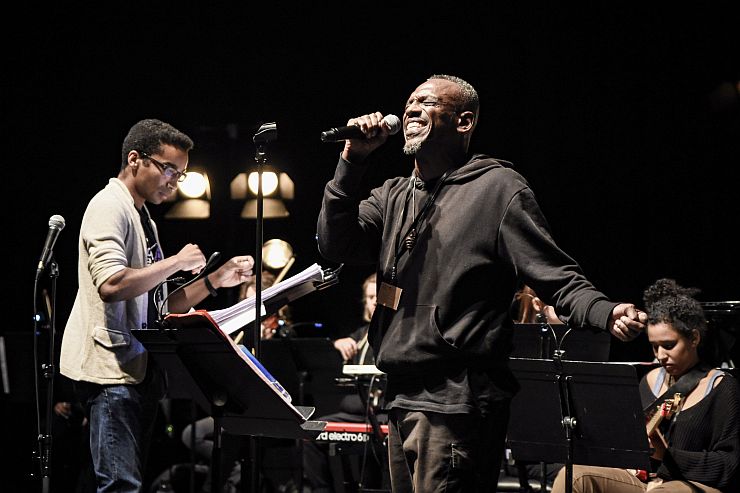 What better way to round off Black History Month than with a jazz soul reinterpretation of Marvin Gaye's seminal album that preached unity and highlighted social injustices? The Nu Civilisation Orchestra is a world-class ensemble brought together by Tomorrow's Warriors' Artistic Director Gary Crosby OBE and the first thing that was apparent as they took to the stage was the young age of many of its members.
A projection of the 'Trouble Man' album cover appeared as Musical Director and Master of Ceremonies, Peter Edwards, introduced a new suite based on Marvin Gaye's soundtrack for the rarely-shown 1972 Blaxploitation film. The first piece began with bass, bongos and Sonia Konate's excellent wah-wah guitar with added strings and punchy brass making it a sleazy, swing number. Noel McKoy appeared in a red sequin suit to perform the title track and showed he was able to effortlessly match Gaye's fine falsetto. It should be noted that McKoy has his own distinctive soul voice and this was not an impersonation of the late Motown legend. This was an expert recreation of that 1970s funky soul soundtrack vibe and a perfect warm-up for the second half.
After the interval there is a prelude of 'What's Going On' before Sarah Tandy's piano and a flautist kick off 'Right On', meaning we are not going to hear the album in the order it was released. McKoy was channelling his inner Marvin as the backing singers whispered "Right On" under his vocals. The excellent new arrangement was expertly conducted by Peter Edwards and highlighted the omnipresent Sarah Tandy's skilful piano playing.
Proving Gary Crosby's mantra of "each one teach one" it was good to see fellow 80s London jazz scene veteran Denys Baptiste's tenor sax featuring prominently throughout. 'Wholly Holy' was short but very sweet and a reminder of how refreshing it is to experience the scraping of bows on string, breathy woodwinds and the rasp of brass in a live setting, especially with musicians of this calibre.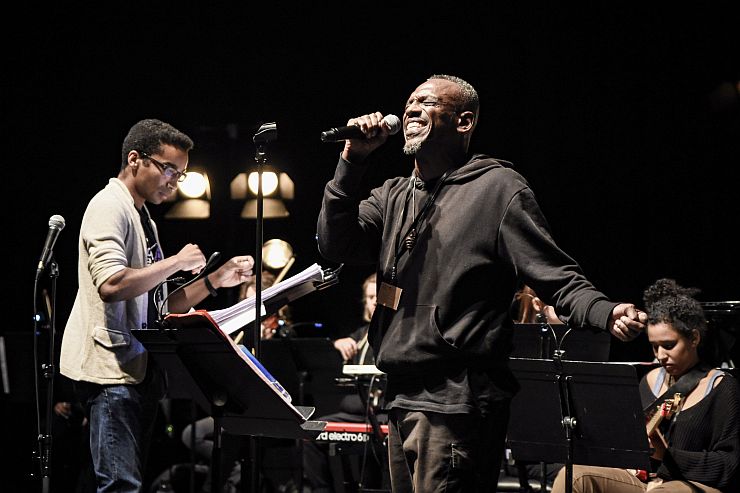 Yeast Culture's videos of the homeless and social deprivation in 1970s New York was the ideal backdrop to 'Inner City Blues' as the backing vocalists sang "makes me wanna holler". After a stirring guitar solo, Tandy's piano and McKoy's falsetto were joined by a slow heartbeat bass, drums and strings with a super funky bass solo closing the song.
The instantly recognisable intro to 'What's Going On' was greeted with applause and was a sublime rendition with quotations from Rosa Parks, Martin Luther King and others flashing up on the screen. Brighton's own AFLO The Poet was the special guest for 'What's Happening Brother' and her explosive piece covered lockdown, police brutality, climate change and Brighton's bin crisis amongst many other topics. She cried out "What's going on? I don't know!".
'Flyin' High (In the Friendly Sky)' provided a perfect comedown from the jolt of AFLO The Poet's stunning performance with soft vocals and a spoken word introduction. The show ended with photos of Marvin looking down on the stage as the orchestra sound built and built on 'Mercy Mercy Me', with Denys Baptiste leading the horn section while the vocalists provided a big choral finish. The audience's standing ovation was rewarded with a full throttle encore of 'Right On' with all hands on deck to round off a wonderful evening celebrating an exceptional album and performer.
After the show we bumped into AFLO The Poet who told us she is hosting a special poetry night at The Unitarian Church on Friday 19th November. Tickets and details here.
Brighton Dome Concert Hall, Saturday 30th October 2021
Soundcheck photos by Graeme Miall/Tomorrow's Warriors