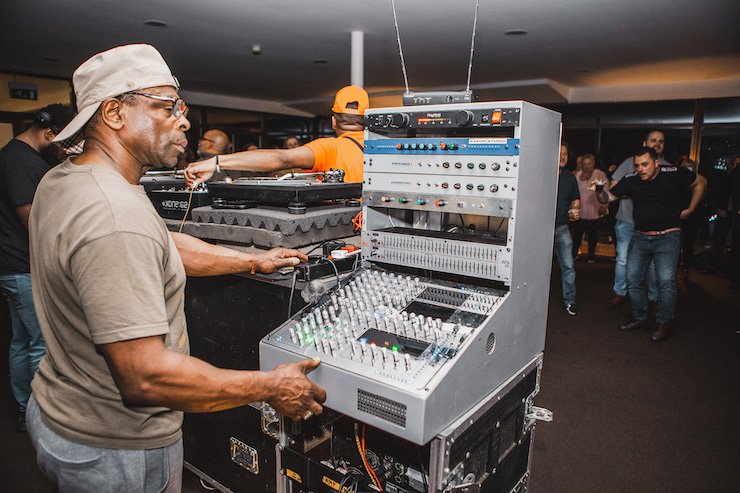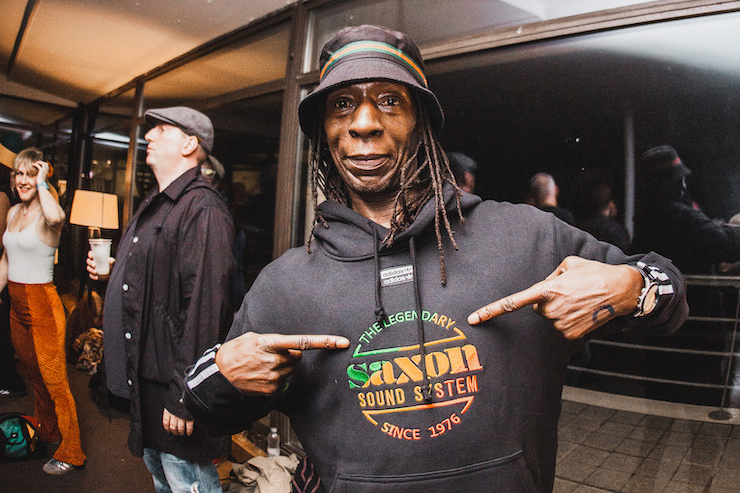 When Bexhill played host to one of Britain's best loved and bass-heavy reggae crews last Saturday, there was a whole lot of love and happiness from a small and grateful gathering of fans.
Lewisham, 1976: A long-limbed skinny white girl walks down into a smoke and sweat-filled basement that is heaving with black-skinned bodies swaying and skanking to the sounds of Saxon Sound System. Forty-five years later and that woman's less skinny, longer limbed, middle-aged and still very white daughter climbs a spiral staircase up to the terrace bar of Bexhill's art deco De La Warr gallery to hear the same system. This is black history month. And this is black history.
Half a century ago, sound system culture spread a new union between seemingly alien worlds of black Caribbean immigrants and longer established white immigrants (mostly Irish and Welsh Catholic dock workers) in south London's neighbourhoods. Amidst all the fear and mistrust and resentment that occurs when underprivileged communities collide – fear of employment competition, fear of erosion of fragile cultures, fear of housing pressure and overcrowding – came irresistible melodies laden with sunshine, insight and hope, vibrant basslines and an exciting new type of music. From that expression of identity, and others like it wherever Caribbean communities coalesced across the UK, a growing white and suburban British tolerance for and eventually love of music of black origin spread that became the foundation of today's rich British contemporary musical culture from jazz to drill and everything between.
It is a love that was strongly represented at the event on Saturday night, and, true to creed, Saxon responded in kind, satisfying the gathered few with sentimental reggae and dub classics, all pouring forth from the finest, purest subs you are likely to hear. Yes, the crowd was thinly spread but what with COVID restrictions and a pre-ticketed event format, that was always likely.
Okay, the brightly lit empty halls of De La Warr after hours hardly replicate the stifling, sensual experience of an underground city club night, but we all knew that going in. And sure, there was something about the security measures, the closed terrace, the smoking arrangements that seemed to suggest black culture might not be quite as universally celebrated in Bexhill as the programming liked to suggest. But on a person-to-person, system-to-audience level, Saxon did what it does so well, they worked hard, they entertained to the last, and delivered what the crowd wanted.
And they wanted to bask in their own personal and shared love of each sweet heavy memory tied to each meaningful history-laden track. As an example of the intimate effect that black culture (in this case in the form of reggae music) has had on individual people in the outer reaches of the English nation, Saturday was a beautiful example. Joyous people, grateful and delighted to hear the music they grew up with, that they aligned with, that they celebrate to, all played expertly through the exact type of rig it is composed for. Bob Marley but with a whole section of bass never before heard. A system is all about the selections and the kit.
And apparently these are the small stacks. Bass geeks will know that there is a massive difference between qualities of available bass. Head below about 60hz and you need some serious speakers to handle the sound. Go below 20hz and your own ears won't really even hear the bass. Standing in the centre, in the sweet spot, between the stacks, the skill and experience invested in the technical set-up of this system, and the subtle craft of the DJ is clear. It's loud, very loud, but audible, no fuzzy edge, no crackle, just a full body and brain vibration frequency. Finally all those cheesy lyrics make sense: with reggae and dub on this scale, you can't not feel the vibes.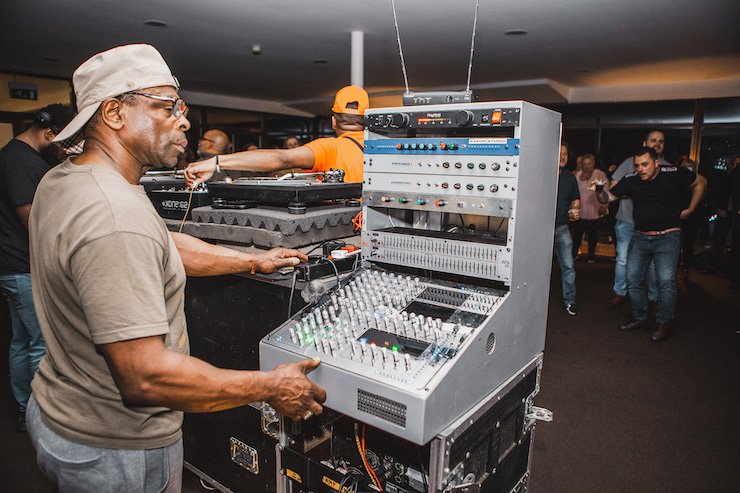 And when you give in to that, when you stand before this kind of history – the lyrics stubbornly determined in their message of peace and unity, of love over suffering, of steadfastness in the face of oppression – you begin to accept why Saxon and a reggae/dub sound system is a critical representation of Black British history. Not just the music but the poise and intent of the crew itself, accompanied by friends, family, supporters. A sound system represents its community – it's not a single person like a modern DJ or artist – and is a metaphor, an avatar for that community; it carries the grace and intention of that community forward into other communities to represent. As someone whose mother was among the first to break the rules and cross the lines between her community and those of her black neighbours, to trust that sound and that intent, to witness what was being represented to her, to feel and accept the evident warmth and welcome to be found in their midst, there is a lot of gratitude that this tradition continues.
The people of Bexhill and surrounding areas danced, and then drifted off; they smiled and they sang. The hype men hyped and the DJs selected (and did some very nifty fade work to maintain the rhythms and bass during some karaoke-esque singalong sections). The mood was matched and the town survived to see another day. Was it awkward programming for BHM? Definitely. But Saxon are professionals and they shone in front of a limited but devoted crowd nonetheless. Perhaps next time they won't need to wait for it to be October to be welcomed?
De La Warr Pavilion, Saturday 30th October 2021
Photos by P Haldane Photography