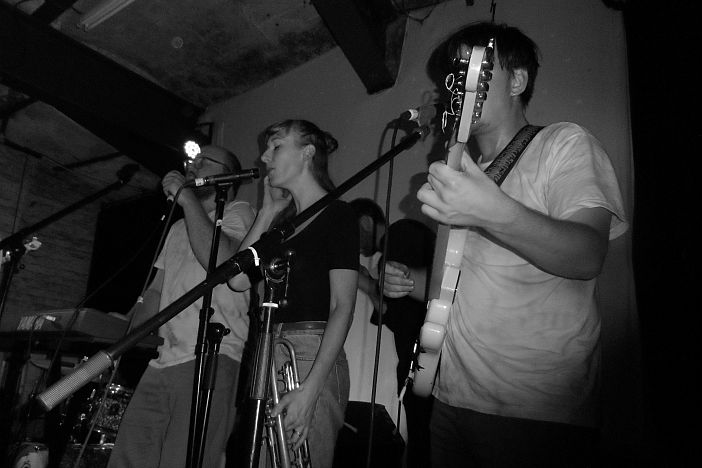 With three supports and a strict curfew to clear out for the club night, it was an early start for Octopuses' album launch party. So early that we missed the highly anticipated return of the legendary MC Fashion who was done and dusted by the time we arrived at 8pm. Well done to any early birds who got to see this amazing performer. 
Seadog offered up a selection of melodic minor chord reflections with swirling effects pedals and glockenspiel based around their new EP. Their new drummer made his mark with inventive flurries throughout a sold set of dreamy jinglyjanglyness.
Prince Vaseline's bluesy psychedelia instantly got heads nodding and one couple even dared to dance. Guitarist and singer Max Erle's voice was a revelation, a reedy baritone that demanded attention, which soared over their hugely enjoyable garagey synth noir songs. Radio On was a real highlight.
Sadly, due to a cock up on the printing front, Octopuses' CD wasn't ready to give out on the night so they kindly gave a refund to those that chose not to wait a couple of weeks.
With an hour before chucking out time the headliners kicked off with 'Cool Story Bro' which saw Smalan Odgers' guitar going head to head with trumpet and keys. Each song was ridiculously catchy with Adam's stabbing one-note synth riff backing Tom's rap on 'Circle Of Friends'. It was a hands in the air sway-along for 'Space Girl' while the hip hop/ska of 'Pogo' generated smiles on stage and throughout the crowd.
Side 2 of the album started with Mark from Prince Vaseline joining on harmonica to complement Tom's fluid flute work. Octopuses songs covered a wide range of topics including the perils of inflatable sideshow attractions and a tale of Icarus set to a tight funk backing courtesy of the brothers Grice. With time running out they managed to squeeze in an encore of 'Farmer' (who's happily killing cows for you) which served as a taster for the next album.
Green Door Store, Thursday 29th October 2015
Words by Steve Clements