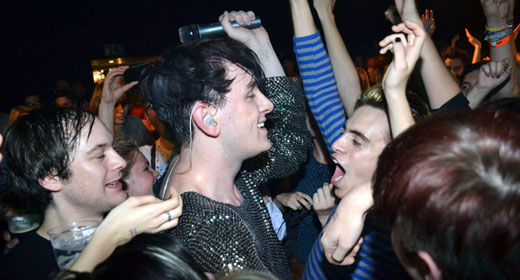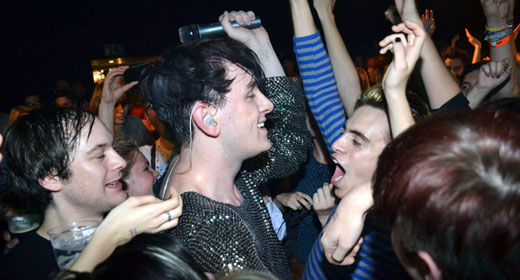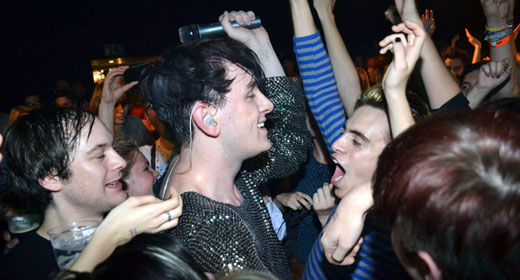 Patrick Wolf has covered a lot of ground in the eight years since his first album. Whereas his early offerings were a gloriously eccentric blend of folk and glitchy electronica, his recent releases have seen him edging ever closer to mainstream pop. Likewise, his once darkly devious lyrics have largely mutated into romantic wistfulness. Indeed, anyone who remembers the startling verses of 2003's 'The Childcatcher' might find it odd that a recent Patrick Wolf single was deemed appropriate to serve as holding music for a mobile phone helpline. So what happened? Did the lure of pop fame neuter the wolf? Or did he just lose the plot?
The answer, as it turns out, is neither. It isn't that Patrick Wolf has ditched his darker side, just that there's more than one muse at work nowadays. Backed by the lush symphonic arrangements of his band, the singer spent the night flitting between instruments – working his way through a ukulele, keyboard, viola and harp in the space of four songs. Any fans who hadn't kept up with the two albums released this year had to wait for the halfway point to hear anything familiar, but there were certainly no duds on the set-list. Even to the uninitiated, this was orchestral and romantic pop at its most compelling.
Initially subdued by what could have been haughtiness or shyness, Patrick eventually found his footing with the audience and ended up announcing a punter's wedding proposal and taking an extended wander through the crowd. Having recounted stories of childhood weekends spent in Brighton, he went on to weave audience suggestions into the songs themselves resulting in the unexpectedly charming line: "She kisses him on Southover Street".
Despite ongoing equipment malfunctions and some obvious mistakes due to a self-confessed lack of sleep, Patrick was determined to put on a show. Just as the grand romantic ballads inevitably made way for the electro hits, every tender moment of musicianship was followed by rock star moves atop a monitor. As Patrick flounced about in his frock coat and dalmatian dots, it appeared that even his dress sense was caught in the same dichotomy as his music. Part Victorian urchin and part avant-garde fashionista; part sensitive songsmith and part pin-up diva.
When the pop moment came, it came on strong – big drums, sax solos and two costume changes (one involving a shoulder-mounted stuffed bird). The sheer 80s-ness of it at least made sense of the fact that Patrick was once part of Leigh Bowery's pop art collective, Minty. Although the change of direction might seem puzzling on paper, the live setting puts the pieces into place. Rather than 'reinventing' himself in order to place a contrived career milestone, Patrick Wolf has simply moved on. After all, he may have five albums behind him but he's still in his twenties. That he continues to be inventive on his own terms is to be applauded.
Komedia,Thursday 3rd November 2011
Words by Ben Bailey