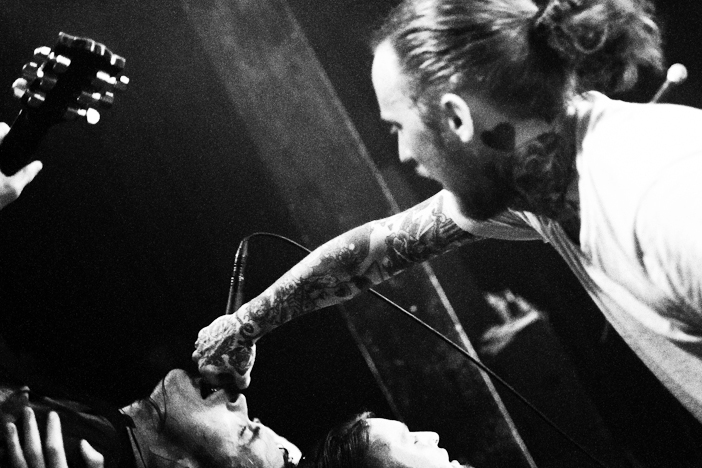 From saying 'fuck you' to mainstream punk, fighting with the crowd and just generally being pissed off, to having a laugh, spreading the love and doing covers of 80s classics, Frank Carter is a changed man since leaving Gallows back in 2011 and opting to join up with ex-Hope Conspiracy and Suicide File guitarist Jim Carroll to form the power duo known as Pure Love.
After seeing them completely steal the show night after night during their tour with Bedford pop rock boys Don Broco last year, we got a chance to get even closer to the guys when they took to one of the city's most intimate stages this month. It was part of their farewell tour and it was a night that'll be hard to forget any time soon.
Anyone who's been following Pure Love over the years will know that their shows are a far cry from the mundane drivel sometimes seen plaguing venues. Tonight was no different. From start to finish Frank proved that he knows how to get people moving, jumping from the stage, starting circle pits round the drum kit and even getting couples to make-out while surfing the crowd in exchange for free merch. Hit after hit got the already erratic mess of body parts flying as the night went on. Even when the guitar cut out while Jimmy was hitching a ride on the shoulders of a punter, no one stopped for a moment. The band kept doing what they do best, putting on one hell of a show.
The overall vibe of the night was just as expected, pure love. Love for the band, love for the crowd, and love for the music. Despite the sheer carnage, you got a feeling that everyone had each other's back, with the band helping the audience and the audience helping the band, which is something you don't see that often these days. It's a shame to see them go, though after being on the stage for a collective 22 years, we're sure it won't be too long until they'll be needing their next fix of the limelight.
Haunt, Tuesday 13th May 2014
Words and photos by Charles Shepherd