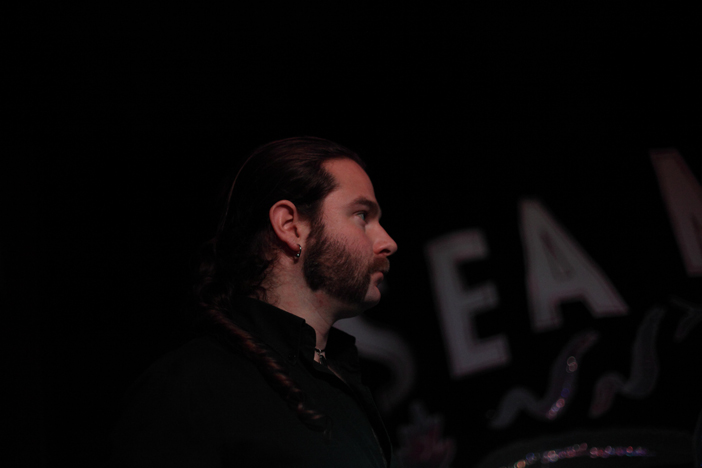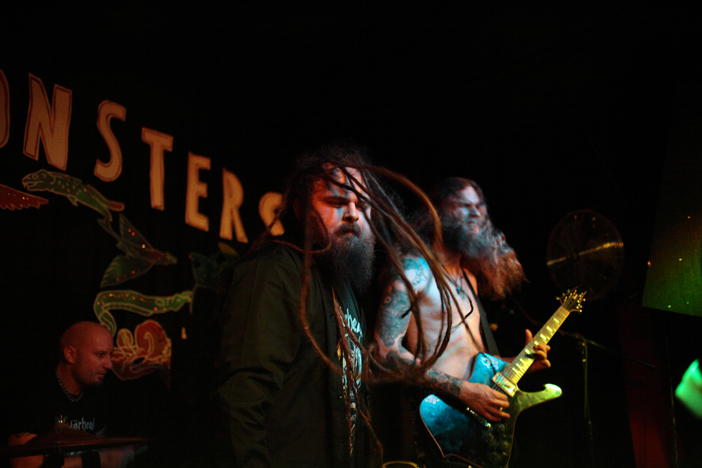 So here we are, the end of a long, long week of Sea Monsters gigs. Fortunately, One Inch Badge have kept an ace up their sleeve for those who've made it to Sunday. Not just in the presence of arguably Brighton's most inventive (AK/DK) and heaviest (Sea Bastard) live bands, but in the choice of curators Bizarro World.
If you've not been to Bizarro World before, the premise is simple. Each band plays a full set in character as another group, so tonight, Matthew, Son Belly are James Brown, The Wytches are Marilyn Manson, Sea Bastard are Motörhead, and, in a piece of especially neat conceptual brilliance, AK/DK are AC/DC.
Garage duo Son Belly have dressed for the occasion: drummer Stiv Rippengal in white shirt and bow tie, shock-haired singer-guitarist Dom Tivadar in a fine velvet suit. They crash into a ferociously fuzzy 'I Got You (I Feel Good)' like the early Blues Explosion, stumbling their way non-stop through snatches of Brown's hits – some rendered close to unidentifiable – until a final howling take on 'Please, Please, Please'. It's far from funky, but it's a fantastic start.
Mop headed psych trio The Wytches are up next. Now, ordinarily we wouldn't recognise a Marilyn Manson song if it rubbed its crotch in our face, so God Of Fuck knows how well The Wytches' attempts stood up to the originals. Ok, we did recognise 'The Dope Show' among the four, but by twisting Manson's horror show to their own frazzled ends, they succeeded in making us want to check out a Wytches gig proper. Mission accomplished.
It hasn't taken much dressing up for doom titans Sea Bastard to turn themselves into Motörhead tonight: a few pairs of aviator shades turn the whole band into Lemmy x 4. More than anyone else tonight, they rise to the tribute challenge with genuine love. Vocalist Monty shreds the lyrics as he forces them through his incredible larynx and the band play everything at headbanging, breakneck pace. Of course they do 'Ace Of Spades'. Result.
After such a balls-out performance, double drum and synth duo AK/DK must be feeling a little nervous about pulling off their electronic AC/DC set in front of a rock crowd. With wigs and caps donned, Graham Sowerby and Ed Chivers bear only a slight resemblance to Brian Johnson and Angus Young, but they jump feet first into the show regardless. There's a lot of thought gone into translating AC/DC's hard rock into their keyboard and pedal set up, and, as the teetering analogue gear cranks into 'Back In Black', Sowerby's relishing the frontman role, leaping onto his kit and letting his vocals rip.
'Highway To Hell' gets a Raymond Scott reimagining; 'Hell's Bells' a sheet-metal bashing substitution. It's stupidly enjoyable and, even as the synths start failing during the climactic 'For Those About To Rock (We Salute You)', a triumphant end to the week. Petition them to turn it into a tribute EP soon.
Prince Albert, Sunday 27th January 2013
Words by Stuart Huggett
Photos by Rob Orchard for Brighton Music Blog
Read more SOURCE Sea Monsters reviews:
Day 1, Day 2, Day 3, Day 4, Day 5, Day 6, Day 7