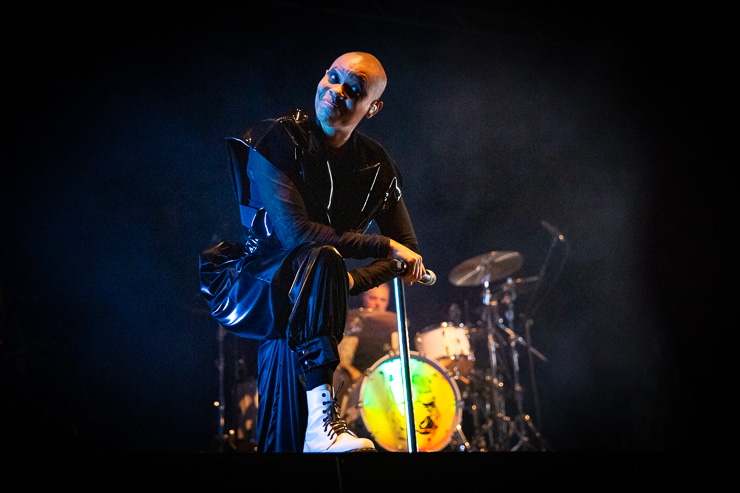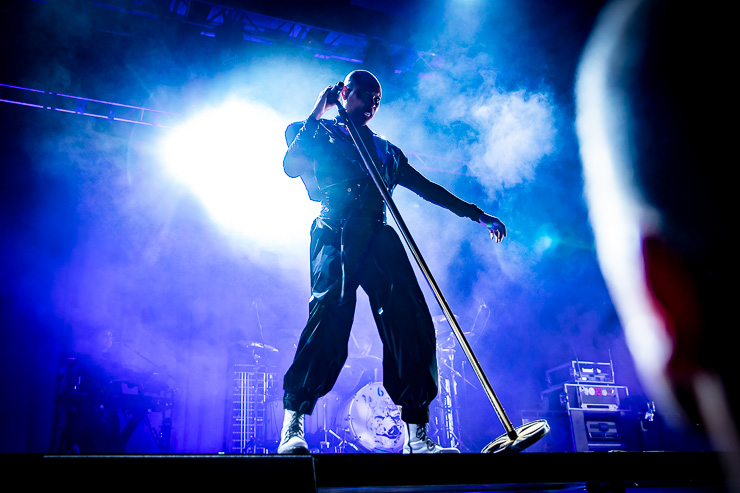 As with most recent live shows, Skunk Anansie's 25th anniversary Brighton gig was rescheduled twice. Originally intended to coincide with their 2019 release '[email protected]′, the tour never made it as far as Brighton before covid halted live music. The British rock icons exploded on to the scene in 1995 with 'Paranoid & Sunburnt' before dropping the seminal 'Stoosh' the following year. 2019 saw Skunk Anansie release their first new music in three years with 'What You Do For Love' and 'This Means War'. They recently released new singles 'Piggy' and 'Can't Take You Anywhere'. Fronted by the otherworldly and charismatic Skin – one of the best female performers this country has ever produced – the band have consolidated their status as one of the greatest British rock bands of all time.
There were certainly more than a few folk of a certain age channelling their inner 90s teenager at the Dome. With a mix of punk rockers, middle-aged parents and a smattering of younger faces, many sporting Skunk Anansie tees proclaiming them part of the 'Skunk Army', the crowd reflected the broad appeal of the band, who have been sorely missed in recent years.
With a drum 'n' bass intro setting the scene, original band members Mark Richardson (drums), Martin "Ace" Kent (electric guitar) and Cass Lewis (bass guitar) took up their positions on stage, before the lady herself appeared in a four-horned rubber headpiece, bright pink jacket with enormous shoulder pads and that 90s staple, white Dr Martens. Joined by Erika Footman on drum pad and backing vocals, who Skin described as "an artist in her own right", they launched into opening song, 'Yes It's Fucking Political', sounding as good live as recorded. Conjuring a synthesiser out of nowhere, Skin and the band were clearly at one with each other after nearly three decades of making music together.
Apparently defying the laws of aging, grimacing, grinning and constantly moving back and forth across the stage with the energy of someone half her age, Skin belted out 'And Here I Stand', 'I can Dream' and 'Because of You' in front of a backdrop of six columns of cascading lights, occasionally standing atop the raised section, so the enthralled audience could get even closer to their idol. She paused to state her appreciation for people coming out to see them "after Brexit, a pandemic and a fucking war" to loud applause and mutual appreciation. She also said, "touring in Europe is a fucking nightmare and fucking shit since Brexit."
Strapping on an acoustic guitar, Skin played a heartfelt rendition of one of their greatest hits 'Weak', followed by an equally emotive version of 'Twisted (Every Day Hurts)', claiming "it's heart-warming to be here". Speaking to those who look good on the outside but are ugly inside, they played 'My Ugly Boy' from 2010 album 'Wonderlustre'. Talking of strained friendships and family ties with folk who have opposing views, and that one person "you can't take anywhere", Skin introduced their latest single 'Can't Take You Anywhere', which sounded like an instant classic in the style unique to Skunk Anansie. Erika ventured out from behind her drum pads, in wide-leg leather trousers and sporting a mullet hairdo, to join Skin centre-stage, forming an electrifying pair, who had the crowd mesmerised.
Still a political activist at heart, Skin regaled us with a story about wearing a t-shirt in the USA saying 'God loves only you' and people reacting by blessing her, while completely failing to register the emphasis on the word "only" and her intention to call out hypocrisy and advocate respect for other cultures and religions, especially the false narrative that "migrants are evil". Referring to the support shown to white, European refugees in stark contrast to the lack of empathy for those of a different skin colour and culture, she got the audience whipped up for protest anthems 'Intellectualise My Blackness' and 'This Means War' "dedicated to people suffering" from the 2020 album of the same name. As people became more boisterous, Skin implored them to "take care of each other" in the mosh pit that she kept indicating she might dive into. The band ended with arguably their biggest hit from 'Stoosh' (it reached number 13 in the UK Singles Chart in 1997), 'Hedonism (Just Because You Feel Good)', making heads bang, voices roar and hairs on arms stand up.
Returning for a much-called-for encore, they performed a tear-jerking version of one of their biggest hits, 'Brazen (Weep)'. Skin explained they used to be reluctant to play this live, without the full orchestra it was originally recorded with, but they needn't have had any such concern, because this was possibly the most spine-tingling song of the night; the fans headbanging and singing along to every word. Followed up by the aggressive 'Little Baby Swastikkka', they then played a brief section of AC/DCs 'Highway to Hell' before concluding with 'Best Of You' – a touching tribute to Foo Fighters drummer Taylor Hawkins, who sadly died recently.
There is always a danger with revisiting your childhood heroes, that they won't live up to expectations, but over 25 years later, Skunk Anansie still sound as fresh and relevant as they did then. Rock on!
Brighton Dome, Saturday 9th April 2022
Words by Emma Baker
Photos by Sarah Brownlow