It is 50 years since Tangerine Dream released their third studio recording, an album called 'Zeit' – which means "time" in English. And if there is a theme to Wednesday night's two-and-a-half hour epic gig, then surely that theme is time: the continuing progress of existence and events in the past, present and future perceived as a whole.
Tangerine Dream was founded in 1967 by Edgar Froese. Their early recordings are predominantly ambient electronica, influenced in part by diverse classical composers, from Bach to Ligeti to Karlheinz Stockhausen, but also the work of contemporary bands, such as Pink Floyd's 'Ummagumma'. Experimental and psychedelic, even their name derives from a misheard lyric: "tangerine trees and marmalade skies" from the Beatles' 'Lucy In The Sky With Diamonds'.
Froese, who was also a guitarist, influenced by Jimi Hendrix, along with drummer Christopher Franke, and keyboard Peter Baumann formed the nucleus of the group early on. Embracing technological advances in music – synthesizers, sequencers, mellotrons – their music became increasingly rhythmic. The band has seen many members come and go over the years, including more latterly Ulrich Schnauss. Today, their own influence on music – from techno to trance, and beyond – cannot be overstated. Plundering their backlist, the band offer us a master class in how to produce music that, through volume and repetition, evokes euphoria in the listener.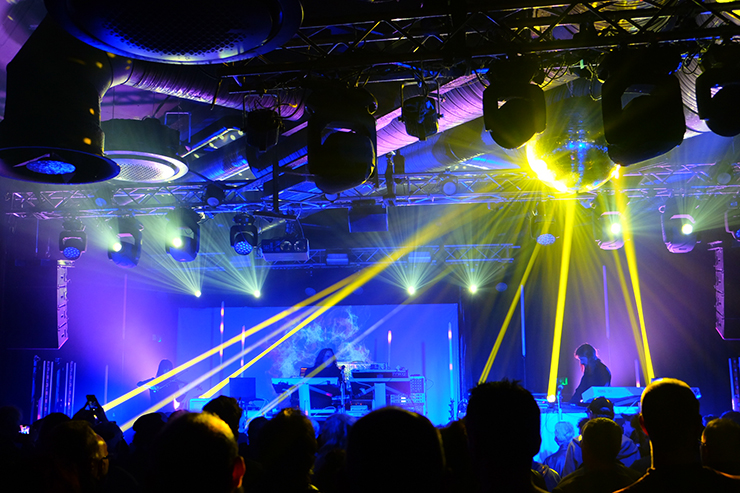 Edgar Froese himself died in 2015, but he and his wife Bianca had made plans for the band to continue after his death, and 'Raum' – this year's album – was produced with access to Froese's arrangements and a tape archive of original recordings. The current Tangerine Dream is a three-piece, comprising Thorsten Quaeschning, who has been with the band since 2005; electric violinist Yoshiko Yamane, and on various keyboards, Paul Frick.
The crowd at Chalk is mixed. Some have clearly been following the band since the early days; others, young and enthusiastic, are there to check out a group that has influenced their own current musical tastes. "They're the daddies," as one excited punter announces. The band come on to the stage, silhouetted against a backdrop of maritime visuals and dazzling lights, and kick off with 'Stratosfear', from 1976. As the punning title suggests, although the music is largely created on machines, Tangerine Dream have always aimed to hit the listener at an emotional level, evoking ever-shifting feelings as the soundscape of synthesizers and insistent beats continue.
Next up is 'Dolphin Dance' from 1986's 'Underwater Sunlight', an almost disco-infused dance number. This is followed by the theme track from William Friedkin's 1977 thriller, Sorceror. Tangerine Dream have scored more than 50 film, television and video game soundtracks, directors recognizing the visual aspect to their music. Later on in the show the band also give us 'The Dream Is Always The Same' and the atmospheric 'Love On A Real Train' from the soundtrack to 1983 film, Risky Business.
1981's 'Kiew Mission' is a particularly beautiful piece, and obviously poignant right now. The softly-intoned recorded lyrics – "Continent. Asia. Africa. Europe. Australia. America. Earth. Past. Present. Future. World. Peace. To understand…" – a joy for anyone who responds to ASMR and providing a template for the future Anjunadeep catalogue.
The concert isn't all 'greatest hits' though. 'Raum' was released in February this year, and they play several tracks from it. The upbeat 'You're Always On Time'; the dreamy 'Continuum', with its violin flourishes; 'Portico', and 'Raum' itself, which perhaps more than any other recent track, recalls 'Zeit' and those early beginnings five decades ago. As the evening draws to an end, the crowd erupt as the familiar piano introduction to 'Ricochet' fill the air, then get dancing all over again as the set is concluded with 'Phaedra', originally released in 1974, while the lights go wild and the air fills with dry ice.
It seems as though the evening is over. But no, the band return to the stage for an encore. Starting off with a heartbreaking melody played on the electric violin, the piece swells and grows, with shifting rhythms, snatches of percussion, sampled voices, electric piano breaks and a bass sound that seems to be rising up from the floor. The sound is all-encompassing and transportive. We are flying over cityscapes, diving into oceans, marching alongside machines…
It is a truly magnificent conclusion to a superb show and, perhaps most impressive of all, as the sound engineer confirms to us afterwards, unrehearsed. Each night, throughout their tour, the band has improvised the half-hour long encore based on how they are feeling at the end of their two hours of exploring their older material. Judging by the quality of the music at the end, they have had a wonderful night, and as the encore reaches its climax, then fades, and the band bid us farewell, the audience leave, realising they have just witnessed something very, very special.
Chalk, Wednesday 23rd March 2022
Photos by Andreas Fink