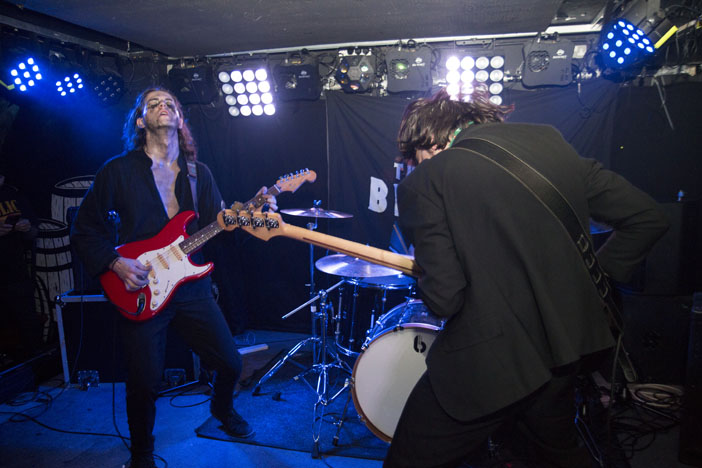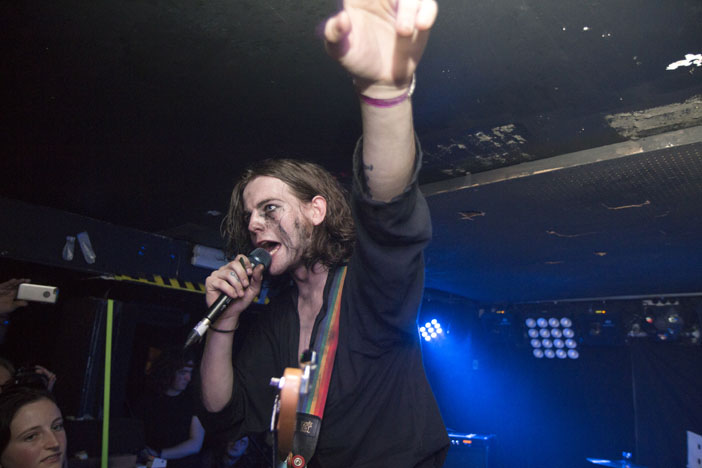 We've had to bide our time to bring you a review of The Blinders, having narrowly missed out on seeing them a few times. Most recently at Great Escape when an ill-timed cigarette saw us having to re-join the queue, tantalizingly having to listen to the muffled sounds coming from The Hope and Ruin.
We touched on why we were in love with them in our preview of the show. The Blinders are three lads from Doncaster, school friends who now live in Manchester, who frankly have held the indie-underground scene in the palm of their hands for a while now. A band with tunes that will get under your skin, but also (sadly quite rare these days), a band with something to say.
With this sense of anticipation, we headed down to the gloomy basement of Sticky Mike's Frog Bar with high hopes. The setting could not have been more fitting – the fact that it is likely the last time we'll catch them in such a small venue added to the sense of occasion.
Off-stage the band are understated and appear to be affable, regular lads with a love of all things literature and music related. The moment lead singer Tom Haywood steps on-stage you are transported into another world. With face-paint suggesting he is ready for battle, this is backed by intense spoken-word mastery and an enigmatic presence. We cannot help be reminded of a certain Jim Morrison.
Launching straight in with 'Gotta Get Through', the set is largely made up of new material (two-thirds, in fact). The sound may remain full of twisted psych-punk riffs, but what shines through are the spoken-word elements. To do this and not be cringe-worthy (in our humble opinion), you need conviction, charisma and something important to say.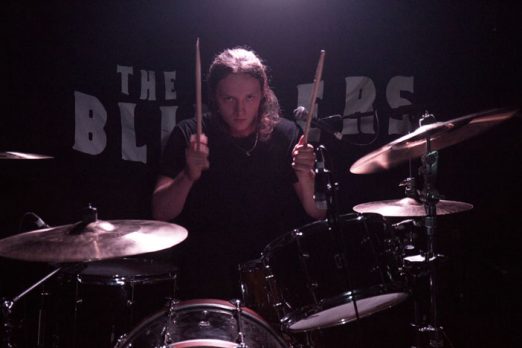 New songs 'Free the Slave', 'Hate Song' and 'Berlin Wall' offers a sense of the topics the band gets fired up about, but they do it with such ferocity and dry, needling humour that it draws you straight in. The band has always been known to speak to their audience, and the crowd fervently send all the words straight back at them.
'Swine' and 'Murder at the Ballet' are long-standing favourites, and go down a treat. 'Brave New World' was their 2017 tune that filled dance floors everywhere, and live it sounds massive. With its dystopian overtones, it could easily be the soundtrack to a Black Mirror episode (probably that really grim black and white episode with the robot dog…).
As with all great live shows, it was over way before we wished it would be. Squashed against the barrier, getting our camera covered in beer and sharing far too much sweat with everyone else around us, it felt like a special night. When trying to sum up the impact The Blinders are having on their scene, it is fitting that we turn to their own lyrics (from ''Murder at the Ballet) – "There's a shiver, and a shudder, and a violent gasp of hope".
The Blinders are set to be huge. And to be honest we'd almost rather they don't – we want them in these small venues, spreading their gospel and making the crowd lose their shit. Fortunately with this band, you sense that whilst the size of the venues may well change, they will not.
Sticky Mike's Frog Bar, Fri 9th February
Words and photos by Ashley Laurence