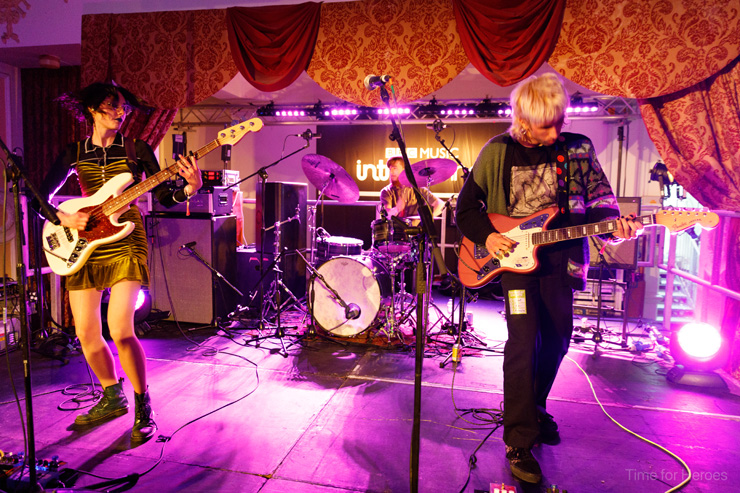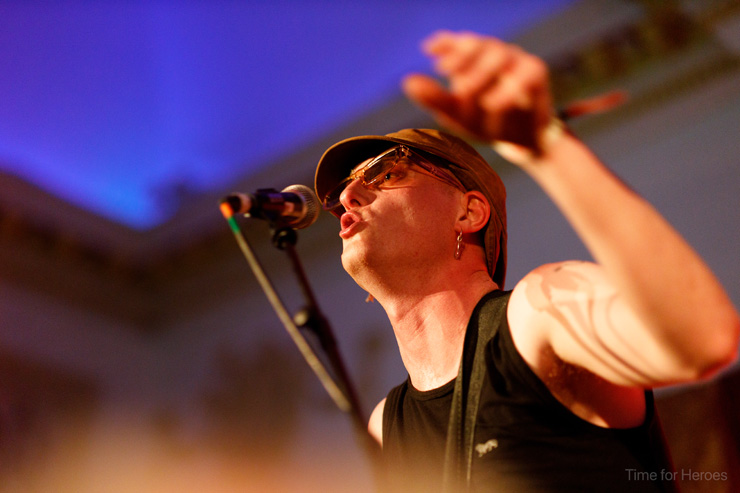 Day two of The Great Escape was a day of extremes. We saw Turkish techno in a yard, gothic indie in a ballroom, Japanese folk in a church and some rowdy grime kicking off on the seafront. Our team reviewed Panic Shack, Islandman, The Bug Club, Portron Portron Lopez, Scalping, Yama Warashi, CIEL, Gustaf (twice), Bob Vylan, Yard Act (again), Opus Kink and DJ Priya. We reviewed Thursday and Saturday in separate posts.
Panic Shack, Brighthelm Centre
Cardiff's Panic Shack make their first Great Escape appearance at the Brighthelm Centre, and they're greeted at the soundcheck by a large and enthusiastic crowd. It's a short and solid set with some playful contradictions on stage. The band sing songs about fighting while decked out in girly pink. They tell us they don't like it when people give them funny looks and then perform a whole series of synchronised mannequin poses. It's all good fun, and they know what they're doing. But lyrically the set pulls in two directions. You've got riff-backed chants about gender politics ('Baby') and equally raucous indie punk with throwaway themes ( 'Who's Got My Lighter?'). The two sides come together for the penultimate, and best, tune of the set, 'The Ick', which sees singer Sarah 'Hardbeats' Harvey flipping the dating narrative with some killer lines that are both empowering and hilarious. (BB)
Islandman, Shipwright's Yard
Situated opposite the demolished building that once housed the much missed Sticky Mike's Frog Bar is Shipwright's Yard, home during The Great Escape to some Alternative Escape acts. Turkish three-piece, Islandman, are one such band. Enchanted by their latest EP, 'Bahar', we decide to check them out – and are blown away. Conceived by Istanbul-based producer Tolga Boyuk, Islandman represents a fictional musical persona. The music is electro-acoustic, with hypnotic dance beats, but whereas techno can feel cold and clinical at times, Islandman's mellow rhythms seem to radiate warmth. Fusing sounds from around the world, the resulting music is psychedelic and joyful, and we cannot wait for them to return to Brighton to perform a longer set. (PS)
The Bug Club, Brighthelm Centre,
I don't think we could have picked a better start to our Friday than by swinging by the Brighthelm Centre for a slice of The Bug Club. We were in need of a nice, light mood lifter, and without doubt TBC win the prize for smiliest band of the weekend. Their sharp and fuzzy/scuzzy two-minute wonder songs acted like a Berocca; full of sparkly, bouncy goodness. The good times were clearly infectious; as they announced our fave tune ("If your mother thinks you're happy…") we let out an awkwardly loud "yaaaay" (pre-drinks too). Not loud enough for it to be considered a chant-starter, just loud enough for everyone to look around and for an awkward silence to fall on those surrounding us. Thankfully, we tuned in to the music, saw the smiley faces on stage, and all was good again. (AL)
Portron Portron Lopez, Green Door Store
Guitarist brothers Marceau and Valentin Portron formed the band in 2011, the current line-up completed by Belgian drummer, Olivier Kelchtermans. The music is predominantly instrumental; guitar driven, but with swirling drones and intricate rhythms tipping it away from pure rock. Its origins seem rooted in places as disparate as the Middle East, the Mediterranean and the Appalachian Mountains. As the band put it: "It's not 'our music' we're making – it's transposing who we are into music." The result is exhilarating, track after track building to a climax of euphoric noise. Sometimes at The Great Escape you plan to see one band, then end up being dazzled by someone else at the same venue – just like we have with Portron Portron Lopez! (PS)
Scalping, Coalition
The 'industrial zone' vibe of seafront nightclub Coalition is the perfect setting for the dark and brooding band of Scalping. Performed in almost total darkness bar a disorientating projection behind the drummer, what follows is an intensely menacing 30 minutes of gothic electronica, thrashing guitars and brutal bass. We feel dirty and confused as we stagger out into the bright sunshine, almost certainly as the band would want it. (JW)
Yama Warashi, St Mary's Church
…and breathe. Essentially the musical equivalent of walking through a leafy ornamental garden, Yama Warashi offer an oasis of contemplative calm in a city gripped by festival fever. London-based artist and singer Yoshino Shigihara sings in Japanese and guides us through her songs, describing the lyrics and their meaning, while every member of her band seems completely entranced by the gentle folk music they are making. Eventually Shigihara tells us that their final song is about the colour of the sunset. As she speaks, golden sunlight floods through the stained glass windows that surround her. It's a quasi-religious moment and a welcome counterpoint to the blizzard of guitars and thumping electronica hitherto witnessed today. (JW)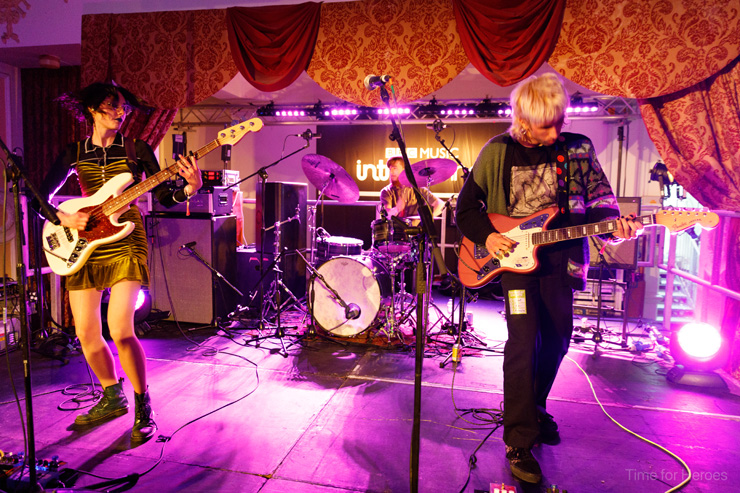 CIEL, Paganini Ballroom
As CIEL's dream pop bubble continues to rise it's worth celebrating the fact that in a few short years the Brighton trio have gone from releasing DIY EPs to playing at The Great Escape in an historic ballroom at the behest of Steve Lamacq. Live, they're bolder and more groove-orientated than we'd given them credit for. Originally inspired by a certain strain of melancholic indie from the 80s and early 90s, the band now seem to have moved on to incorporate goth and grunge sounds from the same era. However, Michelle Hindriks' voice, so soft and affecting on record, fails to cut through a wash of noise dominated by the extraordinary organ-like sounds emerging from the guitar. Still, there's a mesmeric beauty to the music and the refracted sparkle of the ballroom's underlit chandelier is the perfect light show. (BB)
Gustaf, Chalk
Following their Thursday set at the Beach Stage, there's a buzz going round about Gustaf, and we head down to catch their second show. The five-piece hail from Brooklyn. With their jerky rhythms, punchy guitar and hard drums, the band recalls The Yeah Yeah Yeahs, or the tUnE-yArDs, though with lead singer Lydia Gammill's seemingly tongue-in-cheek, world-weary drawl, there's a whole extra dimension to their sound. The playing is super tight, the raw energy of the live performance ensuring no one stands still for long. 'Cruel', a stand-out track from last year's album, 'Audio Drag For Ego Slobs', goes down particularly well, its chugging rhythm and sharp lyrics enticing a large section of the crowd to chant along with the chorus as they dance. (PS)
So good we reviewed it twice. Here's an alternative take:
Gustaf, Chalk
If The Great Escape had an award for on-stage charisma, Brooklyn post-punks Gustaf would have scooped it without breaking a sweat. Lead singer Lydia Gammill is a superstar in the making, while her sardonic sneers are offset either side by the most joyful guitarist and keyboard player you'll see outside of a Baptist church choir. The visual-aesthetic game is strong here, with art-school-nerd chic nailed to sartorial perfection. Musically, think Bodega, Au Pairs and early B-52's; monotone but danceable basslines and angular riffs. Sure, they're a bit of a one-trick pony, but that's not an issue when the trick is so deftly performed. The panoramic stage at Chalk suited them well. We predict they'll be back on it before long. (GR)
Bob Vylan, Coalition
While Bob Vylan's grime punk records are full of fury at the rotten core of British life, their incredible performance tonight reveals a charming, almost cheeky, side to the duo. "The Great Escape sent us a form telling us not to encourage any stage diving," says frontman Bobby, clearly in a boisterous mood. "But we didn't sign it!" Within seconds a punter is launching himself headfirst off the stage. Soon after bouncers are escorting people out of the building. By song two Bobby himself has been hoisted up by the audience and is hanging from the ceiling, mic in hand, still ranting. His bandmate, improbably named Bobbie, keeps the beats fast and frenetic, though the backing track also does a fair amount of heavy lifting. Despite the blasting riffs, there are no guitars on stage – just a drummer, an occasional fan and some pissed-off bouncers. In a situation full of police state symbolism, we try to dance as uniformed security stare menacingly down at us. It's all a cat-and-mouse game insists our leader-in-mischief, and "these handsome heavies are only doing their job." It's a neat way to defuse the aggro while still egging us on. A fantastic show from an act that's giving UK music a good kick up the arse. (BB)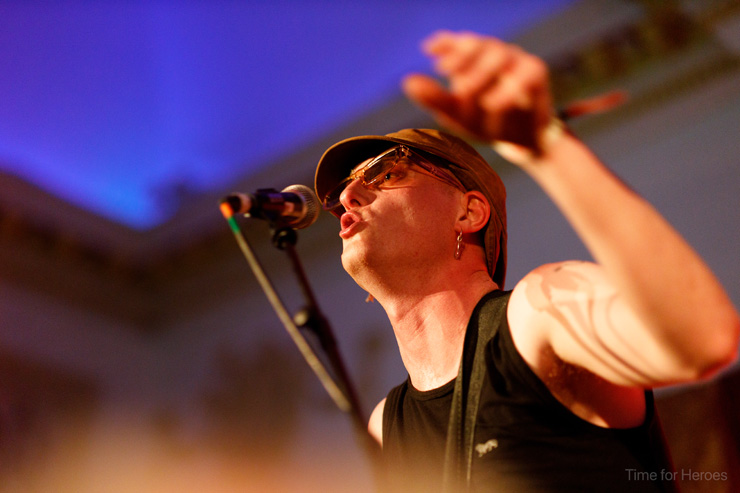 Opus Kink, Paganini Ballroom
Another band that proved to be an unplanned, happy accident. We love The Great Escape for delivering these moments. Opus Kink were placed top of the bill on the BBC Introducing stage, handpicked by none other than legend Steve Lamacq himself, so perhaps the standard of their jazz punk shouldn't have been any surprise. The band themselves weren't so sure though: "For all of those who came to us instead of Warmduscher… What are you doing?!" (Luckily, we reviewed them just a few weeks ago). Boosted by a brass section, the music tears through at a relentless rate – although there are plenty of perfectly paced breakdowns. These moments let frontman Angus Rogers showcase his vocals brilliantly. He holds his notes at times like it's opera; at others he sounds like a gruff punk. Are we in a Western? Or around a campfire at some grotty festival? Opus Kink's sound is delightfully hard to pin down. We just know we like it very much. (AL)
DJ Priya, Patterns Downstairs
As well as providing a platform for bands and solo singers, The Great Escape also showcases upcoming DJs. In the four years since she started out, Brighton-based DJ Priya's sets have varied considerably. What characterises them all, though, is their high energy, their heavy bass and the use of South Asian samples – from classical tabla and sitar to snatches of Bollywood vocals. In addition, there are nods to bhangra, reggaeton, dembow and the deepest of deep house. It's a heady mix, the eclecticism of the musical sources combining to lead us through a constantly shifting, but never slacking, labyrinth of exciting sounds. "I'm my best self when DJing," she once claimed, and from tonight's mesmeric set, we're not about to disagree. (PS)
Yard Act, Chalk
Cometh the hour, cometh the band. Again! There are moments at these big festivals when providence offers performers the chance to blow the doors clean off and really make a name for themselves. Yard Act's time is undoubtedly now and at their second show of the weekend, boy, did they take. Armed with a mightily metallic bass sound, a squalling guitar and in James Smith a frontman so intelligently acerbic that he could strip the paint off the walls, the band send Chalk into a frenzy. Smith's band showed that they can go toe-to-toe with the big boys 'n' girls of UK music; they must surely now be one of the hottest live acts in the country. What a show! (JW)
Words by Ashley Laurence, Ben Bailey, Gary Rose, Jason Warner and Paul Stewart
Photos by Time For Heroes and FyreFly Studios
The SOURCE team covered all three days of The Great Escape 2022.
Check out our reviews from Thursday and Saturday.