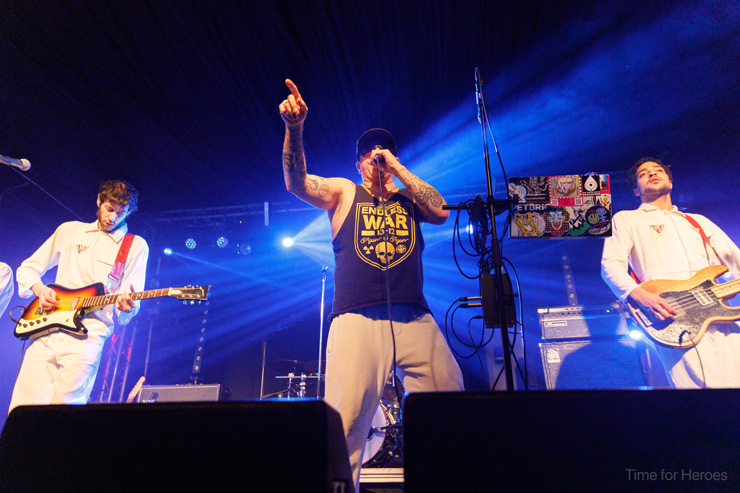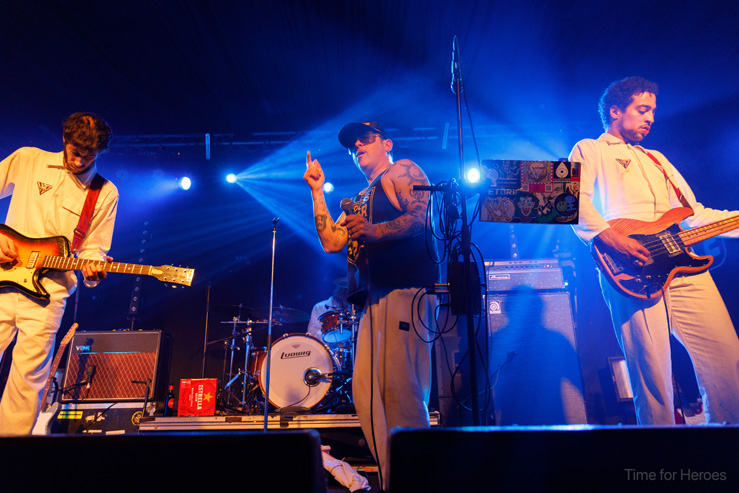 SOURCE purchased our tickets for this show in February of 2020. It should have been a follow up to the triumphant Chalk show of 2019, cementing the success of the 'Tainted Lunch' album and getting the band in front of bigger audiences.
A lot has happened since then. Warmduscher are now signed to the Brighton-based Bella Union Label and new album 'At The Hotspot' was released fittingly enough on April Fools' Day.
As frontman Clams explains midway through the matinee: "There's been a whole lot of making. Making not mating. Wait, I bet there's been some mating. We've been mating. I bet you've been mating!"
Today's two shows sit at the end of a 19-day run, which has pretty much sold out every night. The original sold-out evening show in Brighton was expanded to an equally packed matinee. However, the tour seems to have taken its toll as the band look tired. They are also missing electronic wizard Quinn Whalley, who is, Clams tells us, busy having a baby.
But a tired and depleted Warmduscher is still a furious beast. Sounding like the mutant offspring of Captain Beefheart and New York disco live at the Paradise Garage, they are a true melting pot of a band. The line-up includes a Fat White, an Insecure Man, the son of the trumpet player from legendary ska band the Top Cats, half of Paranoid London and a former employee of the New York-based house label Nervous Records.
The set wastes no time in getting going with 'Big Wilma' from 2018's 'Whale City' before whipping the crowd into a frenzy as Ben Romans-Hopcroft launches into his funkiest bassline and the filthy grove of the 'Midnight Dipper' grabs every groin in the house, surprisingly early in the set.
"Our new album is 'At the Hotspot', which could be here or it could be between your legs," Clams exclaims before launching into 'Wild Flowers' and 'Hot Shot'. He delivers '1000 Whispers' on his knees summoning up his inner James Brown for this gospel soul tinged slice of fire and brimstone.
The sound is perfect. Adam J Harmer's guitar work really shines though, with some great fuzzy slide guitar on new tracks like 'Eight Minute Machines'.
It's hardly surprising, but the evening show is definitely wilder. Several grinning maniacs are still at the front from the first show, while the moshpit is now full of sweaty people with their shirts off, in scenes reminiscent of a northern techno club in the mid nineties. The encore kicks in with 'Oscar Wilde' before whipping up a deranged frenzy for 'Uncle Sleepover' and 'Sweet Smell Of Florida'; SOURCE is left with no choice but to dive right in; arms in the air and a massive grin on our face.
Concorde2, Saturday 9th April 2022

Words by Nick McAllister

Photos by Time For Heroes