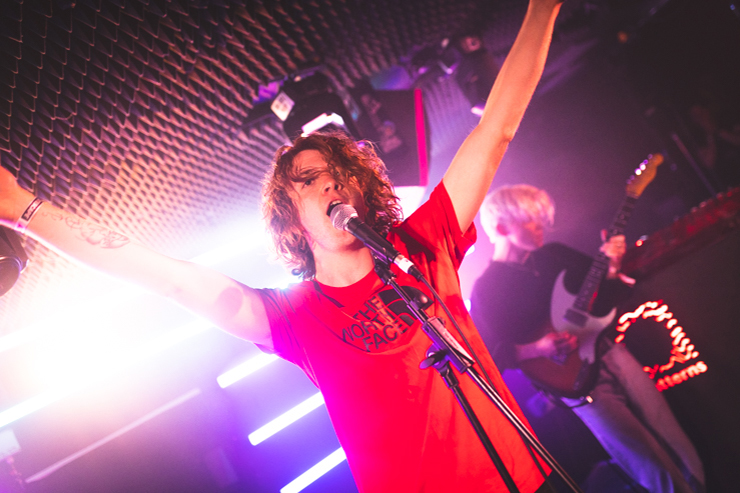 After a two-year absence, The Great Escape returned to Brighton this weekend, spreading the noisy carnage across 45 stages around the city. The SOURCE team managed to cover over two dozen acts including local favourites such as Lambrini Girls, Snayx, Arxx and DITZ as well as the likes of Yard Act, Sinead O'Brien, TEKE::TEKE, Illuminati Hotties, The Waeve, Hamish Hawk and more. We reviewed Friday and Saturday in separate posts.
Lambrini Girls, Jubilee Square, Wednesday
Fate would have it that our Great Escape would be bookended by the Lambrini Girls. First, headlining the pre-party on Wednesday, then at an outrageously heavy show at Fiddler's Elbow in the wee hours of Saturday. Hands-down, the Fiddler's show was one of the most chaotic moshes we've been in for years. Yet it almost didn't start at all. A faulty guitar looked to derail the Weds show before a single note could be played. After asking the crowd for a backup, 10 minutes later one had arrived, with another two en-route. The power to conjure guitars at will barely scratches the list of reasons to see Lambrini Girls. This is pure Brighton punk in its most unadulterated form. Tackling toxic masculinity while free-pouring Lambrini into the crowd, it's no surprise these women have a fiercely loyal fanbase. And it's in the crowd that most of their set is delivered. What a flying start! (AL)
Snayx, Music Venue Trust event at Rossi Bar
Speaking of Brighton punks, we're almost running out of superlatives for Snayx. Raucous, in-the-crowd, in-yer-face energy – if Vengaboys went punk and were fuelled by Buckfast, Snayx would still be considerably better than our terrible description. For all of their high-octane antics, these particular Snayx have a softer underbelly which made them the perfect band to showcase the ethos of the Music Venue Trust's event. Always at the front of local shows, supporting local bands and being gracious beyond their fierce demeanour, Snayx represent the local scene in the best possible light. 'Body Language', 'False Friends' and 'Cigarette' all get a shoutout for sounding huge live, but you can take your pick from any tune in their set and be happy. See them now on the smaller stages before the bigger ones come calling! P.S. Keep your ear to the ground for some big, breaking news from the Music Venue Trust later this month. (AL)
Deva, Three Wise Cats (Casablanca)
Despite claiming that her songwriting process is 'chaos', 22-year-old Deva – aka Dorina Takacs – has managed to write some spell-bindingly beautiful songs. Accompanied on stage by a guitarist and a flautist, Deva plays electronic keyboards, creating evocative soundscapes and irresistible rhythms, and sings. Her voice is floating and pure. Sometimes she harmonises with herself electronically, at other times, her voice is set against the swirling melodies she is playing. The combination of it all is a beguiling mix of old and new. As Deva herself tells us, "It's electronica with Hungarian folk – I hope you like it." We certainly do. And later on, a listen to her latest single, 'Witchcraft', confirms that for Deva a bright future lies ahead. (PS)
The Bobby Tenderloin Universe, Green Door Store
After fuelling up on free breakfast bagels and mimosas at Festival HQ (with this many bands to review we think the odd perk is absolutely fair) it's over to the Green Door Store for some grand 'ole opry steel guitar twang with The Bobby Tenderloin Universe. Despite a malfunctioning keyboard stand, Bobby keeps on trucking with his Cash-esque delivery, country licks and sly, wry humour. GDS is packed, roiling and boiling. And it's only 1pm! (JW)
Gus Englehorn, Patterns Downstairs
All the way from far-flung Alaska, the alarmingly young Gus Englehorn charms the breeches off everyone with his laconic mantras. Backed by a quite formidable drummer, Englehorn's sound isn't too far away from mid-era Pixies and we're already checking the line-up to see if we can catch him again later on down the festival trail. (JW)
Alice Ivy, Revenge
Serious technical problems don't dull the imported dreamy disco pop of Australia's Alice Ivy. The production is super-slick and the vintage waves of warm synth transform Revenge into a Balearic ballroom. Ivy's mid-afternoon battlecry of "even though it's early we're in a club so let's dance!" is dutifully heeded by the jubilant masses, and dance they do! (JW)
Bratri, Three Wise Cats (Casablanca)
It was their excellent 2021 debut album, 'Two Minds', that persuaded us to check out Bratri; Czech twin brothers, Jiri and Ondrej Vesely. With nods to Jan Blomqvist and Jon Hopkins, both of whom Bratri has shared stages with, their music is essentially banging techno, impossible to keep still to, even midway through the afternoon. That said, their music is far from generic club. A bass drum and cymbals are played alongside the drum machine, bringing a human warmth to the sound, that is compounded by the analogue and modular synthesizers. Individual tracks build systematically, melodies and rhythms laid down one upon the other, creating a rich and constantly evolving tapestry of sound that draws the audience into a trance-like state. (PS)
The K's, MVT Stage
Time for some lad-pop down on the baking hot beach! Wielding more guitars than a Saturday afternoon in GAK and with one foot firmly planted on the monitors in front of them, The K's preen and posture in true rawk fashion. They have the performance to back it up though and lead singer Jamie Boyle's voice soars over the heavy guitar riffs. The K's are straight out of the 90s, but with energy levels set to maximum they're formulaically festival-ready and a great addition to the beachside arena. (JW)
TEKE::TEKE, Patterns Downstairs
We're not even halfway through the first day, but could it be that the Band of the Festival crown has already been claimed!? This is TEKE::TEKE's debut UK festival show and it's a brilliantly bonkers fusion of traditional Japanese music, jazz, indie rock and something else that may well be a completely new genre. The set builds from a calm, shoegazey start into a frenetic maelstrom of next-level musicianship, all led from the front by Maya Kuroki who at the peak of the performance comes across like Deirdre Barlow on acid. Wow. Just wow. (JW)
Sinead O'Brien, Amazon New Music Stage
'There Are Good Times Coming' is the title of Sinead's latest release, and at this point of the festival it rings true. Spoken word and ethereal vocals intermix, beautifully backdropped by angular post-punk, softened by 80s sounding background licks. We only caught the first few tracks before we had to venture off to cover the next show, but the fire has been lit and we'll be keen to check out her Resident show on 17th June in support of her LP 'Time Bend And Break The Bower' (produced by indie superpower Dan Carey). (AL)
Heartworms, MVT Stage
It's mid-afternoon and our ears are pulled from the dark of the Amazon New Music Stage by a beguiling guitar sound coming through the tent wall. Outside, under a glitter ball in the bright silver of a Jetstream caravan, SOURCE finds a most beguiling contrast of a band of infectiously charming people playing dark gothic slinky post-punk, all wearing matching military fatigues. This is Heartworms; fronted by poet Jojo Orme and recently signed by the same Dan Carey. Single 'What Can I Do' channels Siouxsie Sioux, Joy Division, and Killing Joke to great effect. Another tune that catches our ear contains the repeated refrain of "Ugly is the Man. He will chew his eyes." As Jojo chants "Righty O let's go!" again and again we're happy in the knowledge that one of the high points of the festival is happening in front of us. This is a band with promise, and we're content to let this particular worm burrow into our heart. (NM)
Arxx, Brighton Youth Centre
Clara Townsend starts her second show of the day by telling us she has no energy left, and spends the rest of the set proving herself wrong. She's a lively and engaging drummer, often holding her sticks aloft before bouncing off her seat for the big drops. And there's a lot of them in Arxx's short time on stage. Despite a simple set-up, the duo wring an incredible dynamic out of their melodic and spiky alt-rock. Between songs they chat like old friends, telling us how they learned to skateboard in this very room. The bond between the pair, dressed in matching jumpsuits, is unmistakable: you can hear it in every punctuated riff and tight turnaround. They walked on to a muted reception but left to an ovation. (BB)
Iris Gold, Amazon New Music Stage
Copenhagen's finest storms the stage and it really feels as though the festival has lifted off! Iris Gold is a commanding presence and she completely owns the big top tent from the first bars of her set. She has the coolest backing band ever with what must be the deepest bass sound this side of Cape Canaveral. As her Lizzo-esque beats pound out of the speakers, it's pretty clear that a multitude of festival main stages lie in wait. (JW)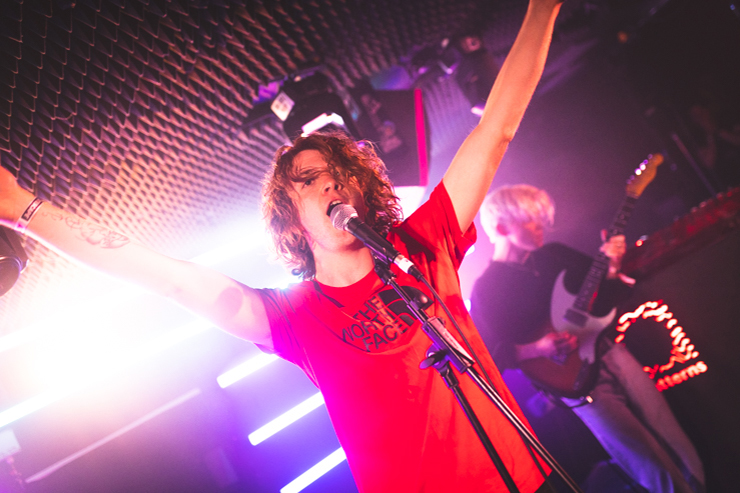 Frankie Beetlestone, Patterns Downstairs
Coming on like a male version of Lily Allen if she was in a band with Hannah Montana, Sheffield singer-songwriter Frankie Beetlestone has a seemingly endless well of positive energy. Yet his fizzy guitar pop is actually underpinned by some astute and honest observations about teenage life. He has something serious to say and we predict a major breakthrough in the years to come. File under 'One To Watch'. (JW)
DITZ, Hope & Ruin
What do you do when you break your bottom bass string during your opening number? Play one final song that doesn't need it? Detune the A to compensate? Hang out of the window and demand a replacement instrument from the punters outside? Brighton's DITZ do all three before the bassist from The Byker Grove Fan Club jumps through the window to the rescue. "I think we handled that quite well," says frontman Cal Francis, as he continues to climb around the venue, testing the structural integrity of the random shit stuck on the ceiling. Meanwhile his band deliver a deliriously brutal assault on the senses, an early evening blast of inventive noise-rock that leaves our ears ringing. Afterwards, the outside world seems curiously quiet. (BB)
Bleach Lab, Latest Music Bar
A subterranean hush descends across the room as the four members of Bleach Lab walk quietly on stage, and it feels like we all know what's about to happen. The moment Jenna Kyle starts singing, the audience is transfixed. Her voice is deep, velveteen and effortless; it completely fills the space. As her band gently wander through the Lana del Rey-inspired landscape it's obvious that here stands a star in the making. A stunning performance. (JW)
The Waeve, The Old Market
What a line-up! Graham Coxon was in a tiny band called Blur, while Rose Elinor Dougall is synonymous with polkadot Brighton faves The Pipettes. However, they only played the first show together as The Waeve on May 4th at The Lexington, so we weren't too sure what to expect. Sure, Graham can still master the jaunty, angular guitar, but with Rose on keys and vocals we were transported to a dreamy, soft and almost jazzy soundscape that made us wish we were outside on a hazy afternoon. Tunewise, check out 'Something Pretty' for the jaunty, while 'Here Comes The Waeve' is a mini taster of the underlying cinematic, dream-pop qualities that made up the rest. Absolutely buzzing to see this dream team so early on. (AL)
The Lazy Eyes, WaterBear
Sydney psych rockers The Lazy Eyes clearly worship at the church of Tame Impala. They use similar melodic structures, time changes and drum fills; the same dreamy phaser-flecked guitar tone… not that this is a bad thing. Sonically they're great, with some very impressive and energetic instrumental sections. It's just a shame about the cheesy lyrics "I look into the eyes of the ocean; There seems to be a lot of locomotion" is a set-opening line to make any poetry lover wince. Still, there's no way you're getting to see Tame Impala at a 40-capacity venue on Brighton seafront any time soon, and the tiny WaterBear crowd lapped up every psych-infused note. (GR)
Douglas Dare, St Mary's Church
The cool calm of St Mary's offers welcome respite from the increasingly frenetic happenings elsewhere in the city. Douglas Dare does not disappoint. Elegantly perched at a grand piano, he performs stripped-back songs offering profound meditations on life while his deep vocals ooze class. It takes considerable charisma to pull off a show like this in such cavernous surroundings, but Dare is a consummate and grandiose performer whose music soothes our overheated soul. (JW)
Billy Nomates, Komedia
Billy Nomates runs on stage for an angsty aerobics workout set to punky electro-pop emanating from her only bandmate, a laptop on a makeshift table. It's a high-energy performance and her turns of phrase are as striking as her moves. "No is the greatest resistance," she snarls on her debut tune from 2020, "no to your nothing existence." Each spoke-sung line drips with defiance, but we can't quite get the measure of what she's so pissed off about. This only became clear after the show when she took to Twitter to complain that the festival had failed to provide basic stuff like a bottle of water and a towel. She also compared the backstage room to a cupboard and complained of a faulty microphone. "Artist expectation of live music in the UK is so low," she wrote. "I'm out of pocket for tonight's gig. I couldn't do my job properly. I'm sorry." She needn't be. (BB)
Kills Birds, Horatio's
Their eponymous 2019 debut album was excellent; 2021's follow-up, 'Married', was even better – but nothing can prepare us for the blistering live performance of LA three-piece, Kills Birds. On stage are guitarist Jacob Loeb and bassist Fielder Thomas, but it is singer Nina Ljeti who holds everyone's attention. The music is grunge, and Ljeti has confirmed that the first time she heard Nirvana's 'Nevermind' it was a "spiritual awakening". Dave Grohl is now a big fan! There's a punk energy to their performance, songs rapidly building to become a powerful backdrop to Ljeti's impassioned vocals. She scours the crowd with unblinking eyes, demanding to know "Why don't you love me?" It's a blistering set, and over way, way too fast. (PS)
The Goa Express, Komedia
The Goa Express conjure up sun-drenched tunes that veer between psych and good old-fashioned jingly-jangly indie at its best. The boys from Burnley certainly look the part, effortless cool offset by the rather beautiful Komedia lighting, stepping in and out of the haze from the enthusiastic smoke machine. 'Second Time' takes us back to indie tunes from the best of the early noughties, while latest tune 'Everybody In The UK' continues the theme. (AL)
Yard Act, Komedia
With some careful planning we dodge the four huge queues outside the Komedia in time for the first, and smallest, of Yard Act's two Great Escape shows. Fresh from their first American tour, the band display an easy confidence as they treat us to a state-of-the-nation address with driving bass grooves and instantly singable choruses. Frontman James Smith is a lyricist who wears his learning lightly while flaunting a line in observational humour we once thought had ended with Pulp and The Fall. Towards the end of 'Land Of The Blind' the singer leaves the stage, his message delivered, his job done. His bandmates are let off the leash and Sam Shjipstone absolutely smashes it with a guitar solo that reminds us that none of that wordy stuff would matter if the band behind it wasn't so damn good. (BB)
Hamish Hawk, Brighthelm Centre
The sun has set, the moon has risen and we're amongst the headline performers. Edinburgh crooner Hamish Hawk imbibes the holy trinity of spirits; Sinatra, Hannon and Mozza. He also has the moves of Cocker and he's a joyous and joyful performer, in love with his audience and determined to entertain them. He does this in spades with his sincerely delivered shuffling rock'n'roll. He exits the stage drenched in sweat to a rapturous reaction from a thoroughly smitten crowd. (JW)
Vlure, Horatio's
Five-piece Glasgow band, Vlure, were pacing the pier before their performance, building up the tension that suddenly explodes when they hit the stage. Their sound – an angry, industrial, post-punk blast – is like a punch to the gut, but then draws us in with its raw emotion and unremitting energy. Lead singer, Hamish Hutcheson, works the crowd with his on-stage theatrics; berating, cajoling, charming. Track follows crashing track, a certain vulnerability lurking behind the menace in numbers like 'I Won't Run (From Love)' and 'Show Me How To Live Again': "…save me from this misery; take me to a brighter day." Final track, 'Euphoria', evokes just that, and the crowd heads off, buoyed up, knowing they've just witnessed something rather special. (PS)
Illuminati Hotties, Green Door Store
Stumbling into the dark environs of the Green Door Store after such a long day is a discombobulating affair. Luckily the curve is straightened by the pretty straightforward performance of LA band Illuminati Hotties. Perhaps we were expecting more than we had any right to after such an incredible day but the band didn't quite lift off. No matter though as the now well-oiled throng moshed away to the angular sounds of Sarah Tudzin's indie rock and we all end up drenched in grub, sweat and beers. A quite fitting end to the day. (JW)
Words by Ashley Laurence, Ben Bailey, Gary Rose, Jason Warner, Nick McAllister and Paul Stewart
Photos by Time For Heroes and FyreFly Studios
The SOURCE team covered all three days of The Great Escape 2022.
Check out our reviews from Friday and Saturday.