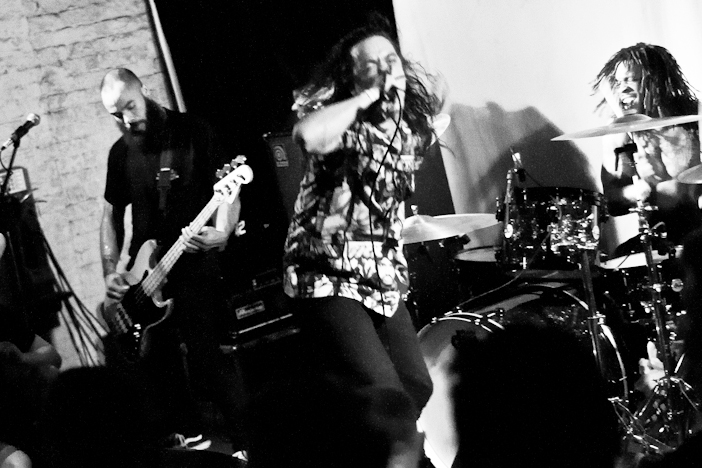 Trash Talk are known to many because of their intense live shows which leave you worrying where to stand so you don't come out covered in bruises. Others know them through their links with Tyler, The Creator's Odd Future crew. They've featured on each other's songs and often played together live – they are also the only non-hip hop act signed to Odd Future Records.
That collective group of hip hop and hardcore seems to be dominating the California scene with their love of weed, skateboarding and partying so hard their live performances look more like riots. This seems to have brought a lot of hip hop fans closer to the world of hardcore punk and vice versa, but Trash Talk have been making a huge impact on the hardcore scene for a while now, although some of this comes down to their slightly tainted reputation.
We witnessed this firsthand the last time Trash Talk played Brighton, supporting Off! at The Haunt. What happened that night is something we never fully understood, and rumours were floating around for a while afterwards. The gist of it was that during the last song of Trash Talk's set, guitarist Garrett Stevenson climbed up on top of the speaker stack at the side of the stage and was being ushered down unsuccessfully by the bouncers who then followed the band backstage once they'd finished.
We'd left the building to catch some fresh air and heard the doorman's radio receive a message suggesting an ambulance was required. From what everybody was saying, the guitarist had sparked out the bouncer who'd gone to tell him off with a single punch. Police and paramedics arrived and Trash Talk didn't play the secret set they had planned to play at the Integrity show up the road at The Hydrant as apparently the police had told them to stay out of trouble. Again, we aren't certain how much of this is true, but these sort of stories are rarely unfounded and we're hardly talking about some clean-cut indie band here.
This time the Sacramento band play the Green Door Store, a smaller venue with no security tonight whatsoever (maybe they were scared?), and therefore even more opportunity for stage-diving, speaker-climbing, rafter-swinging carnage.
By the time Trash Talk take to the stage the room is packed tighter than we've ever seen it. We're immediately aware that even people stood near the back are going to be dragged into the forthcoming mess. New drummer Thomas Pridgen (formerly of The Mars Volta) is the only member playing anything before somebody jumps from that usually safe section in the corner where the seating is.
What follows is about thirty or forty minutes of everything we expected – bodies flying everywhere, circle pits and sweat – all to the soundtrack of heavy, chugging riffs leading into thrash style drumming and Lee Spielman's no-fucks-given vocals and stage presence. Lee clambers over the top of the crowd during a set of both old and new songs that last between thirty mad seconds and two insane minutes each.
Despite calling us "Bristol" a couple of times, Lee makes a point of mentioning how much better it is this time compared to their infamous last show because "it's just us tonight, and no fucking security". He spends as much time in the crowd and without his feet touching the floor as he does on the stage, sometimes going all the way to the back of the room to spread some chaos.
At one point we smell what could've been a whole venue's worth of clammy armpits or a joint (seriously, those two things often smell alike), and the mystery is explained when somebody passes a skunky number to the band who pass it between them, puffing heartily, before continuing.
During this show we also witness a guy hanging from the ceiling by a light that then breaks and sees him drop to the cobble-stone floor, a ten foot ladder getting set up on the stage briefly so that somebody could run up it and jump off, and some of the most terrified people we have ever seen at a hardcore show.
It ends similarly to last time with the guitarist on top of the speakers and the vocalist being held up to the ceiling somewhere in the middle of the room. Thankfully this time there are no stories of trouble and it somehow proves to us that these kind of chaotic gigs police themselves so much better on their own.
Probably one of the craziest shows we have ever witnessed in this town from one of the best hardcore bands of the last decade.
Green Door Store, Wednesday 10th July 2013
Words by Chris Biggs
Photos by Charles Shepherd