"If you were characters in The A-Team, who would you be?" we ask the quartet behind Brighton's recently-reopened fine-dining experience, Isaac At. We've turned up a bit early so we've got time to have some fun. They're happy to roll with it. Although, to be honest, we're surprised they know who The A-Team are, given the restaurant's famously youthful demographic — head chef Isaac (with beard, above) is the senior citizen here at just 23.
"Ok… Isaac obviously has to be the leader, Hannibal Smith. That's easy. But who's the crazy one?" we ask. "That's George," we're told. The resident whisky expert (pictured left) who also picks the tunes. He can be Howlin' Mad Murdock then.
"How about the handsome one?" Turns out that's commis chef G (second from the left), "the star of the Isaac At Instagram feed." Ok, that's The Face sorted.
There's only one character left, so sommelier and Sussex-wine aficionado Alex gets to be tough guy BA Baracus by default. He seems pretty pleased with that (possibly because his new name sounds like the popular Sussex wine-grape variety, Bacchus).
It might sound like we're being facetious here, but this A-Team analogy isn't as pointless as it seems. What we're aiming to demonstrate is the level of specialisation these guys each bring to the table. The I Team, as we've now nicknamed them, are all experts in their field. And, from the moment you read their profiles on the website (which you must do before your visit), their unique personalities shine through.
Alex, for instance, really does love talking about wine (click here for a separate article about this). He admonishes himself for rambling at one point, but we're loving the detail he goes into about the local stuff they stock.
All the food is locally sourced too. They're so proud of this that each ingredient on the menu is accompanied by a "food miles" statistic. We love this. We suggest turning it into a game. "So… how far d'you reckon the Jerusalem artichokes have come? Twenty miles? Way out, sucker, it's actually 10.6."
Beef fillet, fennel fronds and beetroot
We were asked to allow 2.5 to 3 hours for the five-course tasting menu. It turns out to take even longer than that. This is a good thing though, and we take our time as the courses roll in like scenes in an epic movie, directed by Isaac and with the county of Sussex itself in the lead role.
We start with a made-in-Brighton gin and tonic, with Brighton Gin (naturally) and the city's own Regency Tonic, which is a new one on us. It must be the most Brighton G&T ever made. It's the David Van Day of gin and tonics. The tonic's not as sweet and cloying as most, injecting the mix with an extra level of refreshing sharpness. It's garnished with purslane stalks. They like a bit of purslane here. It pops up again later, like a resolute character actor who can't stay off set.
We work our way through both the regular and vegetarian menus, which don't look too dissimilar — ie veggies are very well catered for. But then you'd expect that in Brighton, right? It starts off light, with a cloud-like, bantamweight blue-cheese mousse.
But the dishes get incrementally heavier as we progress through the fish course of roasted gurnard, to the main event… a densely packed heavyweight champion of beef sirloin and a divine smoked broccoli.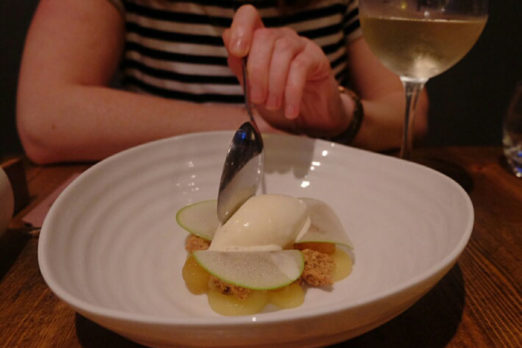 Caramelised apple, flapjack and cinnamon ice cream
We're marched off into the sunset with a fist-pump of a dessert — caramelised apple with flapjacks and cinnamon ice cream. Everything is delicate, elegant and accompanied with its own local backstory, lovingly told.
So… if you're looking for fine dining in Brighton and no-one else can help, and if you can find them (it's easy, they're at 2 Gloucester St), maybe you should hire… The I Team (cue inappropriate military-style theme tune).
Isaac At, 2 Gloucester Street, Brighton BN1 4EW
www.isaac-at.com
Words and pictures (apart from main image) by Gary Rose