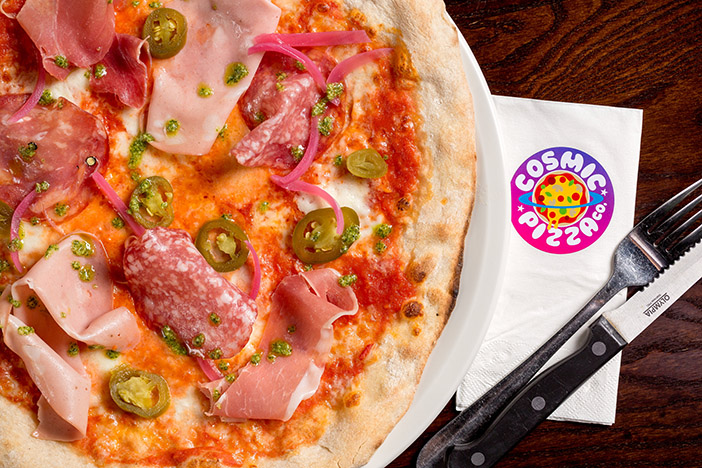 Perched at the intersection between Buckingham Place and Howard Place, near Seven Dials, The West Hill (or Westie) pub has lived through various incarnations in recent years — not all of them successful. For some reason, it appears to be one of those spaces that's very tricky to get right.
The current owners, however, seem to be onto something. They've got the cosy vibe nailed and, while it can still be quiet on week nights, they're gradually sucking up the overflow from the nearby Shakespeare's Head, which isn't quite the party pub it once was.
And from what we tasted at its launch do last night, the West Hill's new Cosmic Pizza menu deserves to be a hit (no, we're not going to say it's "out of this world." Because that would be naff).
Why is it "Cosmic"? Presumably because of the array of out-there toppings on offer. The cleverly titled "Baa-Baa-Rella", for example, features Moroccan lamb, apricot and pomegranate sausage, goat's cheese, roast butternut squash, harissa labneh and zhoug. We've no idea what "zhoug" is, but it sounds like something out of Flash Gordon, so it fits the theme perfectly. And it tastes amazing.
The vegan options are also impressive. The Outkast-inspired Sorry Miss Jackfruit stars pulled bbq jackfruit and seitan, charred sweetcorn, pineapple and vegan mozzarella. Jackfruit on a pizza? Someone must've been spaced out when they came up with that.
They've also introduced a Saturday "bottomless brunch" between 11am-3pm on Saturdays, during which 25 quid gets you a 10″ pizza plus 2 hours of "flow-till-you-go" mimosas or frozen bloody marys.
Now, we're not sure how large Brighton and Hove's appetite for unlimited cocktails is on a Saturday morning, but we'll find out soon enough. Those pizzas sure are cosmic though.
Cosmic Pizza launches on Friday 13th April 2018. Let's hope the date doesn't jinx 'em. At this stage, we don't know how much the pizzas actually cost, but further details can be found at www.thewesthilltavern.com