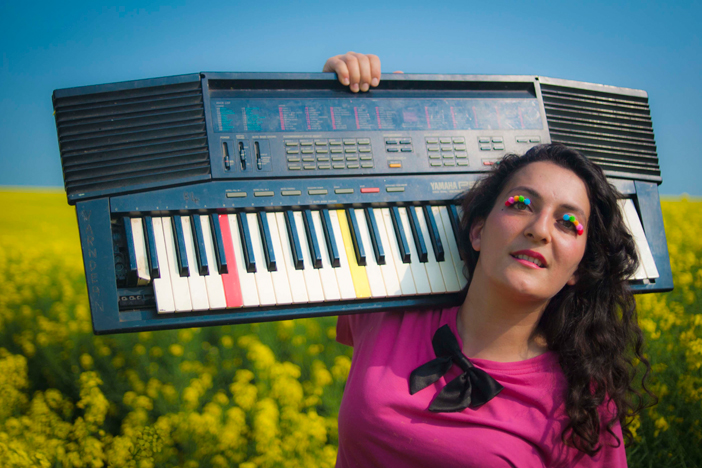 Musician and visual artist Bunty, aka Kassia Zermon, is a member of Brighton's Beatabet collective, "a coalition of musicians, sound artists, performers, film makers, dancers and theatre makers who run their own label and put on fun multi-discipline events without the wank." She launches the first instalment of her multimedia album 'Multimos' at SOURCE New Music's Beatabet Takeover this month.
What is your musical background?
I always sang, then I started recording lots of sounds onto minidiscs, and performed improvised gigs with a beatboxer and just two mics for a while. I studied music and visual art in Brighton, which opened my ears to all sorts of electronic, African, Japanese, minimalisto mayhem.
How did you get involved with Beatabet?
I met the Beatabet people six years ago when my mate Dave called me from our first creative residency in France. He was saying, "You've gotta come out Kas, there's loads of tunes that need vocals and also there are NO girls here!" Then it progressively turned into Beatabet as it is now.
Why release 'Multimos' in instalments?
I began with the seed of an idea and it grew this way, into an album in seven parts. It all became about numbers and colours, ending up with seven and the colour spectrum. All the parts are linked. Each part is a 'Mos' and 'Multimos' is the whole.
What are you planning for the multimedia components?
It's being made up as I go along. The music is not yet recorded, the films and apps have not yet been made, the characters are growing all the time. It's intense because the release dates are every eight weeks. There's no escaping, only going deeper into it. You can create insane amounts of content without being so precious. It's like a game, guerrilla style: Twitter, Audioboo, Facebook, YouTube, blogs. There will be a very physical package and show as part of MOS 7, the final part.
What can you tell us about the 'Multimos' characters?
King Zacky is a multiple-headed, faceless being.  But we can hear him speak. His heads have collaborated with the music, film and design so far. The Third Party Force are the audience and listeners. For now, please upload your most terrifying face to my website, there is an entire page dedicated to you!
How else can people get involved?
I'm developing the website to be able to collect audio to integrate into live shows performed online and at gigs. I collected noises from the people in the street to use in August's Undercurrent Weekend in Shoreham. I'm thinking up new ways all the time, but can't give it away – not as fun.
What other projects are you involved with?
I help run the Beatabet label, and we put on festivals and events together. I run ridiculous, and sometimes violent, beat-synth keep fit classes with Poppy Kaye, called Fitness Focus; sing and play percussion in a trio called Le Juki; and get performances together for events like Rock Gods (lots of simultaneous guitar solos turned up high) amongst all the other throwaway activities that occur.
What can we expect from your SOURCE New Music performance?
Beats, bears, lullaby machines, dancing girls, interactive visuals from the mighty metaLuna and much, much more. It's part of Brighton Digital Festival. I'm especially looking forward to Pixel Pyros' digital fireworks display on Jubilee Library (Sun 2nd). The audience control the projections using sensors – rad!
Brighton Dome Studio Bar, Thurs 20th September 2012
Facebook Event
Web: buntybuntybunty.com