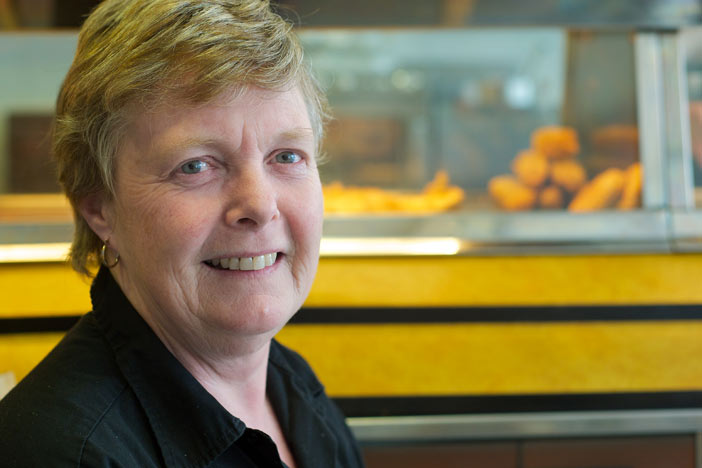 Bardsley's have been serving up fish and chips in Brighton since founder Ben Bardsley came to town in 1926. The current restaurant in Baker Street is still a proud family business, run by Bardsley's granddaughter Muriel, with husband Roy and son Neil.
When did you start at the restaurant?
I've always worked part time here since I was five. I used to pick potatoes, make bread and butter and tea, wash up. I used to love making the batter by hand. If they were busy they'd grab all the family and everybody would have to help. My nan and granddad lived above the old Russell Street shop, and looked after us while my mum and dad worked downstairs.
How much of your trade are locals?
I'd say 75% are regulars. It's nice because we've watched families grow up and we're on to the next generation. My parents served the generation before, so you feel you've known them all your life. They're more friends than just a customer. But we do get holidaymakers too, because they've read up on us and come to find us.
What makes a really good chip?
Thick, chunky ones are best. they're not as fatty because they don't absorb the oil. the idea is you put them in at the right temperature, a good, fairly hot pan, so it seals the outside and steams the inside and goes fluffy. The potatoes come from a local firm. He's got fields all around Sussex and has been supplying us since 1926, or near enough.
Do people still want their fish and chips wrapped in newspaper?
Oh yes, a lot of them say it doesn't taste the same without the newsprint. We use the same paper. It's the end of the rolls that they use to print newspapers on, but without the ink on it. But people think it's the ink and dirty fingers that adds to the flavour, especially if you're walking and eating.
More Unsung Heroes: Click Hereunsungx