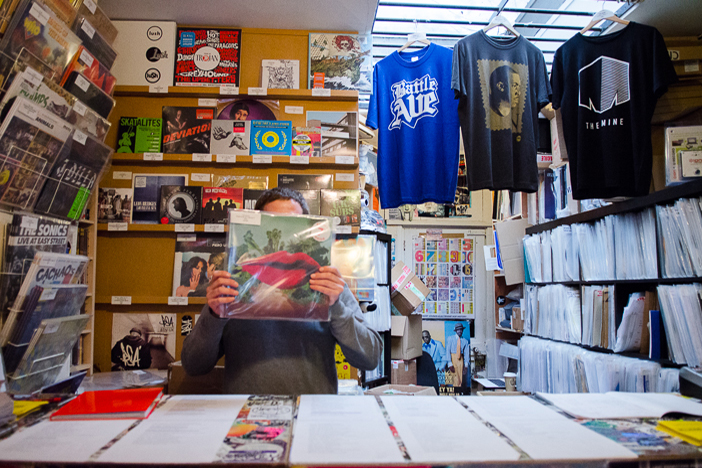 Last month we did a report on Record Store Day in which we mentioned a punter who was making a time-lapse video of the queue outside Resident. Turns out he filmed the whole day and he's kindly let SOURCE host the video – see below.
Anyway, this level of love made us want to look deeper. We all have an opinion on RSD, but we wanted to hear from the people on the other side: the shop staff. After all, without them we wouldn't have anywhere to stand at stupid o'clock on a Saturday morning. So we decided to ask Natasha at Resident Records and Ewan at Rarekind Records what they thought of it all.

What does RSD mean to you?
Natasha: It means lots of preparation, lots of planning, lots of organisation, lots of worry and then… lots of records, lots of unboxing, lots of hours, lots of customers and lots of fun! We have made it into a massive event for ourselves by fully embracing it. It means being brave and ordering lots of stock across the board in terms of genres, so that customers have a good chance of getting what they want.
Ewan: I think more than anything Record Store Day represents a chance to engage with more people than we normally do. It generates massive exposure for records and the shops that sell them on a scale that we couldn't achieve ourselves.
What do you say to the criticisms that RSD is just a chance for major labels to sell reissues and picture discs no one asked for?
Natasha: I am a really big fan of the day. It's as good as the effort you're prepared to put into making it work. I do think there are some issues that need to be addressed about the quality of the releases that make the official cut and the quantities pressed, but we're working on that for next year's 10th anniversary so let's see what we can do about it.
Ewan: I think in general, the positives far outweigh the negatives. The scale of the thing is so large there are bound to be aspects of it that people have problems with, but overall I think it's a very good thing for independent record shops. It's easy to moan about major labels taking over RSD but no one is forced to buy the products.
What are the best/worst releases in your opinion?
Natasha: Personally I was really happy to see releases from The Go! Team, Field Music, Low, Ezra Furman, Clint Mansell and Matthew E. White. Others loved the Lush boxset, La Dispute, J Dilla, Dirty Three, Deftones, Joe Strummer, The Fall and Run The Jewels. Something I've come to learn from Record Store Day is that there's very rarely any such thing as a bad release – "one man's trash is another man's treasure".
Ewan: My favourite RSD releases tend to be tunes issued on vinyl for the first time, or old stuff that is legitimately hard to find. I'd probably rate Gregory Porter's '1960 What?' as my favourite RSD release as it's an amazing song that had never been on vinyl. It was released for Record Store Day, sold well and has subsequently been pressed a number of times to meet demand. It maybe wouldn't have ever got a vinyl release otherwise. With the current upturn in interest in vinyl the situation is slightly different as most things are dropping on vinyl again but that's a really good example of a positive RSD release.
I also wholeheartedly approve of re-issues of legitimately rare or expensive records – the Eleanore Mills album from this year's RSD or the first Outkast album from last year sprint to mind. If a reissue is needed because the original is either rare or expensive that's a great reason to re-release it. I'm less keen on re-issues of records that can be picked up easily second hand – but I am perhaps biased here, as Rarekind is largely a second hand shop where people are encouraged to dig and rummage – I struggle with re-issues that cost the same or more than an original or older pressing.
What would you be buying if you were a punter?
Natasha: If I were a customer I'd have definitely ensured Field Music, Low, Ezra Furman, Clint Mansell and Matthew E. White were all on my list. There's no way you'd have caught me sleeping outside in the cold for them though!
Ewan: I think that's probably covered in my answer about the best releases. I've missed out on a few RSD titles and watched them sell out in the shop never to be seen again… The Greg Foat 10" sold out really fast this year and I would have probably taken one of each of them if there had been any left at the end of the day.
Do you see vinyl sales drop off during the year?
Natasha: No – vinyl sales are booming all year round. The labels are doing loads of indie exclusives all year round which drive more people to indie record shops for physical sales. The format is just growing all the time.
Ewan: RSD is by far our busiest day of the year unless we do something radical like a big sale, but we sell 99% vinyl so I don't really see a drop in vinyl sales, more a spike on the day.
If you were the curator next year, what would you do differently?
Natasha: I am a member of the Record Store Day team so let's see what we can achieve. It is a collaborative process though – it has to work for shops, labels, suppliers and customers alike so we can't be too idealistic. As I said, I'd mainly like to see some quality control over the releases – some real thought put into some really special releases.
Ewan: The main change I would make would be to the pricing – I think most RSD releases are too expensive. It's got a bit out of control in my opinion and I'd like to see labels not charge any more for releases than they do the rest of the year.
Hearing how Record Store Day works on the other side of the counter makes us realise how it's not quite true to dismiss it all as a major label machine. No doubt next year's 10th anniversary RSD will throw out all the stops to curate a list that not only shows off its past, but also points to its future. Let's just hope that they limit the amount of "re-issues of records that can be picked up easily second hand", as Ewan puts it. Once they get that sorted, the boo-boys will have to stop and embrace it for what it is. A legitimate day to buy and talk about records, and what could be better than that?
Anyway, here's that video. Filmed by Joules Todd for a uni project, the short film shows plenty of you happy shoppers alongside footage of Della Lupa and Normanton Street at the Dome's Spectrum gig the same day (which we also reviewed here).
"It brings together a range of people who have one thing in common and that's a love for records," Joules told us. "To me capturing this event and showing its growth in popularity was something I thought should be shown, as well as kept for future comparison when this event in the years to come has grown even more."
Words by Nick Roseblade
Photos by Mike Tudor