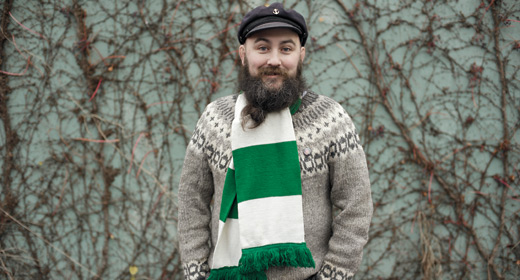 Saturday 18th December is Brighton Ukulele Day, with workshops and our own Bobby McGees playing the Dome, supporting the Ukulele Orchestra Of Great Britain. We spoke to Weakest Link-winning Jimmy Cairney from the Bobbys about the resurgence of four-string strumming.
The ukulele seems to be enjoying a popularity boost at the moment.
Yes, there's been a real resurgence over the last few years – brought about entirely by the music of The Bobby McGees! It's a fairly easy instrument to pick up and start playing, and it's a lot of fun as well. There's a few really good ukulele groups in Brighton; there's us obviously, The Half Sisters, Sophie Madeleine who's a bit of an internet sensation and there's Mr B The Gentleman Rhymer. So Brighton's a real hotbed for it.
There does seem to be a kind of punk ethic to some of it, with bands like the pUKEs…
Yeah, and there's one called Pukulele as well. When I first picked up a ukulele the first thing I worked out was 'Anarchy In The UK', which I'd never been able to quite get on a guitar, so I thought, "Aha, this is the instrument for me…" It is easy to pick up and play but to play well it's pretty tricky. It's kind of easy to learn but tricky to master.
You're playing at the Dome with the Ukulele Orchestra Of Great Britain, seemingly taking well-known songs and 'uke-ing' them up…
Yeah, they're a covers band. They're very good at what they do, and what they do is cheesy covers. They're all very accomplished technical players and you do sometimes kind of think, "Come on lads, write your own songs – let's see what you can do." But they play sold-out gigs all over the world, like Carnegie Hall in New York, so playing a gig with them at the Dome should be a nice one.
The Dome is hosting workshops and tutorials as well.
Yes, lots of people like to pick one up and have a little plink – whenever we play one of the ukulele festivals around the world we're always asked to teach workshops as well. I don't know if that happens with other instruments necessarily.
So this Brighton show rounds off a pretty busy year for The Bobby McGees.
Yes, we've been all over the world this year; Hong Kong, Spain, Sweden and Britain, and we're looking to record at the moment. We built a studio a few years ago and were all set to record there but we got taken to Metway, the Levellers' studio. It's really quite impressive. I was like a child being shown a shiny toy – I was like, "I want to record in here, it's amazing." It's just about finding a space in there, it's quite busy. But we've got a good album and a couple of EPs' worth of material, which we'll be airing at the Dome. We're hoping to have 21 dancers as well…
Tell us a bit about your TURDS.
That's The Ukulele Research and Development Society. It was an open mic ukulele night that started maybe 10 years ago in Devon. I went along and it was a lot of fun so we decided to open our own version in Brighton. We have a set of rules to stop people being rubbish – no covers, cos all covers are crap, you're not allowed the word 'baby' in any of your songs unless you're Diana Ross, no 'soul' unless you're James Brown. No singing about drugs unless you're Shaun Ryder, nothing about alcohol unless you're Shane McGowan. That cuts out about 75% of the people who play at open mic nights! We give away prizes if performers manage two songs without breaking any of the rules and we give the audience sweets so they shut up and listen. We then get them to write in a comments book, which is hilarious.
And finally, the patron saint of ukulele is… George Formby?
For me it would have to be George Formby, yes. I had a great discussion/argument with someone on the internet, about a new Hawaiian ukulele player who was described as the Jimi Hendrix of the ukulele. He's very good, but I had to remind the Hawaiian people that Jimi Hendrix was only the George Formby of the guitar.
FYI
BRIGHTON UKULELE DAY: Sat 18th Dec at the Dome.
BOBBY MCGEE'S: myspace.com/thebobbymcgees
TURDS: tinyurl.com/brightonturds
WORDS BY NICK COQUET
PHOTO BY JAMES KENDALL