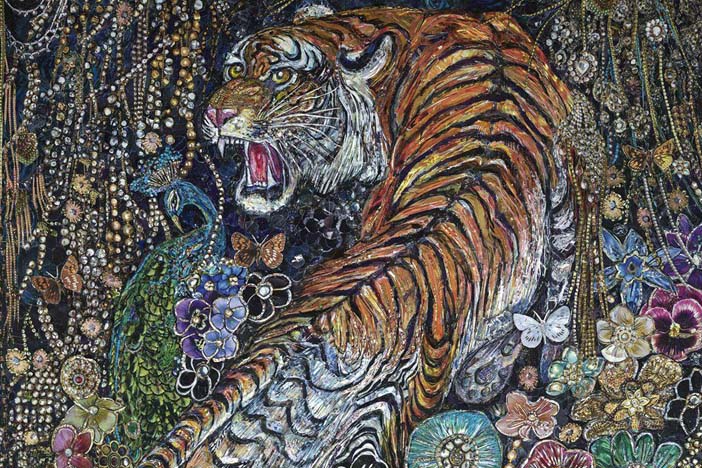 This Thursday, local artist Julie Kuyath hosts a special event at Vine Street Vintage to celebrate the first anniversary of the shop's relocation to Gloucester Road. This collaborative evening sees Kuyath exhibit her distinctive, meticulous collages in antique frames hand chosen from the store's impressive wares. Visitors are invited to come down between 5 and 8pm to enjoy a glass of Prosecco and explore the artwork, which will hang amongst the vintage furniture and ephemera on both floors of the shop.
Back in May, when SOURCE reviewed Brighton's Open Houses, we chose Kuyath's collage portrait of Nick Cave as our lead image. Soon after, Cave himself happened to see the piece on an Instagram post and contacted her. He later acquired the piece for his own house, where it sits above his piano like a talisman. "It renewed my self-belief and regenerated my confidence," admits Kuyath, still obviously dazed by the experience. "Nick Cave's music has inspired me for decades."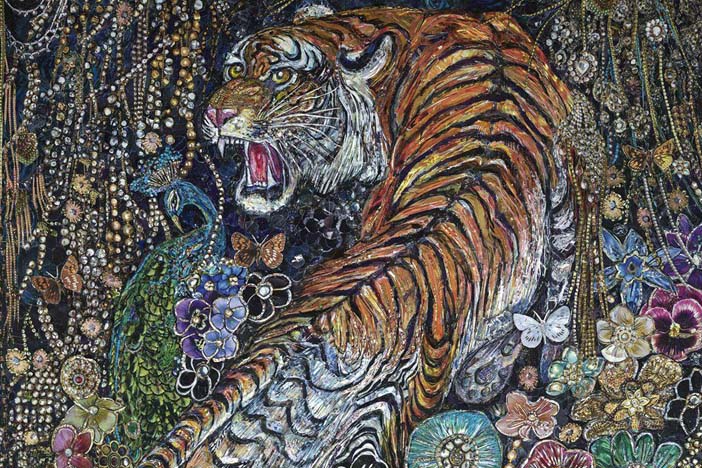 Kuyath's pictures are built up through the collaged application of minuscule sections of glossy magazine pages, creating opulent shimmering effects. It's no surprise to learn she has a background in jewellery design, as her artworks have a distinctly bejewelled quality. Seen in the flesh, they have a very different vibe to traditional painting, with intense colours and an almost iridescent surface gloss. "I can spend weeks producing a collage," Kuyath explains. "They require a fierce devotion and a lot of patience. My aim is to create a painterly effect using paper."
Thematically, the artist has a broad base – from abstraction through to symbolism and magic realism. The new display includes representations of mythical legends, dragons and tigers, and an ongoing series in which musical icons are portrayed representing Tarot characters (to which the Nick Cave portrait belongs). Come to Thursday's launch event to meet Julie and admire her meticulous handiwork. The pictures will remain on display through the weekend.
Julie Kuyath at Vine Street Vintage, 88 Gloucester Road, Brighton, 5-8pm
Thursday 26th October 2017
www.juliekuyath.com