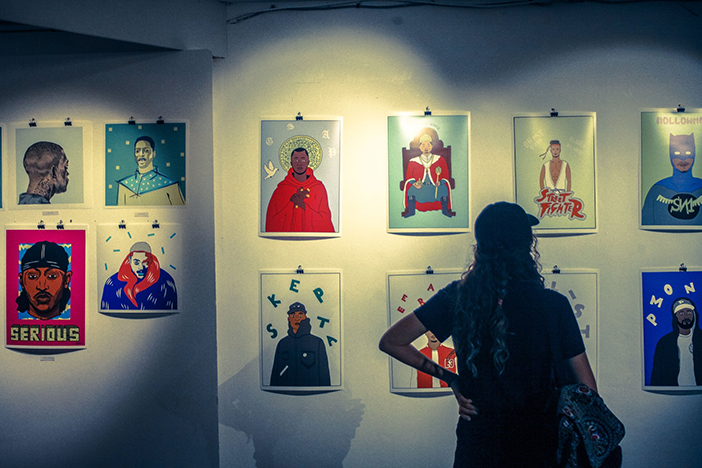 After its success in London as I LUV U – A Celebration Of Grime Culture, the exhibition now aptly titled NEXT HYPE – A Celebration of Grime, is coming to Brighton. The pop-up launches at Kings Road Arches on the 2nd November and sticks around until the 6th.
Using work by emerging visual artists from across the country, NEXT HYPE aims to explore grime culture through depictions of their favourite MCs and music in a range of formats. Behind the exhibition is Blue Monday Press, a small locally based arts company, whose aim is to elevate emerging artists and ultimately get them in galleries and in print.
The art on show will articulate the influence of grime on our culture – and the personal influence it has had on the illustrators. The images are unique, sharp and cool and offer an insight into a scene that is arguably one of the most exciting forms of music in the UK right now. For those that aren't well acquainted with grime, the exhibition offers a chance to explore the genre through an artistic form that might be more accessible.
However, it was a love for the music that lead Ben Gore from Blue Monday Press to began organising the ongoing project. From its inception, it has been a concept that has developed through the interest it has received both from participants and viewers. He told us the motivation behind the concept was "a way to pay homage to a style of music I love, and to showcase the work of a whole bunch of great emerging artists, that might not otherwise have been able to find their space on a gallery wall".
In the wake of the exhibition's launch on Friday 2nd, Green Door Store will be hosting NEXT HYPE – A Grime & Bashment Party. With DJs ass.man., KO$HER BEATS, Antiques Roadman, Spice Gyalz and OB-1, hopefully as consistent in good tunes as they are awkward puns.
76-81 Kings Road Arches, 2nd – 6th November 2017
Words by Annie Roberts
Photo by Luis Kramer