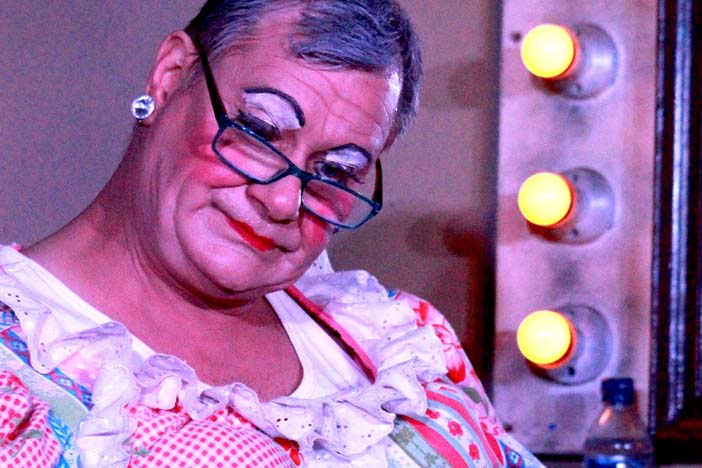 Veteran panto dame Harold Thropp finds himself billed below a soap actor and sentenced to the ignominy of a dingy third class dressing room in this engaging single hander play which comes to the Phil Starr Pavilion later this month for a special one off performance.
Philip Meeks was inspired to write Twinkle after realising that John Inman, camp TV legend and lifelong staple of the panto circuit had, at the end of his career, been dropped to second billing below a Big Brother contestant. Meeks, a writer for television soaps with an obvious talent for penning sharp and witty dialogue, has himself for many years been a drag performer with a unique insider's view of the strange, often ruthless world of theatrical life.
Twinkle was first produced many years ago in Edinburgh, and although it has seen many actors take the leading role, few seem more apt than the selection, for this Brighton production, of Jason Sutton – an accomplished stage actor also well known in the city as drag act Miss Jason. Since Sutton has himself been the dame in many pantomimes, his performance will surely bring an extra layer of authenticity to a script already rich in pathos and humour. Tickets are available here.
Twinkle is presented as part of the B Right On Community Festival, a programme of events celebrating LGBT History Month. The festival runs Feb 15th – March 3rd in a pop-up venue on Victoria Gardens. Other ticketed highlights include Paul Diello's musical performance Epicene, and a talk from transgender writer and TV presenter Sophie Cook.
Many other events in the festival are free, although visitors are encouraged to register beforehand to ensure a seat. On Feb 18th, Greg Headley hosts 'Outside Out', a session discussing homelessness in the LGBT community, which gives voice to local citizens who have experienced this worsening crisis in our city. This promises to be one of the most thought provoking events in the festival. Check out the website for full event listings.
Twinkle, Phil Starr Pavilion, Victoria Gardens. Saturday 17th February, 7.30pm
lgbthistorymonth.org.uk
Photos by Jack Lynn