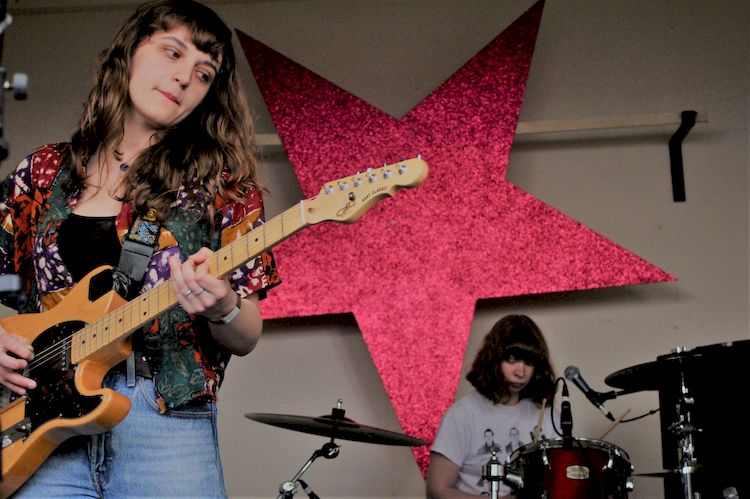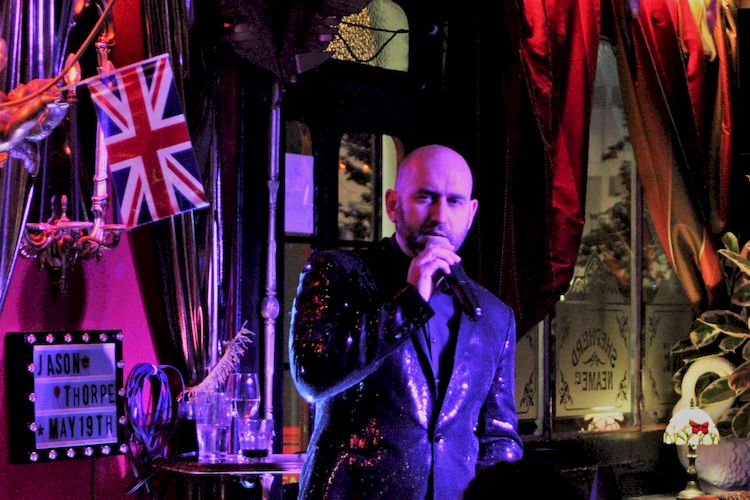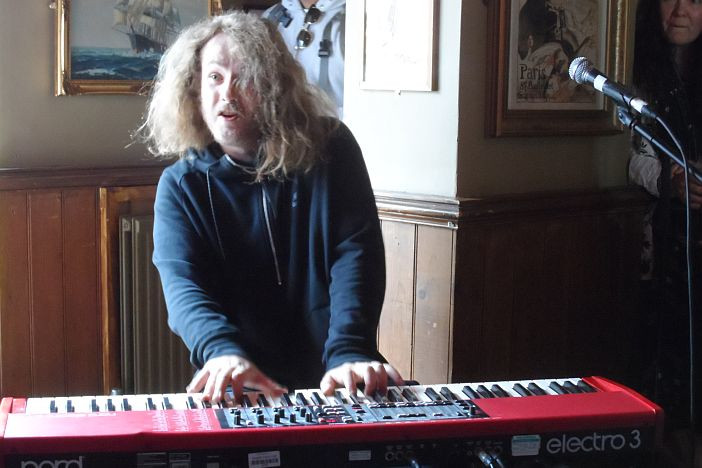 The Alternative Escape is the local Brighton free festival which runs alongside the grown-up Great Escape, taking over dozens of tiny venues across town to put on free-to-enter live music every bit as good as the main festival, but without the queues and out-of-towners and the industry sorts. This year the Alt-Escape seems bigger than ever and Brighton Source was out and about enjoying as much of it as we could (but to be fair, we barely tipped the surface).
Day One: 18 acts, 9 venues, 12 km walked, several beers drunk
Our first live act was Zoe Wren (above), caught in a coffee shop on the recommendation of a friend, an astonishing young folk singer, a winner of a PRS award who has played the Cambridge Folk Festival, with a beautiful voice and excellent songwriting chops.
Just round the corner we popped into the East Street Tap and caught Dan Lyons, former Fat White Family drummer, now frontman in his own band playing well-crafted sixties-influenced English pop, with hints of Ray Davies and Paul Weller.
Over in Kemptown's Black Dove there was an excellent array of bands sponsored by Brighton Noise, and we caught the always impressive Speak Galactic and the devastating sonic assault of His & Hers (above).
Next door to its own vinyl shop in a tiny twitten not far from the seafront, the Bella Union label had taken over an empty space to put on some of its favourite acts, including local songwriter Mark Benton's Seadog whose set included one of our favourite singles of last year, the charming 'As I Am'.
The Small Pond studio had put on a series of shows that were one of the highlights of last year's Alt-Escape so we were keen to dip into their latest offering. This year they took over the snooker club a couple of doors down the road where we saw Demob Happy promoting their raucous new album 'Holy Doom' to an enthusiastic roomful of fans.
Another SOURCE writer was over at the Black Lion to catch False Heads, a band they'd wanted to catch live for some time having loved their visceral post-punk sound on record. Frontman Luke Griffiths' spectacular dive onto fellow vocalist and drummer Barney Nash mid-set confirmed them as the raucous live authority we had hoped they would be.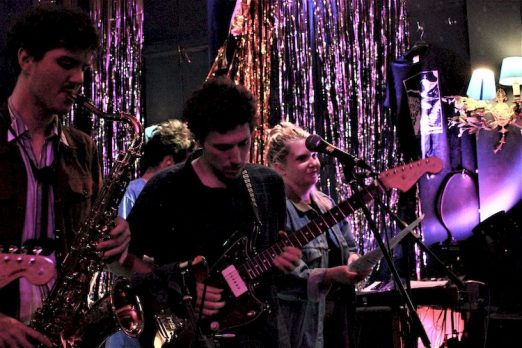 We ended our first day at the Richmond, a legendary music venue back in the day, but now a cheeky pub decked out in tinsel and large newspaper glitter balls for the Memorial of Distinction label house party. Here we caught the likes of lo-fi post-punk Viewfinder (above, top), the gothic 'gloom pop' of Heirloom (above, centre), raucous fem-punk CLT DRP and the "piercing, dissociative" (Guardian, 21/5/18) local Brighton band Porridge Radio (above) who, pleasantly surprising and excellent as ever, played us tracks from their brilliant debut album 'Rice, Pasta And Other Fillers'. The friends we were with went on to Sticky Mike's to see Heirloom play again after midnight, so impressed with them they were, but we took our leave and went to bed.
Day Two: 10 acts, 7 venues, 11 km, more beer
Our second day started later, with the opening acts on the Love Thy Neighbour stage, downstairs at the Hope & Ruin. Babii (above) plays dreamy, edgy, electronic music and Abi Wade (below) who has a great debut album showing her combining samples with cello and her entrancing vocals to great effect.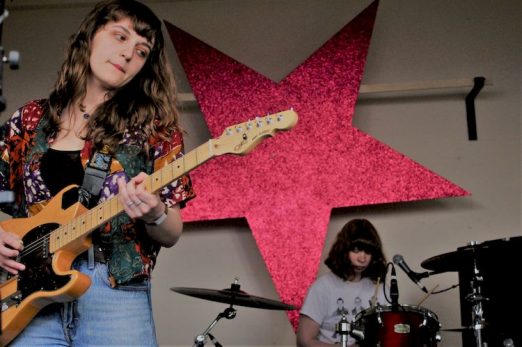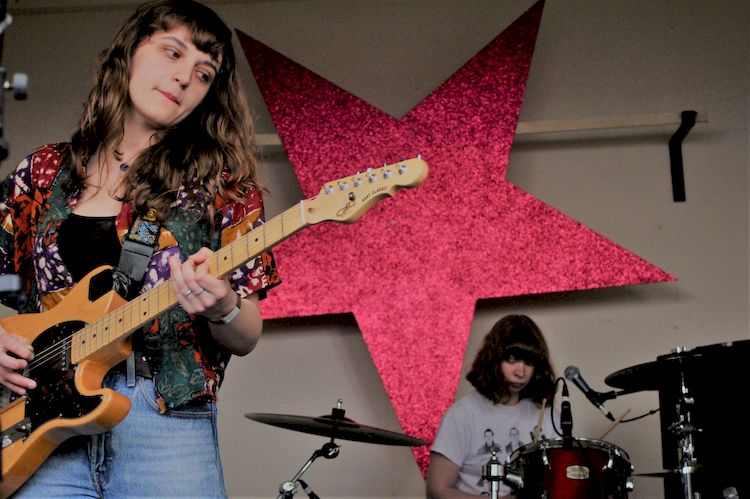 Shipwrights Yard has been a longstanding secret The Great Escape venue but this year Republic of Music had opened it up to the non-paying public, who packed the yard to see a typically blistering performance from the excellent local power-pop trio Our Girl (above).
We've been long-tme fans of Roxanne de Bastion so it was terrific to see her play the tiny stage at the back of the Fiddler's Elbow pub, a performance full of character and verve, including songs from her sophomore album 'Heirlooms And Hearsay' (album opener 'Run' was particularly stunning) and a cheeky folky cover of Outkast's 'Hey Ya!'.
We decided to take a hike over to the Sidewinder in Kemp Town because we really wanted to see Red Deer People, and despite some issues with the vocal mics, their dynamic post-punk songs and riffs did not disappoint.
After that we popped into the Mucky Duck pub and caught a Belfast act we had never heard before but who really impressed, Jealous Of The Birds. Frontperson Naomi Hamilton had a terrific collection of powerful intimate songs, backed by a dynamic band and her own charismatic stage presence, and we will definitely be listening to her band some more.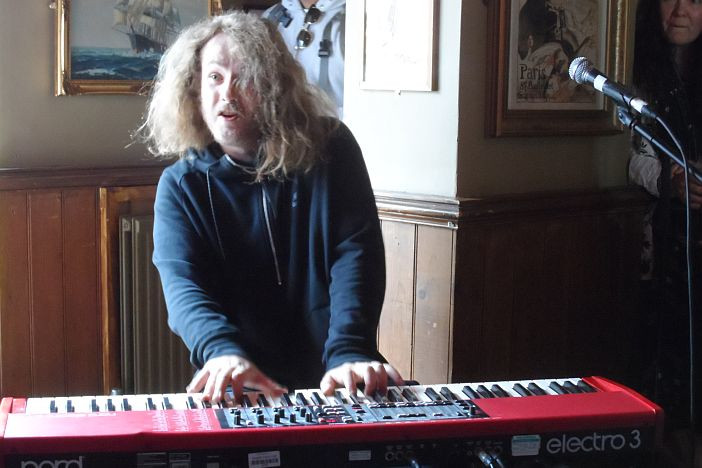 Another Brighton Source writer was over at the Eagle for Joe Armon-Jones' (above) off-the-scale performance of his new Brownswood album at the Mr Bongo showcase with Nubya Garcia on sax, Dylan Jones on trumpet and Asheber on vocals. Think Herbie Hancock meets Lonnie Liston Smith mixed by Sly & Robbie – it was really something special.
And over at the Revelator, another of our posse was catching a band at their first ever gig, and was seriously impressed with The Slaughter House Band's heavy Brian Jonestown Massacre influenced sound. Frontman Raz has serious frontman credentials. On a similar note, Of Empires' frontman Jack Fletcher has charisma and a penchant for climbing around venues, whilst their reverb heavy Doors/scuzz kept the audience dancing.
It was almost time to call it a night, but not before we paid a visit to two more venues. First off was the White Rabbit pub, where we saw the acid folk duo Rokurokubi (named after the Japanese vampyric legends). Then we popped into the Richmond again, where another night of free music was coming to a close with the dark brooding indie rock of London band Crewel Intentions, whose manic set got an enthusiastic audience dancing.
Day Three: 9 or 10 acts, loads of venues, and there was probably beer involved but by this stage I'll be damned if I can remember…
Lunchtime on Saturday and there were only about three people inside the Cafe Plenty at Preston Circus when Greenness began their set, with a few more sipping coffee and listening in the sunshine outside. Nevertheless psych folk duo Cess Frangi and Graham Pratt were an absolute revelation, combining a French pop sensibility with the sort of avant garde vocalising Tim Buckley used to excel at. A beautiful set.
At the Bella Union pop-up shop again, we were witness to the fascinating atmospheric electronica of Three Body Trio (above) and then at the upstairs room at the Pipeline we saw T House (of Sweet Williams, below) play an excellent punchy and gritty solo avant-blues set.
We only managed to catch half of Hattie Briggs' performance (above) at the Fiddler's Elbow but wish we'd caught more. Briggs is a brilliant singer and songwriter who has also recently started taking commissions for songs, and the couple of those commissions we heard her play tonight were outstanding, just like her own regular releases. Hattie returns to Brighton in early July and we would recommend you go see her.
Next stop was the original rock'n'roll hotel, the Pelirocco, where we saw two great acts playing to a packed room.
Norway's Moviestar (above, top) are a three-piece playing outlandish manic cosmic rock – a bit like The Darkness let loose in a kindergarten, although with their own original crazy take on things. They are great fun.
The next act at the Pelirocco were the outstanding Mum Dad And The Kids (above), fronted by Tim Harbridge. The Brighton band's tight, dynamic glam-infused songs are excellent and as a live act they are pretty unmissable. There was some outstanding guitar playing from Joe Moon who didn't stop even when he broke a string and Simon Adams beat the house drum kit so hard he practically broke it.
One more stop at the Fiddler's Elbow (a stage in aid of mental health charity Mind) to catch local singer-songwriter Paul Murray (above), with his intelligent, witty and humane stories-in-song, accompanied by Amy Squirrel playing some beautiful cello. Their EP 'Party' is well worth seeking out.
Exhausted by now, we collapsed into the Regency Tavern for a quiet drink only to be greeted by the warm tones of one Jason Thorpe (below), belting out Broadway show tunes and classic covers. This wasn't an Alt-Escape show nor a festival show, just a typical Saturday night in a pub in Brighton. So of course we joined in and sang our hearts out. Great fun.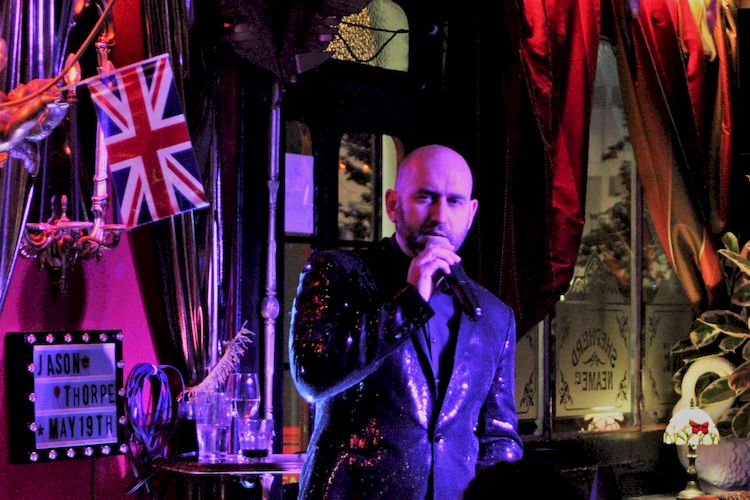 A final shoutout to Acid Box Promotion's night starting midnight Saturday at Sticky Mike's. All grrrrl NY band BoyToy set the night underway with a sleaze-garage sound that we adored…
[to be continued next year…]
Words and photos mainly by Jon Southcoasting. Joe Armon-Jones was witnessed by Steve Clement, while Ash Lawrence saw False Heads, The Slaughter House Band, Of Empires and BoyToy and then collapsed in a heap.