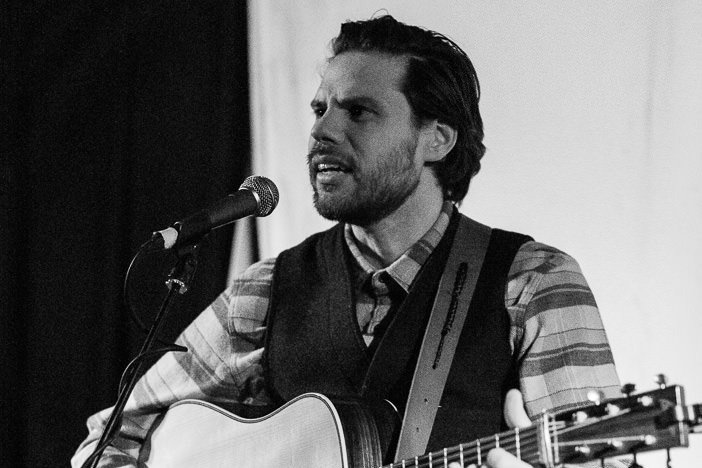 O. Chapman seemed to bring along a decent part of the early crowd as they hail from Brighton. The music was just folk standards washing over the audience with acoustic guitar, lead guitar and bass framing the vocals. It was calling out for a drummer to keep time and some harmonies or mandolin/banjo would have been nice.
As Roo Panes started playing people were talking but pretty quickly they were silenced by a great voice and fingerpicking guitar style. He channels Nick Drake with his guitar playing – bordering on Jeff Buckley at times with his vocals.
Seeing him with full band would be good – the sound would likely be more like the Irish jiggery of Mumford & Sons. Definitely worth giving some further listening time to his released material.
Oh, and apparently he is the face of Burberry too.
Not sure anyone in the crowd was expecting a solo show from Bahamas but we would wager everyone was thankful by the end of the gig. Afie Jurvanen and an acoustic guitar kept everyone silent and captivated for the hour.
Not sure what it is with Canadians (see our Mac DeMarco review) but they know how to entertain and they share our sense of humour. He seemed to enjoy playing, varying the songs and just chatting to the crowd – making it even more informal and intimate.
The intimacy is also helped by the fact the acoustic vibe meant you could pick up on more of the lyrics. All about love – some tragic and some just amusing anecdotes (usually then followed by tragedy).
Summery folk music would be the easiest description, but also a lazy one. Jurvanen is clearly accomplished and a bit of a musical scholar – he references so many styles within Bahamas.
We get a decent selection of tracks from 2012's 'Barchords'. 'Lost in the Light', 'Never Again', 'I Got You Babe' and 'Be My Witness' stand out in particular.
Older track 'Hockey Teeth' gets a whoop or two from the more educated members of the crowd and some lyrical laughs from everyone else. "Every morning when we wake up and our lips meet/
You know I'm thanking the lord for blessing you with hockey teeth"
He also played a fair amount of new material and it sounded great. The crowd's reaction at the end of the set shows how well liked someone can be in such a short period of time.
Even though it's melancholic music it did start to signal that summer might be on the way and that Bahamas will once again make a great soundtrack to our five solid days of sunshine.
Green Door Store, Monday 25th March 2013
Words and photos by Dan Griffiths