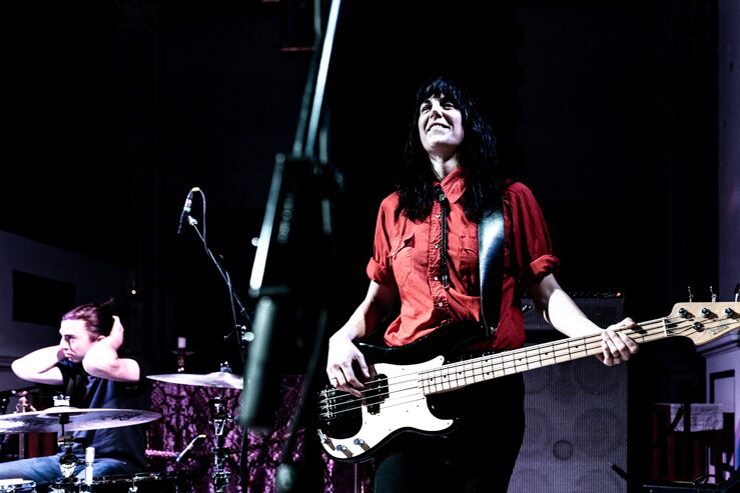 Band of Skulls are from Southampton, but you wouldn't know it if they didn't introduce themselves as such. The trio have always sounded steeped in American rock and blues since the release of their debut, 'Baby Darling Doll Face Honey', a record that heaved with fuzzy, stadium-ish uppercuts, delivered in satisfyingly heavy, hair-and-riffs fashion live.
In the ensuing decade, theirs has been the stuff of soundtrack music – live sport, TV series, cars and gaming – and perhaps that's why it's clearly beloved by a big and broad crowd. But Emma Richardson and Russell Marsden are more than that to their fans, and their music has an appeal that isn't just based on a passing interest in a few background earworms.
Tonight, the pair demonstrate an understated telepathy indicative of their friendship since college, joined by new drummer Julian Dorio, of The Whigs and, for a spell, Eagles of Death Metal. Appropriately, Marsden and Richardson met Dorio in America, where he agreed – at least for this tour – to replace well-respected founding member Matt Hayward.
The news that they are playing close to the pulpit of a 19th century church appears to arrive as a surprise, as well it might given their propensity for being eulogised by pits rather than congregations. St George's is well established as a gig venue now, and while the novelty of the surroundings goes on (not to mention the ramshackle little bar and mazey walk to another building for the bathroom), the real interest is in seeing how bands react and respond to it.
Acoustic singers, suited to a hushed tone, are arguably most instantly at ease, while rock bands can find themselves with some work to do under a high roof. Unperturbed, though, the Skulls draw the devotional from the benches, and turn the setting to their advantage on the tender, elegant beauty of 'Cold Fame'. Marsden quips of holy wine and imagines this being the appearance, for better or for worse, of a surprise band at a wedding, before cups fly into the air and the characteristically unimposing Richardson spends most of the final stages in a thrashing circle down the front.
The raucousness has the feel of a greatest hits set, helped by the re-emergence of relatively old favourites from their mid-length career. Meanwhile, their new album, 'Love Is All You Love', is full of more big set-pieces, playing out its subject as lustful, regretted, troublesome and sleazy. If it's a loaded compliment to say that Band of Skulls continue to make songs that sound shaped for adverts and soundtracks, it's worth noting that the results never sound cloying or forced. Sometimes you wish they'd do a minute or two less clumping, because there aren't really enough rough edges to find mystery in. Perhaps that's also a product of their recent collaboration with Richard X, a master of faintly spacy pop.
Then again, they're an immensely easy band to watch, emanating concentration and joy, repeating in grander style the love-ins they have had with crowds across the city previously. Richardson almost finishes the symbiotic show on stage, but then the shouts for more intensify. Soon enough, her microphone lead is slinking down the steps again, and into the comfortable crush once more.
St George's Church, Friday 12th April 2019
Photos by Xavier Clarke