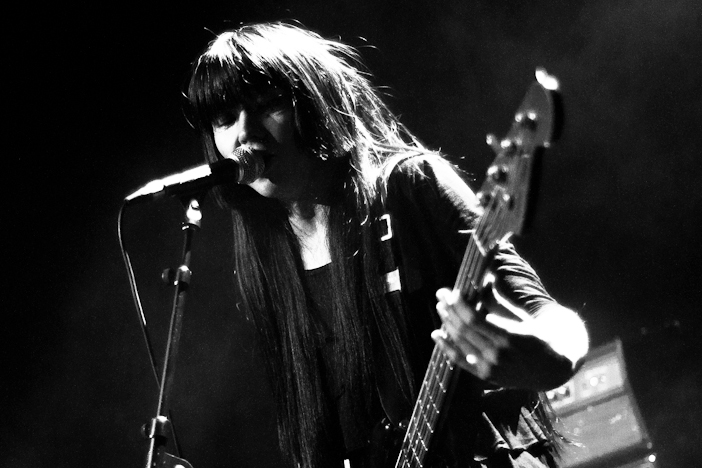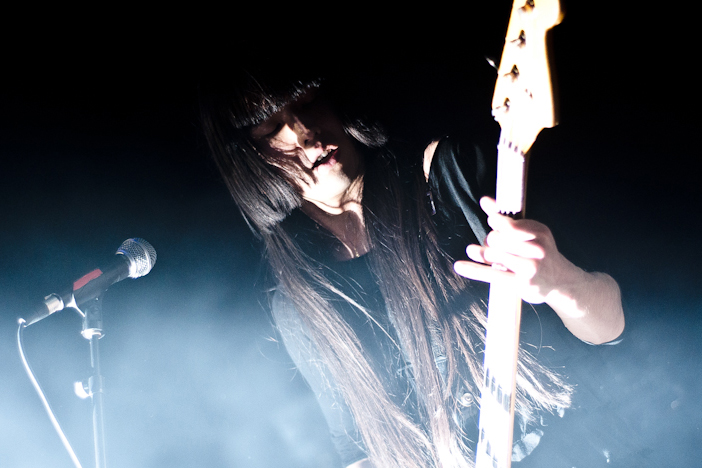 Hailing from Japan and meeting in London, Bo Ningen's psych rock debut came out back in 2010, but it's 2012's more expansive follow up 'Line The Wall' and their ferocious live reputation that's seen the group's profile rising in recent months. We started joining the dots only when frontman and bassist Taigen Kawabe teamed up with Devilman – the duo of former Wrong Music/Spirit Of Gravity mainstay Shige Ishihara (DJ Scotch Egg) and Gorgonn from Dokkebi Q – on their recent album of incendiary dub experiments. Another timely collaboration, with Savages' Jehnny Beth on a new version of 'Nichijyou', has got Bo Ningen's year off to an enviable start.
Singing in their native language is no hurdle to filling the Haunt tonight and the air's thick and steamy by the time the stick thin quartet take the stage. If it's Bo Ningen's striking, long haired appearance that hits you first, it's the sudden force of the riffs that floors you immediately after. 'Henkan' smacks us hard in the gut, Taigen's face jutting into extreme shapes like a gurner chewing speed as he pulls at his bass. Sometime he's joined in his whirling dance by Yuki Tsujii, who's otherwise a hunch of concentration, bent over his guitar.
Among the billowing psychedelic passages are blasts of ear-rinsing post-punk treble. 'Nichijyou' finds fellow guitarist Kohhei Matsuda chopping out fractured, Gang Of Four chords; elsewhere, the minimal, two-note structures of Wire do battle with bowel shaking metal. Strobe lights fire through a hypnotic new track before, well ahead of curfew, Taigen announces they only have two songs left ("but two really long songs"). The swirling uprush of 'Shin Ichi' sees the mosh pit obligingly step up a gear, before the epic 'Daikaisei' finishes them off with its relentless 70s riffing, Kohhei dragging pieces of Mon-Chan's drum kit across the stage as the band fly apart.
There's no time for an encore, but our ears have admitted defeat anyway. Bo Ningen proved once again that the transcendent power of rock demolishes national borders as well as our hearing. Live, they blast like a hurricane.
Haunt, Thursday 28th March 2013
Words by Stuart Huggett
Photos by Charles Shepherd