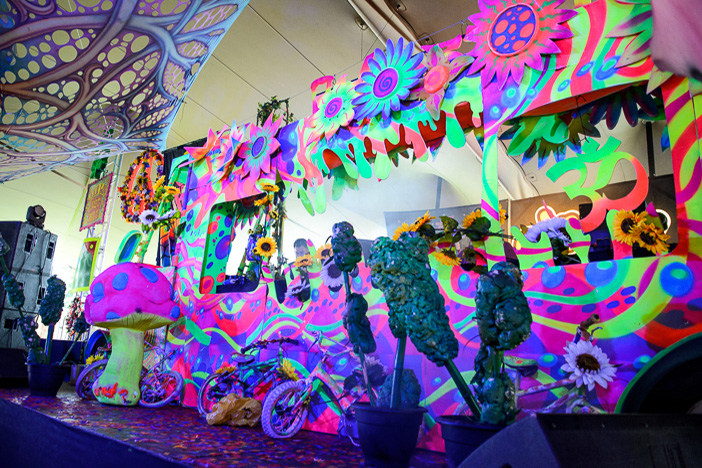 For a debut festival, Boundary Brighton ran incredibly smoothly, which is testament to the organisers, although ticket sales were down, resulting in a flash sale of heavily discounted tickets at the last minute. With a distinctly Brighton-centric feel to it, four stages hosted by the city's leading music institutions – Patterns, Concorde 2 and The Arch – were set for international DJs and live acts, including Craig David's TS5, Groove Armada, Seth Troxler and Congo Natty.
Nestled between the crest of the South Downs and the city, Stanmer Park was the perfect setting for a late summer festival. The recent cohort of freshers making up the majority of the crowd from neighbouring Sussex and Brighton universities, were in high spirits, but didn't get out of hand.
Arriving around 1pm, there wasn't a huge number of people, but early arrivals could enjoy wandering around the relatively small site, browsing the stall selling hats and hoodies, buying tokens for the bar, which had a rather limited selection of drinks on offer, checking out the similarly limited choice of food stalls and contemplating taking a ride on the big wheel or rotating swings. With glimpses of sun breaking through the clouds, Submotion Orchestra played a rather subdued set on the main stage, but their distinctive blend of electronica, bass, ambient, jazz and dub, coupled with the great voice of singer Ruby Wood, got a few people on their feet to tracks like 'In Gold' and 'It's Not Me It's You'.
Jungle were up next with a slightly dull DJ set. To watch two guys twiddling knobs in the middle of the main stage wasn't all that exciting and the volume wasn't nearly loud enough. Having seen the full Jungle band play live at Bestival, it made one crave a more visual experience. Groove Armada's DJ set was equally underwhelming and beset by a quiet sound system. Even their big hits like 'I See You Baby' and 'Superstylin' fell on deaf ears.
While the volume issues continued, reggae/ska/dub nine-piece Gentleman's Dub Club switched the energy levels up several gears, with vocalist Jonathan Scratchley bouncing across the stage to feel-good tracks like 'Music Is The Girl I Love' and 'High Grade'. There also seemed to be several musicians from Submotion Orchestra moonlighting in the band.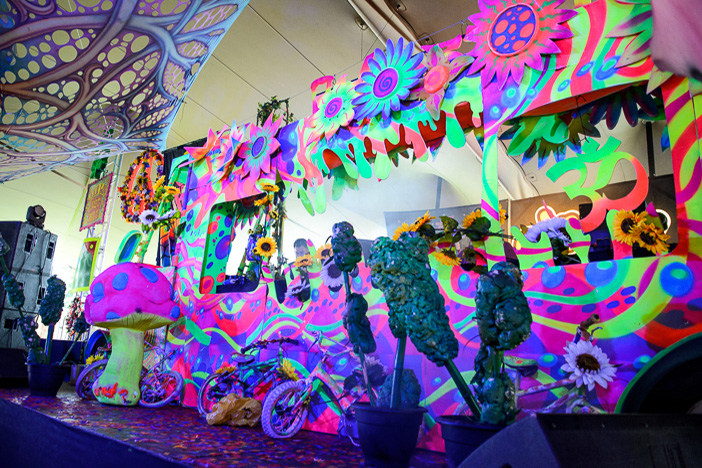 Over at the Elrow stage, brightly decorated with neon flowers, stars and CND signs hanging from the marquee, Seth Troxler and Richy Ahmed brought the sounds of Barcelona and Ibiza, mixed with the visual spectacle of confetti filled air, inflatable rubber rings and crowd surfing chickens.
Meanwhile, inside the London Warehouse Events tent, with an exterior façade made to look like a club with concrete walls, hard core festivalgoers enjoyed DJ sets from underground house and techno DJs, such as Tom Trago and Joy Orbison. It was also a good place to warm up when the sun went down.
The Bandstand stage perched on a hilltop overlooking the site, drew a large, enthusiastic crowd firstly for Krafty Kutz and A.Skillz with their finely honed back and forth mixing with a collection of bangers and breaks.
Then for Jaguar Skills, playing his mash-ups of genres from hip hop to drum 'n' bass, complete with his trademark balaclava. The smell of hotdogs wafting over from The Dog Haus was slightly distracting, so might be worth rethinking the location of the food stalls next year.
As night fell Toddla T took the stage and kept the crowd going, even to the extent that a couple made it through the barrier and on the stage. They were quickly removed and the MC got things back on track.
Without a doubt, the biggest crowd of the day gathered for the headliner Craig David's TS5. For those who remember his first appearance on the music scene back in 1999 with the 2-step garage classic 'Re-Rewind (The Crowd Say Bo Selecta)' by Artful Dodger, Craig David is synonymous with early noughties garage and r'n'b. After almost a decade in the musical wilderness following his public ridiculing by comedian Leigh Francis, which 'destroyed' his career and made him escape to Miami, David is enjoying the biggest comeback since Justin Trousersnake. With a legion of new fans from the next generation, he is back in the charts and has won the hearts of the British public once again.
Accompanied only by decks and a mic on stage, Craig started with the intro from R. Kelly's 'Bump 'n' Grind' before mixing in 'Re-Rewind' and uttering the immortal line "With Craig David all over your…"; his silky smooth voice as flawless as it sounds on record. And with that, he had the audience eating out of the palm of his hand. What followed was a one-man masterclass in mixing, singing and MCing. Playing a mixture of his old and new material, classics like '7 Days', 'Fill Me In' and 'Walking Away' went down a storm, while his latest hit 'When The Bassline Drops' was just as well-received. Playing a selection of nineties/noughties hits, such as the 2000 garage anthem 'Flowers' by Sweet Female Attitude and 1993 dancefloor favourite 'Show Me Love' by Robin S., he also put his own spin on current tracks like Drake's 'One Dance'. The love from the crowd was palpable and you could see he was genuinely revelling in the moment. Craig David, it's great to have you back.
Perhaps a line-up with more live acts and less DJ sets, which were more or less in the same vein of dance music, would have added more variety to the festival and made the visual experience, especially, more satisfying. There's always next year.
Stanmer Park, Saturday 17th September 2016
Words by Emma Baker
Photos by Mike Tudor