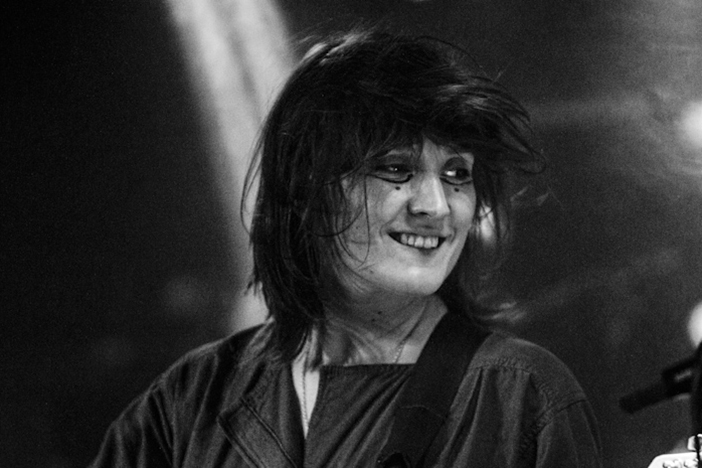 We're not quite sure what to expect from Cate Le Bon tonight. Her latest LP, 'Crab Day', is more jittery, less laid back than the previous three. Less red wine, more double espresso.
Just to be contrary, the band enter enigmatically to the sound of an Enoesque drone. The guys, all in black, have either been in a fight or they're wearing weird eye make up. It's hard to tell. The blue, horizontally-striped lights in the background make them look like they're performing inside an aquarium. The Sea Life Centre is just across the road, after all.
In this subaquatic scenario, Cate's guitar would be the anglerfish. Its wiry, choppy, Velvet Underground twang sounds fantastic. She starts with two of the best songs on 'Crab Day'. The title track, followed by 'Love Is Not Love'. In fact, it's pretty much a run through of 'Crab Day', sprinkled with a few numbers from (her finest work to date) 'Mug Museum'. Nothing from 'CYRK', nothing from 'Me Oh My'.
Cate holds off on the banter for a while until she says "I keep meaning to get my hair cut. Any hairdressers out there?", ruffling her fringe into the front row.
"I'll do it," shouts the guy next to us.
"Nooo," replies Cate, curtly. Welshly.
Sadly, there's no 'I Think I Knew', presumably because nobody was up to mimicking Perfume Genius's vocal part. But we do get the brilliant 'No God', one of the highlights of 'Mug Museum'; one of 2014's highlights, come to think of it.
The hypnotic moodiness of 'Mug Museum' and the nervous energy of 'Crab Day' weave together into a wonderful tapestry. The tracks from the new album, in particular the epic 'What's Not Mine', make more sense live. But the set is 15 minutes too short. After a one-track encore, they've quit the building by 9.45. It's a shame because at over £18 (including fees) it's a relatively expensive gig for a venue this size. Although it did sell out at the last minute, we know people who were put off coming by the price…
Weirdly, there's meant to be a DJ on from 10.00 to 10.10, so we try to buy a pint. The bar's closed. We vote against starting a riot. Despite the slight sense of anticlimax, we've just seen one of the most original and accomplished songwriters around. And now that she's based in LA, how long before we get that chance again?
Patterns, Friday 27th May 2016
Words by Gary Rose
Photos by Francesca Moore