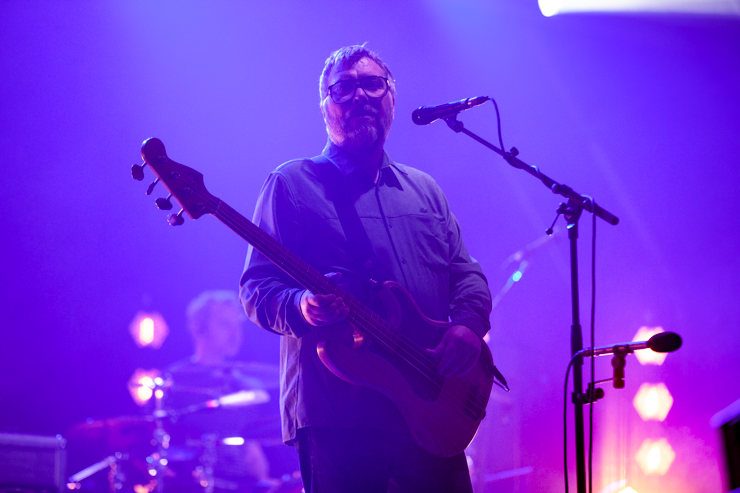 "It's about escape really – like most of our songs are," explains Doves singer Jimi Goodwin in his distinctive Manchester purr. "Escape out of our head and into the real world." Expanded to a four-piece with Martin Rebelski on keys, Goodwin and brothers Jez and Andy Williams are on a major tour for the first time in nine years. They're honest about the intimidation playing to large crowds again encompasses, but the only signs of rustiness tonight might be on the stage infrastructure, which is being pelted with midsummer rain.
Goodwin is introducing 'Black & White Town', a top six single in 2005 that became a staple of television producers seeking upbeat soundtracks, with its plonking feelgood keys and soaring chorus. Alluding to concrete mundanity and released with a video filmed on a council estate in Glasgow, it's possible Doves didn't envisage the track representing a more immediate kind of escape from run-of-the-mill soft rock. That feat is achieved almost as soon as their headline slot begins tonight, arriving after sets from Feeder, who are reliably enjoyable to watch despite Grant Nicholas never hitting the high notes, and The Coral, who always hold the attention but become markedly more interesting the further they venture into psychedelia.
Doves, however, seem to be operating on a different plane. Their commitment to earthy indie, indebted to the 90s but decorated with elements of funk and hard dance that add unexpected twists at various turns, is unswerving. But they are more than their blueprint and the sum of their parts: Space Face – technically a cover, given that they released it when they were known as Sub Sub, in 1991 – encapsulates the second half of the set, rising in dramatic, tribal fashion to create a club-like atmosphere.
In a happily odd twist of fortune, the communal soaking turns the cheery-if-corporate feel of the setting into a genuine festival experience. People huddle together and dance to defy the downpour, determined to absorb Doves' sleek, pounding funk-rock as much as the rain. Were they primarily a portal to nostalgia, as many of their peers appreciably remain, the temptation to depart in droves might become understandably apparent as the going becomes slick and soft. Doves are more like a time capsule burst open – invigorated by their cocooning, understatedly exciting and keeping fans curious at what they might produce yet, live and on record.
Brighton Racecourse, Friday 26th July 2019
Words by Ben Miller
Photos by Matt Knight