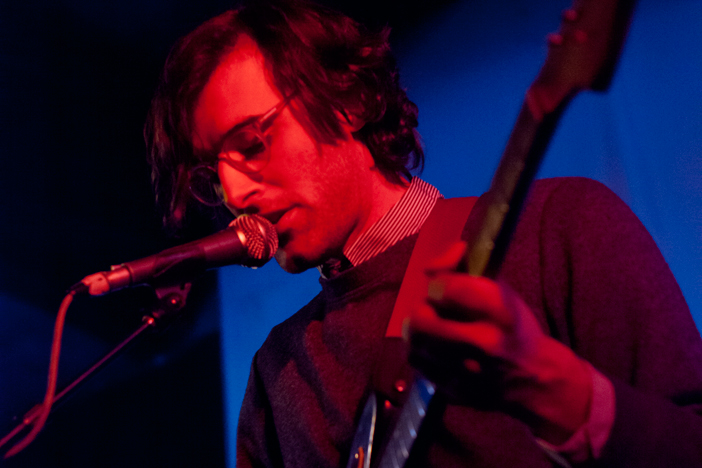 As his many grateful thank-yous suggest, Ducktails leader Matthew Mondanile loves Brighton. "Last time we were here we played across the street at The Prince Albert", he reminds tonight's busy crowd, to a slight lack of recognition. Back in 2010, you see, Ducktails were an underground outfit, concentrated on Mondanile's solo instrumental music ("maybe one of the best things you've never heard" reckoned SOURCE) whereas the Ducktails of 2013 are a bigger, brighter and all-round better beast.
It helps that guitarist Mondanile's other group, fellow New Jersey outfit Real Estate, crossed over with last year's glowing album 'Days', and Ducktails are following suit. 'The Flower Lane', their new LP for Domino, is a colourful collection of light psychedelic dabbling and 80s inspired pop, with a full band and impressive guest cast.
"Well hello, it's me again" runs the opening line tonight, as Ducktails ease into the gentle 'Ivy Covered House'. They're a five-piece now, Mondaline accompanied by Slumberland-signed Big Troubles, but as following oldie 'The Mall' proves, they've assimilated the early Ducktails sound into this expanded, multiple guitar and keyboard line-up.
After a hazy start, the Prefab Sprout shimmer of 'Under Cover' is where tonight pulls into focus, the record's soft sax replaced by yet more liquid guitar. Similarly, the album's female duets (Cults' Madeline Follin on 'Sedan Magic' and Future Shuttle's Jesse Farkas on single 'Letter Of Intent') are re-versioned for Mondaline and keyboardist Ian Drennan's voices without losing too much emotional punch.
Mondaline hurries it up for a final 'Killin The Vibe' ("We really don't have any more songs…") before rushing offstage to man his merch table single-handed. As one of only two British dates this was a fleeting visit worth catching and credit to promoters Be Nothing for landing it. Hopefully it won't be too long a wait next time for their return.
Green Door Store, Sunday 24th February 2013
Words by Stuart Huggett
Photos by Michail Rumbest