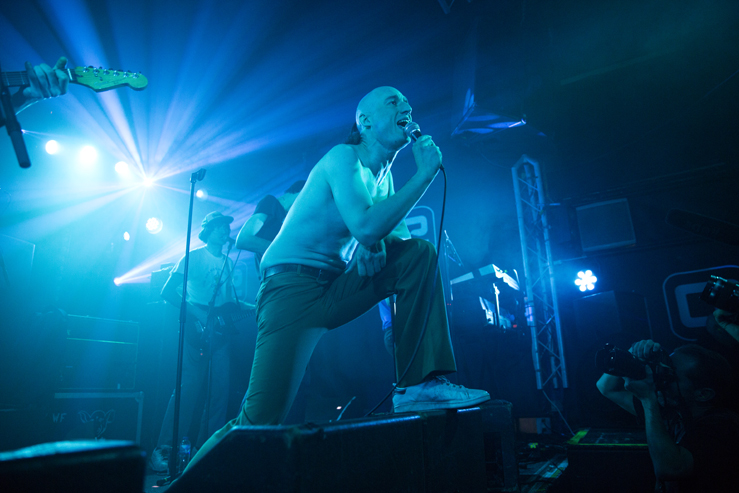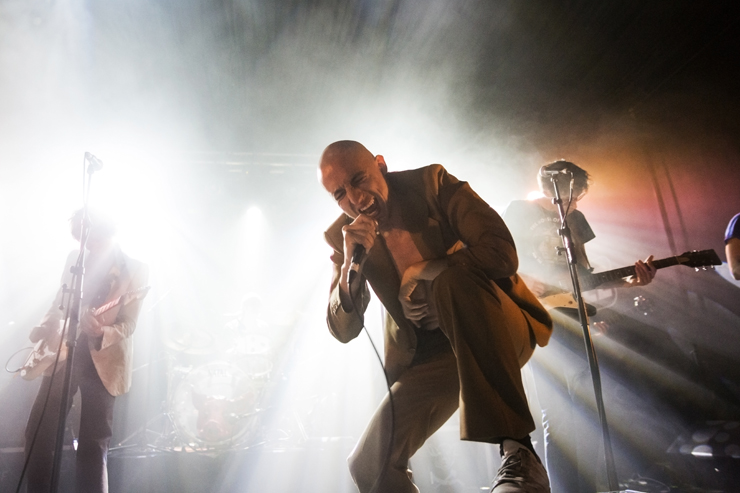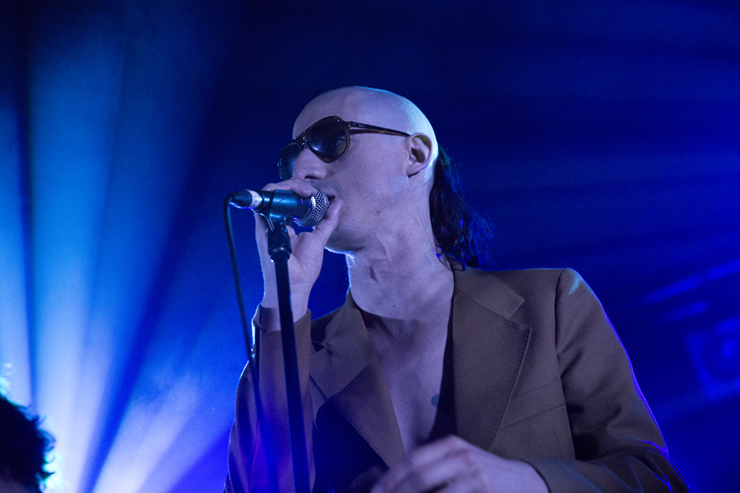 Fat White Family last frequented Concorde2 back in 2014 and it goes without saying that the fellas have been on quite the rollercoaster ride in the five intervening years. The group's tormented travails are well-documented and span the full gamut of rock 'n' roll excess, taking in booze, drugs, mental illness, violent in-fighting and homelessness. It would seem that in the case or curse of Fat White Family, one thing led to another.
For tonight, the runaway train that is Fat White Family is back in town, though it remains to be seen if said train is still fixed to its tracks.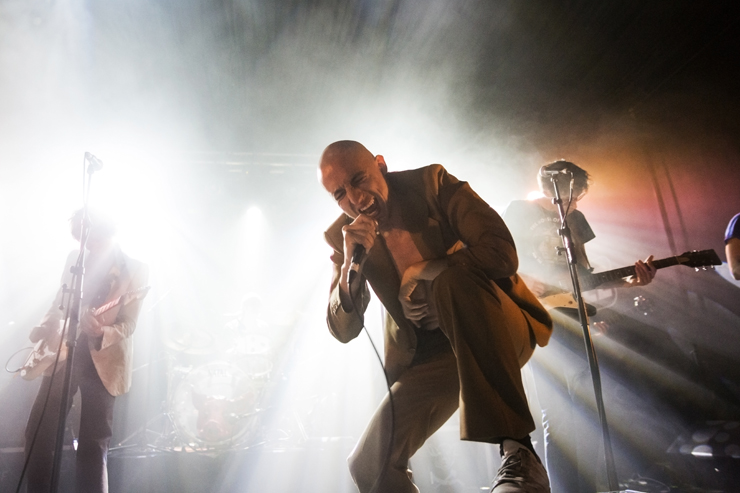 Musically, the Fat Whites are a brilliant and intoxicating tour de brute force of noisy garage rock, driving kraut beats, Haunted House-style organ riffs and primal screaming. Lyrics are as controversial-as-they-come; try "Dirty Bomb Legoland!" ('Bomb Disneyland') and "…here's to the Fourth Reich" ('Goodbye Goebels') for size and you get a sense for the hyper-dystopian outlook that embodies the fantastically feral Fat White Family.
They just don't make them like this anymore and the release of their widely-acclaimed third album, 'Serf's Up!' (Domino) in March has gone some way to proving just how far Fat White Family have pushed on in recent years. The reference to Beach Boys' 'Surf's Up' is not a complete throwaway and leaves a clue as to the often lush and sophisticated pop-leaning soundtrack cast within. For a few moments back there, the unfortunate tagline could easily have read "Time's Up!" but Saoudi brothers, Lias and Nathan, are newly reunited with comrade Adamcewski and it genuinely seems that everyone has got their shit together. Praise Allah, indeed.
A quick scan of tonight's smoking area and you suspect that it was a bumper day for the city's countless thrift and vintage clothes shops. In and amongst the sartorial subverts, Fat White members of yesterday-and-today look in-shape and even relaxed, swigging cans and scrounging fags from their fans.
Tonight's support comes in the shape of Pregoblin – a band still in-utero and comprised of various members of the fledgling South London music scene – who entertain with their Chic-inspired single 'Combustion' amongst other new tunes before the sold-out mob eventually pile into the heaving main room in palpable anticipation. The orange hue of the stage lights eventually fade to black and the hypnotic tones of an Islamic call to prayer ring out. To deafening cheers, Fat White Family take to the Concorde2 stage.
The band launch straight into new album track, 'When I Leave' which has the sleazy saloon swagger of Nick Cave's 'Red Right Hand' over an LCD-esque metronome rhythm; a fitting opener to lead the charge. 'Tinfoil Deathstar' from second album 'Songs For Our Mothers' raises the temperature as fiendish frontman Lias Saoudi works his way barechested into the front row where it's all going on. People and pint glasses fly into each other with reckless abandon as "I am Mark E Smith" rolls along. Here is a band on whom rock'n'roll history is not lost, as Saoudi riles the crowd and tells of Shane McGowan tying his shoes and having Jerry Lee Lewis in a headlock.
'Serf's Up!' highlight, 'Fridge Runner', recalls Berlin-era Bowie, Eno and the Hacienda all at once, with rave stabs playing off a slow crunchy groove that wouldn't feel out of place at a Soulwax show. When Alex Smith trades his sax for a flute, you begin to wonder if there isn't anything the resuscitated Fat White Family couldn't pull off right now, Smith's "severe mullet" included.
The band sound tight and tear through 'Heaven On Earth' from 'Champagne Holocaust', their explosive debut. Death-disco comeback single 'Feet' is delivered in far dirtier fashion than the polished, string-laden album cut and with feet not failing anyone now, the Family build a frenzied crescendo with mass singalongs for rowdy fan-favourites 'Whitest Boy On The Beach' and 'Touch The Leather'.
'Cream Of The Young' is a gorgeously sinister Spaghetti Western-meets-House of Horrors sleazefest that disturbs and delights in equal measure. The anthemic glam-romp of 'Tastes Good With The Money' is introduced with four-way Gregorian-style chanting, manifesting what has to be the world's scuzziest chamber choir. A calypso drum machine beat builds with trademark FWF sleaze on 'I Believe In Something Better', a song that fully comes to life in this rapturous setting.
The raucous rockabilly guitars of 'Bomb Disneyland' lead us to a monstrous finale, leaving mouths ajar and brows to mop as the sweaty and spent crowd filter out to Fad Gadget's 'Lady Shave' through the PA, an industrial new-wave gem whose gritty sound will almost certainly have lent itself to 'Serf's Up!'
Save for tripped-out album closer 'Bobby's Boyfriend' midway through the set – arguably tonight's Jimmy Riddle interlude – the set thunders along from start-to-finish in a flawless performance, leaving no doubt whatsoever as to Fat White Family's commitment to their new-found energy. There is a stark sense of professionalism about tonight's performance that contrasts with hundreds of previous outings, though thankfully this doesn't hinder or cage what Fat White Family are best at. For an album released just two weeks ago, and on only the second night of the tour, the fact that the crowd tonight react and sing along to so much of the new material is a clear indicator of how well 'Serf's Up!' has been received across the board; the Clash review being a notable exception, much to the Family's mirth. The alliance with Domino is a considerable factor in all this and may well provide Fat White Family with enough track to keep their wild wagon running. At least, for now.
Concorde2, Thursday 2nd May 2019
Words by Christian T Haggqvist
Photos by Ashley Laurence