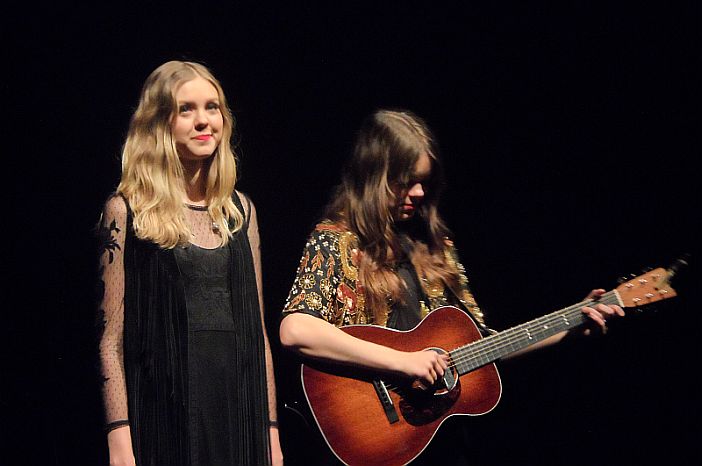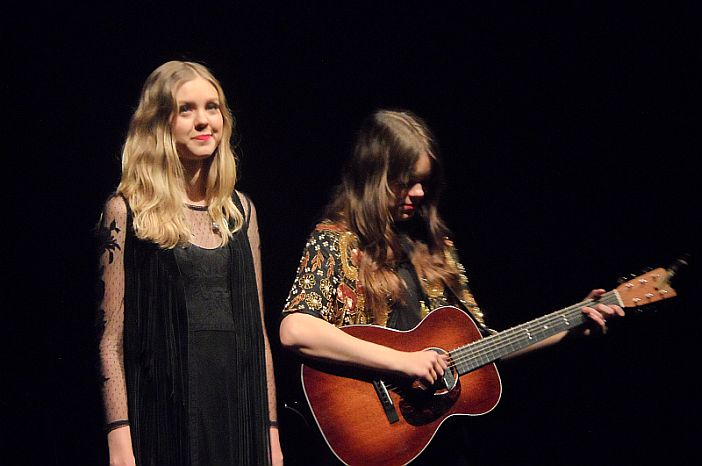 In the 5 years since they last played Brighton, at The Hope, a venue that would fit inside the Dome many times over, the Söderberg sisters have released two internationally acclaimed albums, toured and recorded with Jack White and last year sold out the Royal Albert Hall.
The girls took to the stage with drummer Scott Simpson and Brighton's own Melvin Duffy on guitars and kicked off with 'Lion's Roar', their American twangy harmonies sounding pure over the eerie pedal steel.
'Stay Gold', like much of their recent output, is a song made for FM radio and it's given an added dramatic touch tonight as the band stopped to let the vocals soar. A quick chat with the crowd shows they've done their homework as they reference Sweden's greatest achievement of ABBA winning Eurovision on the same stage in 1974 – before performing an astonishing a cappella version of 'Waterloo'. The up-tempo 'King Of The World' was a real party anthem, then it was back to their trademark Americana sound with 'This Old Routine'.
The new album is represented by the gorgeous 'Waitress Song' with it's constantly changing pace, a simple yet sumptuous 'Shattered & Hollow', and a stunning unplugged version of 'Ghost Town' from their 2010 debut album. Thankfully the crowd kept quiet apart from some hushed joining-in, making this a beautiful campfire singalong that received a rapturous reception.
They were clearly enjoying the night and even impersonated Jack White when recalling his invitation to them to record in Nashville. A promised cover turned out not to be the couple of verses of 'Seven Nation Army' that Johanna started picking out on her keyboard but White's solo track 'Love Interruption', that was much better suited to their style but also gave them a chance to rock out.
Their playful banter confirmed what everyone already thought; that they spend their spare time riding unicorns through forests, but thankfully they also write amazing songs like 'Master Pretender' for which they earned their badge of honour – a parental advisory warning due to its "shit gets fucked up" line.
Pounding drums and weeping pedal steel underpinned the strong harmonies on 'Wolf' then the girls left the stage without a word, followed by their bandmates, ahead of the obligatory encore.
They return with a delicate take on Paul Simon's 'America' and after a stomping 'Heaven Knows' they finish big with their crossover song 'Emmylou' to complete an evening of pure joy.
Brighton Dome, Saturday 24th January 2015
Words by Steve Clements