Death, love, sex, birth, blood, apocalypses, beginnings of ends and imminent chaos are recurring themes for Jim Sanders, the artist who initially introduced some of his rasping underworlds, full of staring eyes and gawping faces and fire, in a 2001 Brighton exhibition, Art for Primitives.
That was three years after he moved here. Now he's taken over Art of Treason – a new two-storey gallery owned by Mark Jones, former music man and founder of Belle & Sebastian's early label Jeepster Records. His Gloucester Road gallery is dedicated to showcasing 'challenging art' and Jones has made a point of hanging the artworks from giant chains, adding to the sense of macabre. He hopes that in the longer term the space will allow artists who make odd and obsessive stuff to do their thing without being constrained by financial pressures.
That's as well for Sanders, who is known for neither caring too much about commercial reward nor bowing to white space conventions. His home is documented as being crammed with his processes and figures, filling the walls with himself and the entire worlds going on in his head, and that philosophy continues on the dense main wall here, spilling out with grasping hands and centaur-like creatures, biblical-ish symbols and grinning animals.
Some of these little hellbots came to him during journeys between London and Brighton – presumably the modern-day perils of that trip forced more time for creativity upon him – and, in the intensely detailed tapestry of the inferno they make up, they're at one with the end-of-days feel of the times. He blows little drawings up to towering scale – if they have a glowering quality, like shrines or altarpieces, it could be because of his Catholic upbringing, which Sanders cites as an influence.
Before the opening, he temporarily filled the windows with giant off-centre totems, their massive faces spewing out lines of red and bodies from the mouths in their stomachs. These are his Solitaires, a deliberately intimidating group embodying base human emotions in primal style. The gallery is, perhaps, just on the right side of claustrophobic, adding to the unsettlement and giving just enough space, in the corners, for, say, wooden bodies with table arms for limbs and wolves' heads, or tribal-looking carvings with disproportionately protruding phalluses.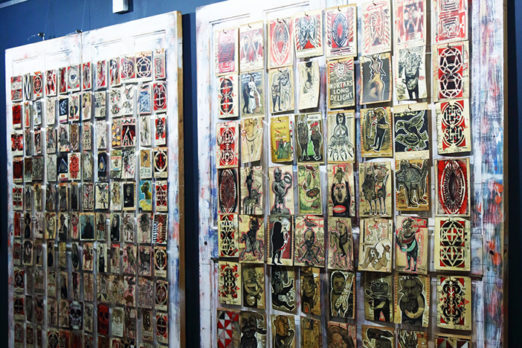 Sanders was involved with Outside In, the outsider art project and exhibition which formed an important part of last year's HOUSE Festival, led by Pallant House, but for these few weeks he's got his own mini-ecosystem in the city itself. It shows off a bit of the complex population pattering through his imagination, ritualistic and confrontational in all its strange glory.
Art of Treason, 35 Gloucester Road, Brighton
Exhibition runs until Saturday 10th December 2016
Words by Ben Miller
Pictures by Carine Toucand