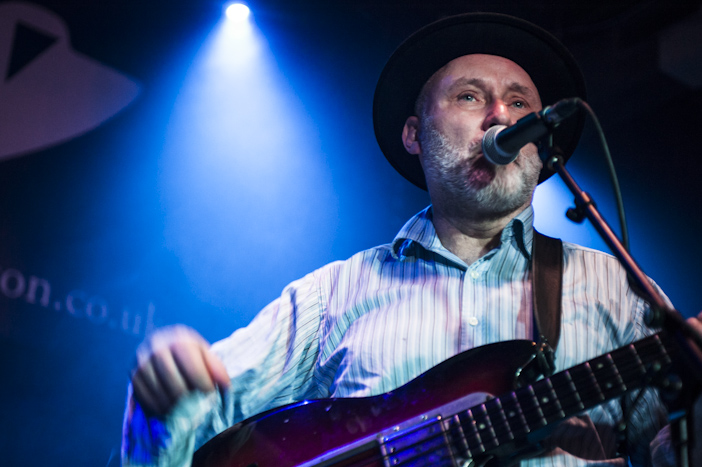 Jah Wobble took on The Haunt with an encyclopaedic set transcending genres and eras, demonstrating his undeniable love of world music.
He reached fame in the 70s as PiL's distinctive bass player, where he was so-named by Sid Vicious's drunken slur of his real name, John Wardle. Since going solo, Wobble has collaborated with some of the world's best artists and developed a passion for an eclectic mix of musical styles.
With his band Invaders Of The Heart we're thrust into a heavy drum'n'bass version of PiL's 'Socialist' to open. From here we're led back and forth through the decades by his endearing cockney leftist banter. In front of a room packed with a loyal following of post-punk fans, he's as relaxed as if he'd invited us into his home. As we wind back the clocks we hear some of his old Invaders' classics from the 'Rising Above Bedlam' album, such as 'Visions Of You', the early 90s release that featured Sinead O'Connor, and 'Everyman's An Island' with its vibrant Eastern influences.
These new Invaders Of The Heart make the perfect complement to his dub-style bass. The lead guitar is melodic, with some epically crafted solos as evident in the unstoppable 'Fodderstompf'. Keyboards could contend with the best of piano virtuosos and the drummer – faultless across all genres – provoked Wobble to ask whether he's actually "Man or machine?".
The two hour set was a real treat for Wobble fans and deserves a new generation of followers. After 'Fodderstompf' revived the crowd's enthusiasm, Wobble confessed they wouldn't be "master trance musicians of the post-punk generation" if they let us go out all angry. Alas, to close the night he sat back to bring us down with the slow and hypnotic 'Poptones'.
Should you get the opportunity, this is one not to miss.
The Haunt, Friday 15th April 2016
Words and photos By Francesca Moore