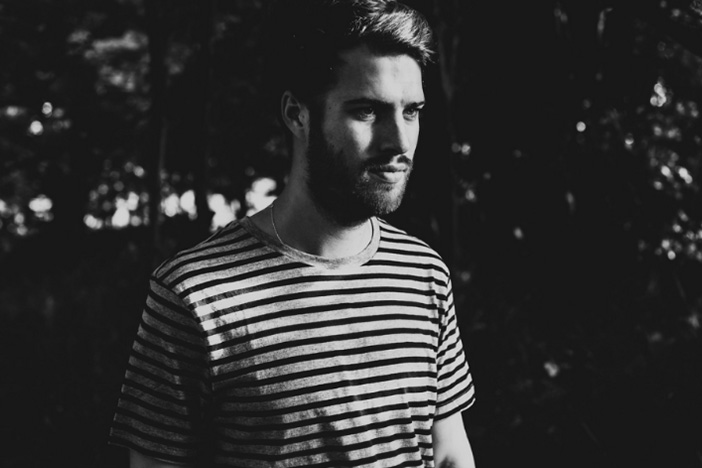 The days are getting longer, giving us Brightonians a spring in our step. Some of you may have even run the Half Marathon on Sunday, so this one goes out to you. March's round-up of new Brighton music includes releases from Jolé, Mara Simpson, Rob Godfrey, The Rocking Horse Club, Kev Minney, Idle Talk, Tuska, Sea Bed, Loa Loa, Phoria, Creatures Of The Deep, The Galleons, Nigel Thomas, Christopher Matthewson, Penelope Isles, Jane Gilbert and Elin Ivarsson. And breathe.
Jolé
'Nothing Has Changed' (Jolé)

Jolé (pictured) moved to Brighton from Somerset five years ago to study music. Although Jolé (aka Josh Oliver) isn't a born and bred Brightonian, that's not going to stop us claiming him as one the city's musical talents and our very own Bon Iver. His single 'Nothing Has Changed' was written about anxieties surrounding life fulfillments and "a fantasy of having absolutely nothing to think about and detaching yourself from everyday life". True to form, Jolé will be off on his travels in March, gigging wherever he goes, so be sure to follow him on his social media.
Mara Simpson
'Keep Holding On' (Mara Simpson)

Brighton-based, by way of New Zealand and Berlin, Mara Simpson has released her latest single, 'Keep Holding On'. The track features Ben Ottewell of Gomez on vocals and was written after Mara saw a picture of Frieda Schulze escaping out of her window in East Berlin, to the streets of West Berlin in 1961. It is the first single taken from her upcoming album, 'Our Good Sides', which was recorded and produced by Tim Bidwell in his Clockwork Owl Studios whilst drinking a lot of tea. 'Keep Holding On' is out now.
Rob Godfrey
'Quarterman' (Rob Godfrey)

We often take good quality acoustic music for granted in Brighton due to its abundance in our city. However, one artist that demands recognition is Rob Godfrey. He may appear wise before his years due to his slightly bitter and twisted outlook on life, but don't let this deter you from listening to this 21-year-old who amalgamates folk, jazz, soul and pop. His EP, 'So Alive', was released on Wednesday 17th February.
The Rocking Horse Club
'Rocks And Shoes' (The Rocking Horse Club)

Mosh-inducing rock is not dead, especially in Brighton. The Rocking Horse Club (not to be confused with the local charity of a similar name) is a worthwhile cause for all old school rockers. The single 'Rocks And Shoes' was out on Monday 15th February.
Kev Minney
'All You Need' (Kev Minney)

Kev Minney is a Brighton-based virtuoso guitar player and a highly experienced singer and songwriter. Using a simple equation of his voice, classical guitar playing and songwriting skills, Kev manages to create a unique and captivating sound both mournful and serene. His EP, from which this track is taken, is released on Wednesday 2nd March. There's a launch party at Komedia on the same day.
Idle Talk
'Reaction' (Paisley Archive)

Playing up-to-date music with a modern twist of mod is Idle Talk. 'Reaction' comes from their four-track EP, which was recorded at Brighton Road Studios and mixed by Andy Crofts from The Moons and Paul Weller's live band. We reckon this is one band that you should not miss playing live.
Tuska
'We Could Be Alone' (Tuska)

Tuska are a psych-pop duo from Brighton. The partnership of Richard Sturges and Rob Weaver is both dynamic and rare, wedding rich basslines, spacey synths and psychedelic guitar riffs to those robust vocals. Tuska will be playing Sticky Mike's Frog Bar on Friday 4th March. Also head over to their website for a free download of 'We Could Be Alone' from 11th March.
Sea Bed
'Moving Ghosts' (Four Thieves Records)

Sea Bed are a self-produced duo comprised of Lizzie Massey (vocals, bass, keyboards, programming) and Jim Corbin (guitars, keyboards, programming). Citing influences from Massive Attack to New Order and Carl Cox, the duo have channelled their love of classic R&B, disco and techno – resulting in a dreamscape song set against a deep house groove, nestling in crunchy analogue synths. 'Moving Ghosts' is taken from their debut EP set for release on Friday 11th March.
Loa Loa
'Landslide' (Loa Loa)

Disrupting our airwaves, it's Loa Loa and their ferocious debut single, 'Landslide'. Reminiscent of Nirvana, this gritty punk trio know where to hit us hard with exciting new grunge sounds, similar to that of The Cribs and Drenge. The single is out now.
Phoria
'Saving Us A Riot' (Phoria)

Phoria return with their latest song, 'Saving Us A Riot'. It's another masterpiece from the Brighton band, one that their vocalist explains is about "things that never happened. I think I was laying to rest an imagined adventure and letting someone know that it meant a lot to me."
Creatures Of The Deep
'Letting Go' (Creatures Of The Deep)

Brighton four-piece, Creatures Of The Deep, create original Afro-folk music with an earthy, but ephemeral result. Members use eclectic instrumentation including kora, clarinet, keys and a hybrid drum kit. Melodic riffs and Afro rhythms are layered with arresting vocals and expansive harmonies to create a sound that is dynamic and distinct. Their first four track EP is out in the next couple of months, and they'll be playing the Brighton Dome Spectrum night on Thursday 17th March.
The Galleons
'The Hidden Colour' (The Galleons)

Upon first listen of 'Run Run Run', the second song on the third album by The Galleons, we were instantly reminded of The Beautiful South. The two lead singers seem to have a connection that is rare. On Saturday 12th March, The Galleons are launching their new album at St Mary's Church in Kemptown, with help from Patrick Harrex and the 60-strong Brighton and Hove Arts Orchestra.
Nigel Thomas
'Ghost Hunter' (Nigel Thomas)

Nigel Thomas writes dramatic music, and his new single 'Ghost Hunter' is no exception. As an actor, as well as a musician, Nigel grabs takes the listener takes them on a journey of self-examination and mystique. His album, 'Travelling Man', is out now.
Christopher Matthewson
'Somewhere In Between' (Christopher Matthewson)

Christopher Matthewson is an Irish singer who lives in Brighton. Spending a lot of time travelling, Christopher writes songs that fit somewhere in between the genres of alt-folk and country blues. His debut EP, 'Somewhere in Between' is out now.
Penelope Isles
'Metal' (Penelope Isles)

Penelope Isles are a dynamic sibling duo who create melodic beachside music full of DIY lo-fi sounds and lucid vocals. Their debut album 'Comfortably Swell' is available for download as well as their new music video, 'Metal' available to watch online.
Jane Gilbert
'Jane Gilbert' (Jane Gilbert)

Jane Gilbert might be well travelled and experienced in performing with groups of varying musical genres, but one thing is clear: her 70s folk soul will never dissipate. Jane also takes strong influences from other genres such as electronica, soul and hip hop, where she began to form her craft in her earlier career.
Elin Ivarsson
'Leaving Song' (Hidden Trail Records)

Swedish singer and songwriter, Elin Ivarsson resides in Brighton. Her music has classical elements, but her uniquely husky voice takes it to another level. 'Leaving Song' features on Elin's self-titled debut LP, which was out on Friday 26th February via Hidden Trail Records and is available for purchase on iTunes.
Words by Sarah Puttock
Photo by Doug Elliot Photography
If you're a Brighton band, artist or act with some new music out, let us know. We can't guarantee we'll be able to review it, but we'd like to have a listen.