Bucking the trend of festivals folding, and still the only greenfield jazz-based event of this size, Love Supreme pulled another large crowd of all ages with its stellar line-up of pop superstars and ones-to-watch young turks.
There was a distinctly old versus new feel to the programming again with Cecile McLorin Salvant's set of standards, gently accompanied by her pianist's sparse Basie chords, poles apart from Native Dancer's funky nu-soul originals. The first of three Prince-associatied artists, bass-supremo and vocalist Esperanza Spalding, made her return to the festival with a truly bizarre show that at times resembled an am-dram drum and bass production of Godspell.
As with Gregory Porter in years one and two, Nashville singer/pianist Kandace Springs, one of the final Prince collaborators, instantly won the people's hearts with a beguiling set based around her Blue Note debut album that was released only the day before (read our interview with her here). Her talent for self-promotion easily matched her seemingly effortless keyboard and vocal dynamism that moved with ease between classic jazz soloing and contemporary soul. She closed with a stunning version of Ewan MacColl's perfect love song 'First Time Ever I Saw Your Face' reducing several people to tears.
This was the wettest day in the festival's history with Skye and Ross from Morcheeba performing in a downpour, before Liane Le Havas's crowd-pleasing set served as a classy appetiser before headliner Grace Jones silenced any doubters with a jaw-dropping set that was pure theatre. Wearing only a basque, zebra body paint and a variety of headgear, she demanded whisky to warm her up and proved herself to be a real pussycat but still with sharpened claws. Prowling the stage, the inimitable performer may be nearly 70 but her innuendo-laden, dynamic performance was a feast for the eyes and ears, from a moist 'Pull Up To The Bumper' to the hula-hooped 'Slave To The Rhythm'.
Those still partying were spoilt for choice with Russ Dewberry adding live percussion for his roadblocked set and Gilles Peterson and Patrick Forge reviving their legendary Sunday afternoon Dingwalls sessions.
Sunday began with sunshine and the joyous Trees big band and chorus belting out spirited spiritual arrangements on the bandstand. Over on the main stage Ray Gelato and Claire Martin's Louis jump-jive act went down well with the jivers and older punters while those favouring something more contemporary were richly rewarded with Trope's vocalist Cherise Adams-Burnett belting out the rarely covered 'Do I Do' among a set of original laidback groovers. More covers came with Avery Sunshine's soulful set before a surprisingly Earth Wind & Fire-sounding set from the Average White Band with some impressive falsetto vocals from Brent Carter.
Over in the tents Anthony Strong had a nice Horace Silver mid 60s groove going on but soon veered into Buble territory, whereas Binker & Moses were cutting edge and electric with a furious sax versus drums workout. 18-year-old Mahalia, a full seventy years younger than tonight's headliner, made a great impression on piano and guitar with some mature spoken word while Swindle's beats-driven staccato skank went down a treat with the dancers.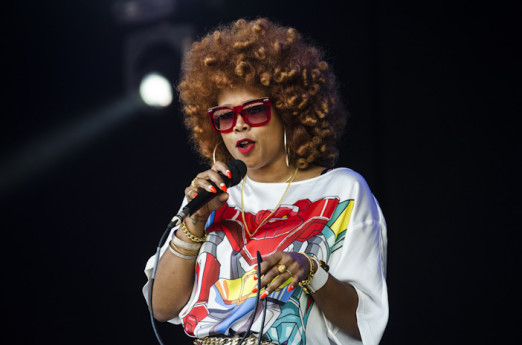 Kelis may be wide of the jazz mark but her late afternoon set was packed with hits of which '4th of July' and 'Acapella' were highlights with her trumpeter playing a blinder. 21-year-old multi-instrumentalist Jacob Collier is the YouTube sensation mentored by the legendary Quincy Jones and although incredibly talented in musicianship and arranging, his vocal overlays did wear thin fairly quickly. His running around the stage looping bass, drums and keys was undeniably very clever but proved quite distracting so it was a relief when he sat at the piano for a no-frills acoustic 'Hideaway'.
Kamasi Washington's ambitious triple album 'The Epic' was the jazz success of 2015 and his scaled-down band showed why with the fierce and funky 'Rerun', a highlight of the relaxed set. Trombonist Ryan Porter and Patrice Quinn's vocals shone as they delivered Washington's cosmic vision.
And finally it was time for the man that wrote the classic pop soundtrack of the 1960s. At 88 years old Burt Bacharach looked in good shape but his voice, which was never his strong point, was cracked and weak, although this added a poignancy to a solo 'Alfie'. Fortunately, he had three singers and a tight mini orchestra to cram in as many classics as time allowed. Every intro was instantly recognisable and although none of his famous interpreters were there the crowd showed their love of his incredible body of work in a mass karaoke.
Year after year Love Supreme has proved itself to be a shining example of what a well-organised, stress-free, star-studded festival can be.
Love Supreme Festival, Glynde Place, Glynde, Friday 1st – Sunday 3rd July 2016
Words by Steve Clements
Photos by Fran Moore